$10,000 Sunday Million Freeroll on PokerStars is Back and Easier to Play than Ever!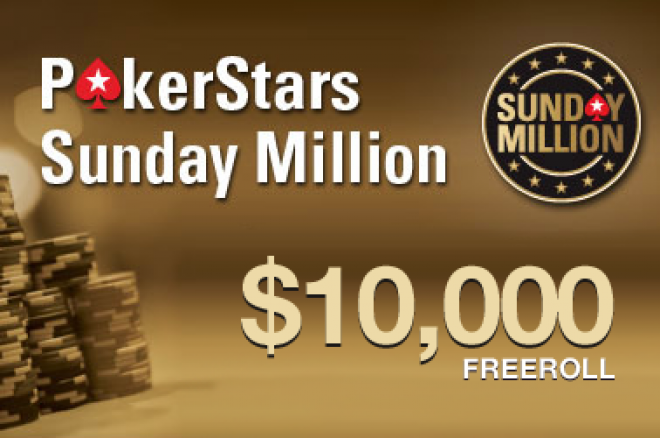 For the fourth month in a row Club PokerNews members will be getting a chance to play in the biggest online tournaments around for free in our $10,000 Sunday Million Freeroll. Not only can you win cold hard cash but 22 players will bag a $215 Sunday Million Ticket with more than 200 others winning an $11 tournament tickets.
The tournament takes place on October 10 at 14:35 EST. Tournament ID 304570762.
The Payout
1st: $1,241
2nd: $711
3rd: $496
4th: $281
5th - 27th: $215 Sunday Million Ticket
28th - 239th: $11 Tourney Ticket
To qualify you need to download PokerStars through our download links, register a new account and earn 75 VPPs between Sept 1 (00:00 EST) and Sept 30 (23:59 EST). Qualified players must manually register after the qualification window has closed. Existing PokerNews referred PokerStars players are eligible to play providing they meet the points criteria.
If you are one of the lucky players who have already played in this generous freeroll, you will notice one big improvement. That is the VPP target has been slashed from 250 VPPs to 75 VPPs, which is great value for all you grinders out there. It works out to being less than $13 in rake paid in total, which is about 250 hands for a $1/$2 Limit Player, less than 400 hands for a $0.25/$0.50 no limit player or 13 $11 SNGs.
Where else but PokerNews can you find regular five figure freerolls like this? This is the fourth PokerStars freeroll we have hosted in as many months that has boasted a $10,000 prize pool and tickets to play in tournaments with million dollar prize pools. The $10,000 Sunday Million Freeroll on July 11 attracted just 740 runners and the August 8 freeroll a similar amount, when you consider 239 places paid out it means roughly 1 in 3 players are getting in the money at the moment.
Don't forget that when you sign up for PokerStars via PokerNews you are eligible for all future exclusive promotions we have with them. If you had signed up four months ago you would have gotten to play in all of these and if you sign up now you will be eligible for any more we hold in the future. We don't need to remind you that we are giving you a free shot into the Sunday Majors every month and if you don't know how big that is, check out our Sunday Majors guide.