UKIPT Edinburgh Preview
The PokerStars UK and Ireland Poker Tour will be coming to Edinburgh tomorrow on its 7th stop. It promises to be a jam packed four days, running from 19th – 22nd August 2010. It's the perfect time to visit Edinburgh right now as well, as the Edinburgh Festival Fringe is taking place as we speak and will still be running until the 30th August. It's the world's largest arts festival with over 32,000 performances and more than 2,000 shows packed into 250 venues across the city.
UKIPT Edinburgh will be held at the Corn Exchange and the main event will be a £500 + 50 No Limit Hold'em tournament. It is a three day tournament but run over four days as there will be two day ones. Day 1a will be on Thursday 19th August and day 1b on Friday 20th August. The complete address of the venue is; Edinburgh Corn Exchange, 11 Newmarket Road, Edinburgh, EH14 1RJ.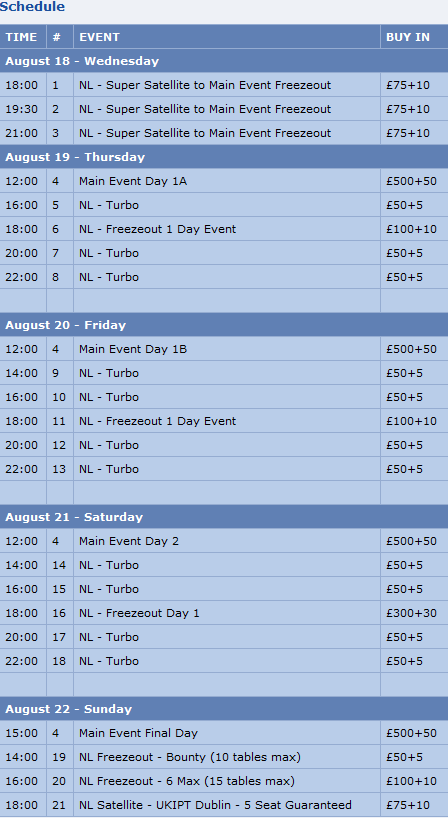 On the day you will not be able to buy into the tournament or any of the side games in cash at the venue. There are three different ways to buy in and it is advisable to do so in advance of the start of the tournament to guarantee you have a seat.
1. Buy-in online at PokerStars – players can buy in to all UKIPT Edinburgh events via the PokerStars software. Tournaments can be found under the 'Events'>'Special'>'Qualifiers' tabs
2. Buy-In at any Grosvenor or G Casino – players are able to buy in to all UKIPT Edinburgh events directly at any Grosvenor or G Casino in the UK. For more information on this please contact ukipt@pokerstars.com
3. Buy- in using a PokerStars account at the venue on the day – there will be staff present to assist anyone wishing to set up a new account or register using an existing one.
Players without a PokerStars account can easily sign up through UK Pokernews and take advantage of our 100% deposit bonus up to $600 and an exclusive $10,000 WCOOP Freeroll, plus any future Club PokerNews promotions.
UKIPT players seeking accommodation who have not yet secured any are urged to do so as accomdation in the city is limited due to the festival Fringe. Pokerstars have arranged special hotel rates for everyone attending the UKIPT. Please go to www.ukipthotels.com, rooms are still available.