UK PokerNews Exclusive: Has Poker Potentially Created the David Haye vs Audley Harrison World Title Fight?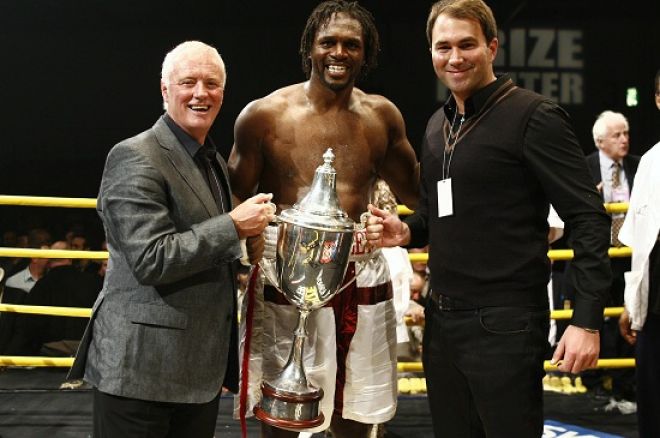 Because poker has such a huge crossover appeal for just about every walk of life it occasionally brings people together in ways one would not expect. That certainly happened for me as it's given me a rare opportunity to write an exclusive story on a personal passion of mine, boxing. The poker gods have also come together to potentially set up a World Heavyweight Boxing Title Fight between WBA champion David Haye and 2000 Olympic Gold Medallist Audley Harrison.
The fight is on the verge of being signed and I caught up with Matchroom Sport Director Eddie Hearn to find out how a chance meeting at the poker tables pulled Audley Harrison out of boxing exile and into the World Title picture.
"At the WSOP last year we were getting ready for our new show Prizefighter: The Heavyweights and someone told me Audley was in town. I thought he was still a huge draw, he won the Olympic gold medal, so I thought I could nick him for the show, I knew he wasn't up to much. So I was on the lookout for him and I looked at my seat draw for the main event and there he was at my table. There were 6494 players in the main event and I draw the same table as him! I didn't last long in the event because I was more interested in striking up a deal with him."
"This was a time when he was totally in the wilderness, this time last year Audley Harrison had nowhere to go, he relocated to the States and was looking for a way back. I felt he still had a huge desire to do well in boxing, I could see it in his eyes. He has had a lot of knocks along the way, a lot of that is through faults of his own, bad decisions he has made and sometimes not showing enough commitment in the ring, he didn't achieve what he should have achieved. He was still high profile and I felt it was quite accessible to get to the title quickly in heavyweight boxing if u can bring things to the party that others can't, which he can."
As a boxing fan, the last show I expected to see Harrison appear on was Prizefighter. Audley is a methodical slow amateur style pugilist, hence his gold medal and also why he has not won many fans over the years. Prizefighter is an intense series of 3 round slugfests over one evening that favours the bruiser.
"I found a desire from him to be heavyweight champion of the world, he talks about it all the time, I said I think we can get you there if you produce the performances in three fights. I can get you the title shot, I'm not saying you can win it, but we can get you the shot if we plot it correctly and the first way to do that was Prizefighter. That was a huge risk, three 3 minute rounds vs. a guy that's trying to knock your head off, no time to plan tactics, which is not really his kind of fight. It was a bit of a risk because if he lost that it really was over for him. He came over, he won it, a lot of people were impressed and that was part 1, it was the biggest boxing audience of the year on Sky Sports.
"Then we landed him a European title shot against Michael Sprott who knocked Audley spark out 3 years ago. He came over, we got some good publicity, then in 3rd round he tore his pectoral muscle and couldn't throw the right hand. He took a hell of a beating in there fighting with one hand and showed huge heart and desire, something that he has been accused of lacking in the past. He was 3 rounds behind on every judges score card in the 12th and we were thinking it was all over and it was the end of his career…. then he knocked Sprott out with a minute to go with a left hook from the heavens."
All of which is starting to sound like your typical Rocky story, albeit one where the plucky underdog started their career with a gold medal and a £1 million deal.
"You talk about Destiny, it's not something I'm a huge believer in but the way things have happened makes me believe Audley can beat David Haye. He is a huge underdog but David Haye is chinny, and if Audley hits him he will knock him spark out. In the space of a year he has gone from someone who has no place to go to, all doors and windows were closing for him, and now we are nearly over the line to sign this fight. Poker brings lots of different and interesting characters together, if we hadn't met at the poker table, this wouldn't have happened, he would never have fought in Prizefighter and I don't believe he would have got another opportunity at the world title."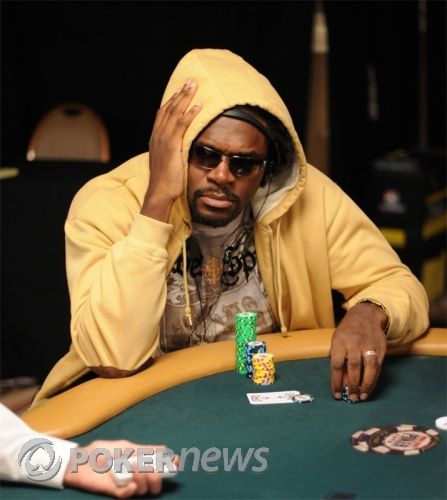 Unlike just about every other celebrity that plays poker, Audley has stayed under the radar despite boasting some of the best results for any sportsman turned poker player, with over $200,000 in tournament cashes since 2006. Hearn was surprised as anyone how good he actually was.
"He played all these WSOP events and told me how good he was and I laughed, I didn't realise just how good he was. I spoke to a few guys, he is friendly with Roland De Wolfe and the Devilfish, then I found out he came 2nd in a Bellagio Cup event for $76,895 and would have won it but he did a deal at the end because the other guy wanted the WPT seat and Audley couldn't play that event because he was training."
"Recently I was over at the Venetian and he was playing in a deepstack event and telling me he thought he could win it, he has so much belief in himself and at the time I thought he was deluded, this is poker not boxing, then before I know it he was at the final table and came 3rd for $92,928. He is one of the few celebrities that is actually good at poker. He is not someone who has turned to poker from being a celebrity, he has been playing for 5 or 6 years, he just loves the game, he studies it and plays very well. He lives in LA and plays a lot of $10/$20 and $25/$50 at the Bike."
I have to ask Eddie if Audley plays poker like he boxes, it's a very obvious question but particularly relevant given that he comes under so much fire for some of his defensive lacklustre performances in the ring.
"His playing style is very much like his boxing style, he is a cagey thinker. That may have been one of the problems with his career so far, he is too much of a thinker, he is very smart and is calculated. His poker is the same but I have seen him pull off some unbelievable moves at the table. More than anything he understands the game, he has read the books, he talks with the pros, he has developed as a player and he loves the game."
With poker sponsorship these days being so heavily weighted towards non poker playing celebrities, it comes as something as a surprise that Audley isn't representing an online card room by now:
"He hasn't even tried to get a sponsorship deal, it's only now I have even mentioned it to him. He plays with his own money and believes he will win over the long term. Now the time is right to try and do a deal with a poker room because his profile is set to be so high. I've had discussions with him about which sites he prefers to play, which software he prefers etc, rather than just 'who would give me the most money?' – which is quite refreshing."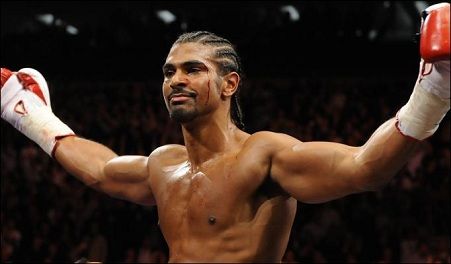 It seems that Audley has learned from the mistakes he made as a boxer by not signing a major poker endorsement yet. His professional career started with him signing a £1 million deal with the BBC and lost favour with the boxing public after a series of lukewarm performances vs journeymen. Hearn explains why he has got it right this time round.
"In life as a boxer the worst thing that can happen is they get rich, Audley signed a million pound contract with the BBC which was worst thing that could have happened but it came with the success of winning the gold medal at the Olympics. In poker he understands his value as a player, he doesn't want the pressure or the limelight of representing a site unless the deal is right. This year at the WSOP he had some sponsorship offers but he said he would rather win a big tournament first before he signs with a site. Now he finished 3rd in the deep stack I can show the sites he isn't a complete muppet, there is no way you can have a big run in a deep structured tournament during the WSOP unless you have some ability."
So are we likely to see Harrison on any Matchroom Poker TV shows any time soon?
"If we can afford him if he wins the title! He will always play the WSOP, he wants to play some EPTs and WPTs. I don't think the TV tournaments are as important to him, he is not bothered about beating 6 or 8 players, he wants to win a big MTT, he wants to sit with 500 other players and come through as champion, that would mean a lot more to him. He sees poker as a challenge and he wants to be tested."
Whether you think Harrison deserves a shot at Haye or not, there is no doubt that this could be a massive fight and very easy to hype. The fast talking fast punching Haye who is currently the cream of British boxing vs the last chance saloon gold medallist who has spent his career getting booed and jeered. I ask Eddie is they are preparing to make Harrison the pantomime villain of this match?
"At the moment David Hayes popularity outweighs him 10-1, that will change as the publicity warms up, I have a feeling Haye will come across very arrogant and will be calling Audley a bum. All Audley will be saying is he has got a dream to be heavyweight champion of the world, in the end I think people will route for Audley, the British underdog. We don't like favourites over here, we never want to be the favourite in anything, when people realise Audley aint a bad fella they'll get behind him. I want Haye to go down the villain route, it wouldn't work if Audley tried to claim to be the bad boy. All Audley has is a dream to be heavyweight champion of the World - everyone deserves to dream."
I won't lie, I have never been an Audley Harrison fan in fact I am one of the people that has booed him for the last ten years. But when I learned how Audley is clearly a real poker player, not in his ability but in the manner in which he approaches the game, I must admit I have really warmed to him, at least as a poker player. Like Eddie I don't really believe in destiny or the poker gods, but the story of how a chance table draw at the WSOP could potentially have created the biggest domestic boxing match since Benn vs Eubank has got me fascinated in the Audley Harrison story. Let's hope they get this fight on.
Get a Knockout start to your poker career with our free $50 no deposit bonus from PartyPoker. Just follow our step by step guide and you can have a $50 starting bankroll without any financial commitment at your end.