Nicholas Abou Risk Wins PokerStars UKIPT Edinburgh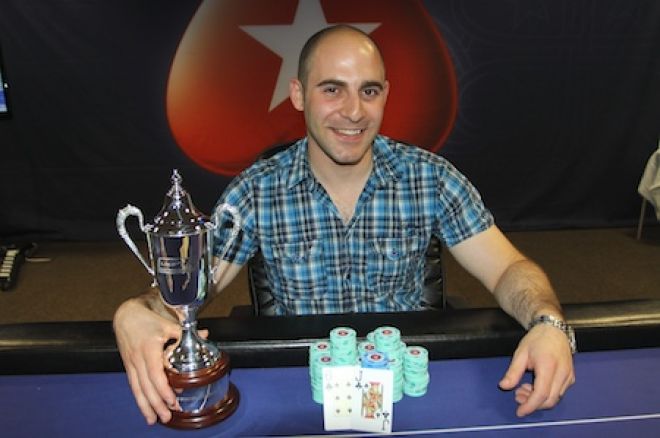 Nicholas Abou Risk has won the main event at the UKIPT in Edinburgh. 25 year old Abou Risk, originally from Canada but currently living in Dublin, won his seat through a Pokerstars online qualifier. He battled his way through a field of 400 players to take the first prize of £50,000 and entry into the £5,250 Pokerstars.com EPT London event which marks the end of the UKIPT tour.
The 400 players each playing £500+50 to buy into the main event, created a prize pool of £200,500. This giant prize pool meant that even the first player to leave the final table left with over £4000. Entering the final table Abou Risk was a clear chip leader, he had been chip leader for most of the game and wasn't about to let it go.
Mary Martin was the first player to be sent to the rail, closely followed by Suzanne Pyefinch they took home £4,800 and £6,300 respectively. Two ladies on the final table was a first for the UKIPT, perhaps marking the increase of female players in the game. Nobody wanted to be the next player out and play took three hours before the next player was eliminated. After hanging on in there for so long it was Max Silver who eventually caved and left the game in 7th position for £8,200.
6th place finisher was Richard Chadwick who lost out to Luke Marsh. After losing nearly all of his chips and doubling up three times just before hand, Chadwick tried it one more time, it didn't pay off and he was sent packing but with £10,300 to cushion his fall.
Previous UKIPT winner Joeri Zandvliet finished his game in fourth place; unfortunately for him a second place finish would have put him top of the UKIPT leaderboard. He still boosted his way further up the leaderboard and took £13,100 to boot.
Strong player Luke Marsh who had been busting people out of the tournament left right and centre, had a taste of his own medicine next when he had to make his way to the rail in 3rd place for £17,600. Play was then heads up between Abou Risk and Puidokas. Heads up lasted a mere 20 minutes, at one point though the people at the rail thought Puidokas might take it, when he took a chip lead. But alas Abou Risk was having none of it and after winning the final 9 hands and battering Puidokas down, Abou Risk was crowned UKIPT Edinburgh main event champion 2010.
Abou Risk said of his tournament, "I had a good feeling on that first day and was talking through a lot of hands with Liv Boeree. Realising that she had some respect for my game gave me a lot of confidence and I started stealing a lot more blinds." He added that winning the tournament felt 'surreal' and that he would be using his winnings to take his wife on a luxury trip.
Final table results:
1st: Nicholas Abou Risk - £50,000
2nd: Mantas Puidokas - £27,700
3rd: Luke Marsh - £17,600
4th: Joeri Zandvliet - £13,100
5th: Richard Chadwick - £10,300
6th: Max Silver - £8,200
7th: Suzanne Pyefinch - £6,300
8th: Mary Martin - £4,800
Speaking of the 2010 San Remo EPT champion, Liv Boeree was the winner of the Celebrity Bounty Tournament which was also held at the UKIPT Edinburgh, with a £50 buy in and 110 runners. Proving she is still on top form. I asked her how she felt after her win and she said... "I took it down for £1500 (plus my own £100 bounty!!!). It was a lot of fun and good to know the 'ol tourney gears are still turning..."
The next leg of the UKIPT is in Dublin on September 9 and qualifiers are running right now on PokerStars. If you sign up via PokerNews you can also play in our $10,000 WCOOP Freeroll on September 5.