Ben Young Wins APAT World Amateur Poker Championships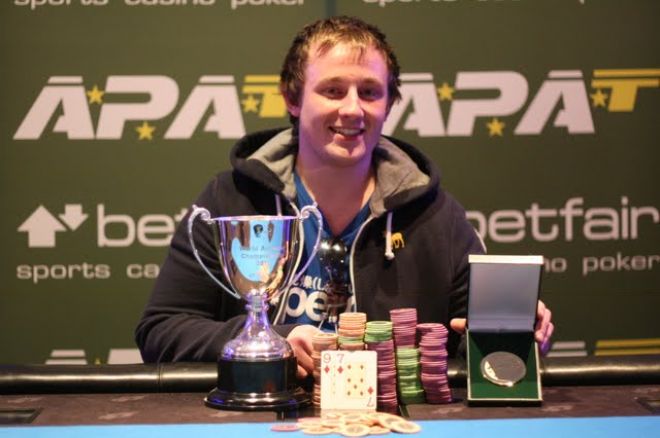 Ben Young from Cardiff has been crowned the winner of the APAT World Amateur Poker Championships 2010. He beat a field of 425 players in this two day no limit hold'em event. It was the main event of the five day World Championship of Amateur poker, held at Dusk til Dawn in Nottingham.
The 425 runners each paid £100 entry creating a £42,500 prize pool first place paid Ben Young £9,000 and courtesy of Betfair Poker the winner also took away entry to the GUKPT Grand Final worth £3,300.
Day 1a saw 212 players whittled down to 27 with Neil Lukins as chip leader when the day came to an end. Day 1b started with 213 runners and ended up with just 30. The players still in after the first day came together to create a field of 57 runners to start day two with 44 places paid.
Ben Young was dominating day two from early on and continued to do so until there were just nine players left for the final table. The first player to be kicked off the final table was Ritesh Chauhan who left in ninth place when his pocket jacks ran into pocket kings.
Berney Frankfort was out in 8th position after going all in on the button with his short stack and losing out to Ben Young. William De-vanney was the player leaving in 7th place closely followed by Jeldon Fernandes who left the tournament in 6th place.
With only 5 players left play slowed down for awhile until Gareth Cash became short stacked and shoved all in the Ace-Ten and was called by Ben Young who held J-6, Young hit a 6 on the river sending Gareth Cash to the rail in 5th place. Young then went on to knock out Mark Lassman in 4th place after outdrawing him with K-T vs. Lassman's A-J.
It was again a fair amount of time before the next player was to finish and it was again Ben Young who took them out, Wayne Parker ended up all in with K-J against Youngs A-A and found himself out in 3rd place.
Heads up started and the two Welshmen, Ben Young and Stephen Roderick battled it out for 20 minutes until Young took all of Roderick's chips when he turned a flush beating Roderick's set. Ben Young was the crowned the 2010 APAT Main event winner. The next APAT event is the Irish Amatuer Poker Championships in Dublin on 24th September.
You can buy in direct or qualify for future APAT events at Betfair Poker.