Year-long Poker770 $2,770 Cash Freeroll Series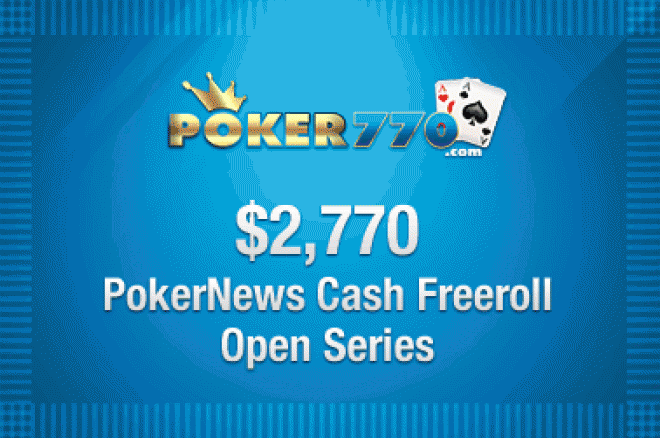 More great news for Pokernews readers in 2010 as Poker770 are back and once again treating us to a year long series of poker freerolls! This time round they have upped the ante with a year long series of $2,770 cash freerolls!
Not only will it boast over $60,000 in free money, it will also cater to non Pokernews referred players too!
Exclusive tournaments will require a Poker770 through PokerNews account, a minimum deposit and a token (to be issued to qualified players on the day of each tourney).
Non-exclusive tournaments are open to ALL players with a Poker770 account regardless of where they signed up, in addition to a minimum deposit, one player point and a password to be released shortly before every freeroll begins.
Of course the real value will be in the exclusive tournaments, which will have a significantly smaller field.
Password for 24 May is newsp77
Password for 7 June is pkrnews
Password for 25 July is pn77
Password for 8 August is pkr7
Password for 26 Sep is pkr77
Password for October 10 is pnews770
Password for 28 November is pokerpn
Password for 12 December is hppyny
To see the full schedule and details, please visit Poker770 PokerNews Freerolls.
Look for our fabulous tournaments in the Poker770 client lobby under the Scheduled tab with the title PokerNews $2,770 Freeroll.