UK Pokernews Roundup: Trickett Makes Good Start in $25,000 6 Handed, Julian Gardner 6th in Event#50, and more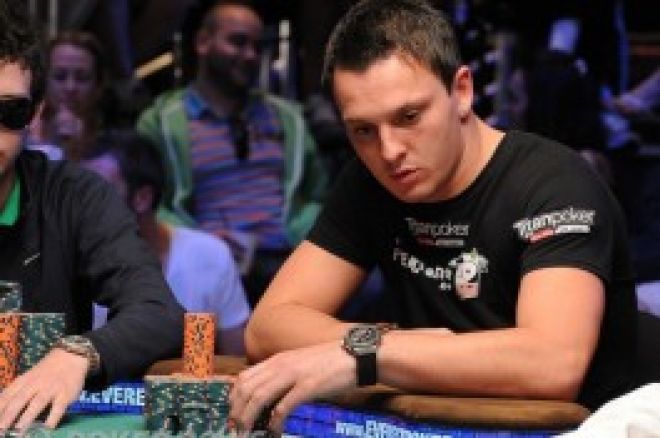 Sam Trickett Bossing Event #52: $25,000 No-Limit Hold'em / Six Handed
The new addition to the WSOP calendar which many are calling the 'real main event' kicked off last night. Event #52: $25,000 No-Limit Hold'em / Six Handed is considered the event that brings together all the top online players as well as the best of the old guard. As you can imagine it's a railbirds dream with names like Negreanu, Juanda and Ivey all still in the mix.
But the big UK story is Sam Trickett, who put on a dominant performance towards the end of day 1 to finish 3rd overall in chips. Also still left for the Brits are Keith Hawkins, John Duthie, Tom Bentham, Martins Adeniya and Andrew Feldman. 78 of 191 remain going into day 2 tonight and its $1,315,518 to the winner. Keep an eye on our Event #52: $25,000 No-Limit Hold'em / Six Handed Live Updates tonight to see how they get on.
Julian Gardner 6th in Event #50: $5,000 Pot-Limit Omaha
Another strong finish this morning from the UK as Julian Gardner of Manchester finished 6th in Event #50: $5,000 Pot-Limit Omaha. Gardner is one of those players you don't seem to hear much of 11 months out of 12 but when the WSOP rolls around he always seems to manage a notable deep run in at least one event. The UK pro picked up $91,387 for his efforts.
Calling the Clock on James Akenhead
Last years main event star James Akenhead gets grilled for 1 minute by Lynne Gilmartin:
Snoopy on the 2+2 Pokercast
Pokernews blogger and top UK poker writer Adam 'Snoopy' Goulding was interviewed this week on the popular 2+2 Pokercast. He talks about the success of the Brits this year at the World Series of Poker as well as reminding us what a hard and fantastic job our bloggers are doing covering the WSOP this year. Its well worth a listen.
Join the UK Pokernews Facebook Page
The UK Pokernews Facebook Page is back! Apologies for those of you the previous one but it will be well worth signing up again. We like to get our news on the page before it hits the UK Pokernews Homepage so you can get the latest tournament reports, interviews and gossip before anyone else. You will also be the first people anywhere to hear about our exclusive freerolls and promotions, as well as being able to post plenty of banter on our walls. We are planning a freeroll once we hit 1000 members for the first 1000 that sign up, so why not join it today?