Jamie Burland wins Pokerstars UK & Ireland Tour Brighton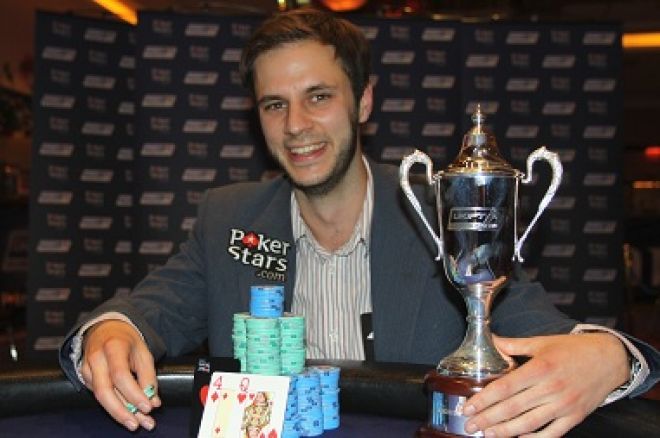 While history was being made in Las Vegas headlines were also being made on this side of the pond as Pokerstars celebrated another successful outing on the UK circuit. 259 players played in the Pokerstars UK & Ireland Poker Tour Brighton Main Event. The £1000+£100 tournament took place at the Rendezvous Casino and boasted £65,400 to the winner.
Like all the UKIPT events before it, the final table had an International feel with visiting players Tomas Cibak of the Czech Republic and Bill Seber of the USA putting on strong performances. Top up and coming UK pro John Spinks also made the final but it would be 25 year old professional poker player Jamie Burland of London who would take home the big prize after a short heads up match with Cibak.
Burland was railed by UK legend Neil Channing who the champion credits as having helped him improve his game. He learnt the game in Brighton while he was a student and commented that the victory felt like a home win. "I think I'll be at the rest of the UKIPT's now, I'm definitely going to try and win the leaderboard" he said in a post match interview.
On top of his prize money, Burland also won a seat in the EPT London Final later on this year.
1. Jamie Burland, UK, PokerStars qualifier - £65,400
2. Tomas Cibak, Czech, PokerStars qualifier - £40,100
3. Bill Seber, USA, PokerStars qualifier - £24,600
4. William Beauchamp, UK - £18,100
5. John Spinks, UK, PokerStars qualifier - £15,000
6. Waseem Ahmed, UK - £12,400
7. Andy Youens, UK, PokerStars qualifier - £9,850
8. Jonathan Campbell, UK, PokerStars qualifier - £7,750
9. David Gant, UK, PokerStars qualifier - £5,550
If you want to qualify for and win a Pokerstars UKIPT Event like Jamie Burland, you can win your seat to the Edinburgh leg right now at Pokerstars for as little as £5.50 or 500FPPs. The event takes place on August 19-22 and runs alongside the infamous Fringe Festival.
Speaking of Pokerstars, you can qualify for another one of our massive value $10,000 Sunday Million Freerolls on August 8th. We are giving out over 200 seats in Sunday Major tournaments for free and all it costs is 250 VPPs for new Pokernews referred customers, find out more on our $10,000 Sunday Million Freeroll Page.