Challenge James: My Poker Set Up Part 2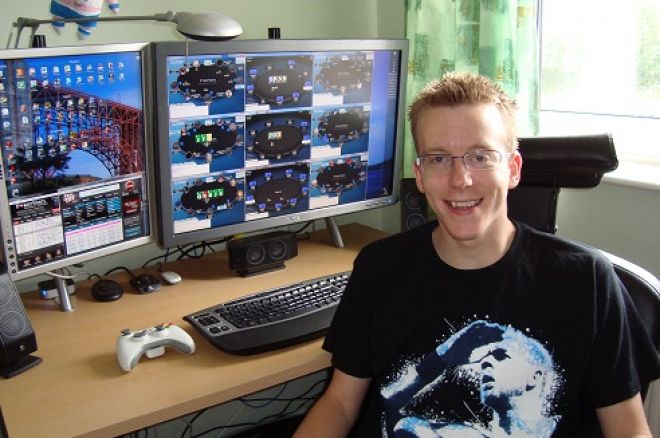 About a year ago I wrote about my Poker Set-Up. Since then I've changed a fair few things so thought it was worth writing an updated piece. I was given the inspiration to do so when I recently observed a very successful online MTT pro play a full session from the comfort of his settee, with a laptop that had a 15" monitor and, best of all, NO MOUSE! He was switching between tables back and forth with the dodgy pressure pad on the laptop. As far as I'm concerned, he might as well be playing poker on an iPhone using a Wii remote to control the cursor! I couldn't help thinking that he should have invested some of his tournament winnings on a better set up. At least buy a laptop table ffs! £14.99 from Argos!
I would advocate to anyone who plays poker seriously that having a good set-up is very +EV. As I have become more successful in the games that I play, I have gradually rewarded myself by purchasing equipment to improve my set-up. It's nice to consider when splashing out on something that it's very possible that it will effectively pay for itself in the long run, if it allows you to either play better or play more.
One important change in my poker setup came from moving house, which allowed me to have my own office. I realise now how important it his to have your own private working space whilst grinding. It cuts down on any outside distractions (apart from the damn cat that thinks my window is a cat flap in the summer time), and allows you to focus on your tables. Usefully, it also provides an extra door to muffle the loud swearing when you are getting repeatedly two-outered and forget that your 10-month old son has just gone to bed!
By far my most expensive purchase was my 30" monitor. I was hesitant to spend so much on one item, especially when you consider decent 24" monitors cost only 1/6 of the price (then again, most blokes would be have no problem spending more money for an extra 6 inches). However expensive though, I would contend it is also my best purchase, and is worth its weight in gold when playing poker. It just gives you so much space to work with, without having to dart your eyes between monitors. It also allows provides a natural fit for a 20" monitor to be placed in portrait alongside it, which can be used for all that extra clutter (poker lobbies and such) when at the tables.
It dawned on me a few months ago just how much time I spend in my desk chair and that it would make sense to upgrade on my dodgy £29.99 office chair from Staples, to something that would encourage me to sit and play for long hours. I splashed out on an ergonomic '24-hour' chair with a head-rest that set me back a few hundred quid, and although that felt bloody expensive for just a chair, I likened it to a pair of jeans I bought when I was fourteen. My parents were understandably reluctant to buy me this £75 pair of jeans that I really wanted, but I obviously harangued them enough that they eventually did get them for me. I ended up wearing them alllllll the time, and they were a proud part of my wardrobe for many years. They turned out to be better value than many £15 pairs of jeans because of how much I used them.
Some elements of my poker setup are less tangible, and come in the form of software or software tweaks. Playing on modified table layouts, as opposed to a poker site's default theme, helps make them easier on the eye. Modified decks help you spot flushes that bit more easily. Also, AutoHotKey scripts can make certain tasks less laborious. PlaceMint is a useful program I started using that allows you to lay out your tables as you desire. Tableninja, Hjalper , Hold 'em Manager and XPadder also make sure I have enough processes running whenever I play to make sure my computer is getting a decent workout.
Also, I now have it set-up so I can play poker with an X-Box controller. This, much like a trip to Amsterdam, saves a lot of wrist strain. However, as if I didn't have enough trouble convincing my friend's that this job is hard work, they now see me leant back in my office chair looking as if I'm playing on a video game console!
Let's just hope that the UK don't go the regulating poker route like has recently occurred in France, else it will be GAME OVER, for me and my poker setup.
Please check out my blog if you'd like to see other sick poker set-ups.
Grind like crazy like James in our PartyPoker $1,100 Step Up Series