UK PokerNews Roundup: Bansi Closes in on Event #5 Final, Good Day for Brits in Event #6 Shootout, and more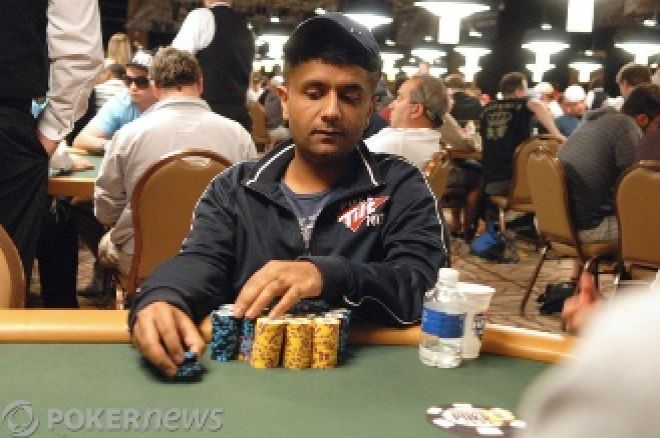 Praz Bansi Closing in on Event #5 Final Table
Just 23 players remain in event number #5, the $1500 No Limit Hold'em tournament and UK pro Praz Bansi is in earshot of the final table. He was in the top ten chip counts after day 1 and he maintained that position in day 2 where he currently sits in 5th with 616,000. The tournament is at the business end with everyone already in the money and walking away with at least $15,222. But they will be playing down to a winner tonight and bracelet winner Bansi will be eyeing up strap number two and the first prize of over half a million dollars.
Unfortunately UK MTT legend Chris Moorman did not survive the day after a great start in day one, he chatted to Pokernews just before his elimination.
We will be updating every hand until we have a winner, so bookmark our live updates page now.
Brits Take Control in Event #6 $5000 No Limit Shootout
A good day for UK players over in the No Limit Shootout event, which saw 358 players whittled down to 36. The field was jam packed with the world elite and several big UK players won their table to progress to day 2. James Akenhead, John Duthie, Neil Channing and Pokernews columnist Stuart Rutter all emerged the winner of their first heat and guaranteed themselves a cash of at least $16,607. All of these players have plenty of experience playing in TV shootout tournaments in England, which no doubt will give them a bit of an edge as we get to the business end, which culminates in a $441,692 first prize.
Hopefully they won't get drawn against each other as this looks like a strong UK finish is almost certainly in the bag. Although we do not know the draw at the time of writing, we do know that James Akenhead has drawn the same table as Tom Dwan, which could be one to watch. Find out how they get on today via our Live Updates.
Summer Series Results
The first two GUKPT Summer Series are in the bag and we have the results from Thanet and Blackpool. The £300 main event in Thanet was won by Ricky Mackintosh of Dover and the £500 main event in Blackpool was taken down by Mick Fletcher. Anyone who won a main event or side event also bags a seat in the £150,000 Champion of Champions event at the end of the year.
The next two Summer Series festivals take place in less than two weeks time at the G Casinos in Luton and Aberdeen. The Luton festival runs from 9th - 13th June and features a £500 main event, while the Aberdeen festival starts a day later, running from the 10th - 13th June and includes a £300 main event.
You can win your seat or buy-in direct to these events at Blue Square Poker. When you sign up via UK Pokernews you will also be eligible for a fantastic $500 bonus plus a free £11 and £55 tournament token.
Blackpool Summer Series
£150 NL Hold'em Freezeout
1st Waseem Shahid £5,120
2nd Michael Bentley £3,610
3rd Vincent Mather £2,270
4th Sean Barlow £1,430
5th Asif Choudry £1,180
6th Osaretin Ofioritse £840
7th Martyn Wilson £670
8th Todd Robinson £500
9th Philip Dales £420
£100 NL Hold'em Rebuy
1st Reyaaz Mulla £3,030
2nd Simon Cawley £2,210
3rd Michael Fletcher £1,480
4th Lukasz Kapusta £820
5th Tim Flanders £660
£250 NL Hold'em Freezeout
1st Andrew Christopher £6,260
2nd David Wearing £4,460
3rd Robert Charlton £2,840
4th Keith Singleton £1,720
5th Charles Denton £1,420
6th Robert Harrison £1,010
7th Enid Musson £810
8th Patrick Stanley £610
9th Barry Burns £560
10th Martin Fogg £560
£100 PL Omaha Rebuy
1st Stanley James £2,240
2nd Ghalib Hussain £1,680
3rd Patrick Stanley £1,120
4th Philippa Flanders £560
£500 NL Hold'em Main Event
1st Mick Fletcher £8,570
2nd William McMurray £5,880
3rd Paul Wilson £3,920
4th Gregory Hunt £2,700
5th Neil Greenhalgh £1,960
6th Peter Astley £1,470
£100 NL Hold'em Bounty Freezeout
1st Chaun Kim Ooi £1,595
2nd Nigel Griffiths £1,160
3rd Ghalib Hussain £770
4th Keith Newton £450
5th Glenn Hope £360
6th David Brange £280
7th Tony Doggett £230
8th David Douglas £180
Thanet Summer Series
£200 NL Hold'em Freezeout
1st Martin Holmes £2,370
2nd Darren Annis £1,730
3rd Paul Keighley £1,150
4th Ali Haq £640
5th Steven Bunce £510
£150 NL Hold'em Freezeout
1st David Buckle £2,100
2nd Dean Swift £1,440
3rd Ken Gratton £960
4th Benjamin Jenkins £660
5th Kyriacos Saranta £480
6th Camron Siah £360
£300 NL Hold'em Main Event
1st Ricky Mackintosh £4,620
2nd Stephen O'Keeffe £3,170
3rd Kyriacos Saranta £2,110
4th Silvano Lieghio £1,450
5th Paul Keighley £1,060
6th Christopher Gordon £790
£100 NL Hold'em Bounty Freezeout
1st Paul Humphrey £1,060
2nd Martin Holmes £770
3rd Emma Tolley £510
4th Danny Jordan £280
5th Ricky Mackintosh £230
UK Editor on Ladbrokes PokerRadio.tv Tonight
Our good friends at Ladbrokes have a fun little weekly radio show going on at pokeradio.tv and tonight your very own Barry Carter will be a guest. The show starts at 7pm.
Join our Facebook Page today for up to the minute news and promos.