UK Pokernews Editors Column - The Year of the Brits Part 2 at the World Series of Poker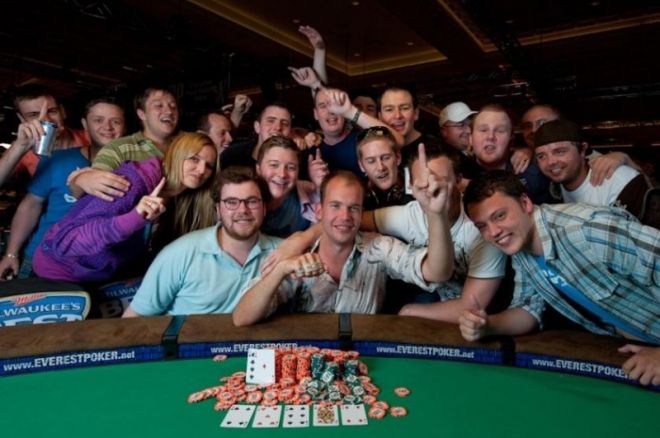 Reporting on, playing on and being friends with people on the UK circuit, I must say I am quite indifferent to people winning large sums of money. I've got friends who have won pretty big amounts in UK events and for the most part my biggest reaction is "Good, I can bag an easy interview then". Occasionally I will be particularly pleased for an achievement by a player on the UK circuit and now and then I will be a bit jealous, but 99 times out of 100 its just business as usual for me.
Apart from when it's the World Series of Poker.
It is probably the fact that I am about to explode with excitement that the World Cup starts this weekend that I am reminded of this fact, but I turn into a massive fan boy during the WSOP and am genuinely delighted for every bracelet, final table and even min cash UK players manage in Vegas. I'm not alone; there is something about the WSOP that makes every player in the UK genuinely excited by the success of other UK player, in a game where for the most part we are only ever really bothered by our own fortunes.
We could not have had two better players start the frenzy off than Praz Bansi and James Dempsey. Both very talented players and very popular figures in the UK. Praz for his previous success and HitSquad connections has been a real flag bearer for UK Poker. Dempsey has an iconic status on the popular Blondepoker forum and on the UK circuit. Every UK forum is going nuts, player's facebook walls are getting hammered and every card room back home is talking about it. The rail at Dempsey's final table resembled the banter we will see in every pub up and down the UK this Saturday for the England vs USA match and the excitement is reaching fever pitch in Vegas.
Poker is a very solitary game and no matter how happy you are for the players you like, you'd rather it was you. That changes when it's the WSOP, it reminds me of supporting your local football team or your National team abroad – there is a really strong "It's us against the World" feeling amongst UK players right now, or indeed "It's us against the Yanks", a victory for one is a victory for all of us. UK poker has been on a high since last year's WSOP and British players have been taking down WSOPE, EPT, Irish Opens, Sunday Millions and more since.
Will it continue? I am inclined to say yes. I think realistically matching 3 bracelets will be a fantastic result but there is no reason why we can't beat it. The United Kingdom is a fantastic place to play and more importantly develop as a poker player, we have a lot going for us which is probably why we are doing so well out in Vegas.
We have some of the best poker communities around, whether it's Blonde, the Hendon Mob, AWorldofPoker, Sky Poker, BlackBelt Poker or APAT – all of which have a strong spirit of supporting and helping their players develop.
The UK is also somewhere where players can enjoy well structured, deep stack poker without breaking the bank. Dusk Till Dawn, APAT, the British Masters Poker Tour, the Grosvenor UK Poker Tour, the Pokerstars UK & Ireland Poker Tour, PKR Live, Black Belt Poker Live, the Sky Poker Tour Final and not to mention the plethora of affordable deep stack events over in Ireland. Just about every weekend players can locate a deep stack event in the UK for £1000 or less, which is probably why we are doing well in well structured events in Vegas right now.
There are loads of other things to mention of note, the fact the age limit is 18 not 21, the fact we don't have to pay tax on winnings, the fact we have poker on TV every week (The Matchroom Shootout tournaments no doubt helped Neil Channing and Stuart Rutter go deep in the $5000 Shootout Event) and the fact that we have G Casinos, Gala Casinos and more in every moderately sized City. All of which has really helped encouraged people to play poker in the UK.
The more I think of it, how can we not bag another bracelet at the minimum by the time the main event comes around? We are behind the times in Stud events generally but keep an eye on all the Omaha Events and the $10,000 Pot Limit Hold'em because I think we will see some serious contenders in those fields, plus the $25,000 Six Max might be one to watch.
If I had to choose between railing a UK player at a big final table and watching England play a world cup match, England would get my vote and it isn't even close. But other than that it's a great time to be a railbird and I apologise to my missus in advance for how little she will see me this month as between World Cup matches I will be cheering on our boys and girls in Las Vegas while watching the Pokernews Live Updates.
Now let's have another one please guys.
If you want big tournament success this year, you can bag not one but two seats in the Everest Spanish Poker Tour for FREE. Check out our Spanish Poker Tour Freerolls Today.