UK Pokernews Editors Column: British Masters Poker Tour - The Peoples Tour?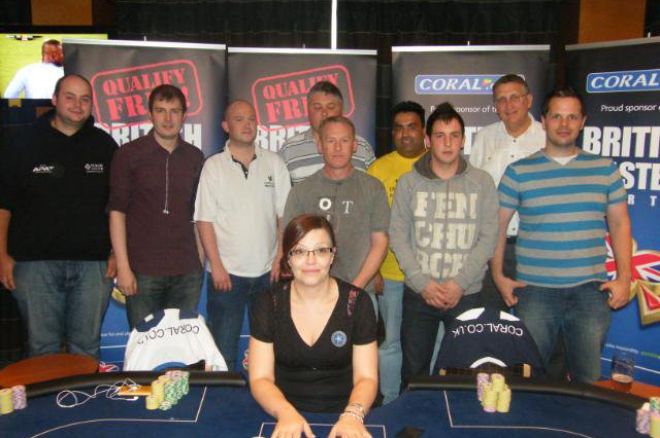 A rare final table for UK PokerNews editor Barry Carter, so he had to blog about it.
When the Pokerstars UK & Ireland Poker Tour was announced last year some people speculated that the Coral British Masters Poker Tour would suffer and eventually demise. The suggestion was that there wasn't enough room on the very busy UK circuit for three major tours (The Grosvenor UK Poker Tour of course being the third one in the mix). The financial and marketing clout of Stars plus the already massive presence of the GUKPT was thought to be too much for the comparatively smaller tour.
I must admit, I wasn't 100% confident that the Coral tour could continue as it was either. Numbers last year were down on the previous year and more events were picking up on the fact that £300-£550 commanded the biggest fields, thus saturating the market. As I returned from the Leeds leg of the tour last weekend, my mind was changed on the subject and I think there is ample room for the Coral tour, GUKPT, UKIPT and many more events on the UK circuit.
I probably should add a caveat at this juncture and say that I did make the main event final table over the weekend, so obviously I would be in positive mood, but I had made my mind up way before the bubble had burst. I probably had more fun at this event over the two days than I have in years, which considering I only really play live poker for fun is a good thing.
The tour has always been pegged the 'Peoples' tour, perhaps more than any other tour this is one where the majority of players are regulars of the casino in question. I have played in a few of these now and you get the impression that all the locals have set aside £500 to play in the main event, making a special once a year punt type event for them. There is also a travelling contingent of players (Mainly from Newcastle) who do all the legs which add to that people's atmosphere. Unlike other events, there is a real home vs away banter that takes place in the event that makes it unique.
This also ultimately makes it a very soft tour, although there weren't any truly awful players at any of the tables I played on, the play was very straightforward. There was lots of limping late on and I got more walks in the big blind in this tournament than I probably have in every other one I played combined. Everyone was pretty solid, as most poker players are these days, but this is still a tour full of players for whom £500 is way more than the sort of games they are used to playing, which makes it great value.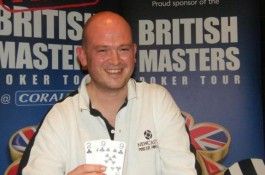 More than anything, what makes this tour special is nobody takes things too seriously. On the three events that I have played on this tour I have barely heard a bad word said about anyone, no rubdowns or complaints when someone gets a bad beat and generally a really fun spirit of Mickey taking throughout. On day 1 I made a pretty loose call with 6-3 suited against one player and crippled his over pair when the flop came 6-6-3. Normally when something like that happens I do my best to keep quiet and not mention it, I don't want to rub the poor sods nose in it or even worse have him waiting for me outside with his mates. However this time round the atmosphere was such that my victim took it in great humour and turned it into a running joke for the rest of the day (It did help that he was the eventual winner Ross Johnson, which made for good banter at the final table).
The tournament was very well organised too. The structure very good and moved along at a steady and slow pace, a big improvement on last year where there were some really sudden jumps. The dealers were excellent and even the presence of the video crew from AWorldofPoker made for an exciting atmosphere.
By the time the final came around we were all bosom buddies with a catalogue of in-jokes and nicknames between us (6-3 and Golden being the themes for my own new table names). Before we started play we all had our picture taken together and it actually felt like the last day of school or a holiday rather than the final table of a tournament. Whenever someone would bust they would get a handshake from everyone at the final table rather than just the buster, and we all sat together for a drink during breaks to watch the football. I'm even friends with a few of the guys on Facebook since, all in all its fair to say it was poker at its most social.
Can the Coral British Masters Poker Tour overtake the UKIPT & the GUKPT? No, I don't think so, not in the current market. Is there a place for them on the UK circuit? Absolutely. Rather than looking at the three tours as rivals to each other I think that they are entirely separate entities, all of which we are blessed in the UK to have on our circuit.
For me the Grosvenor UK Poker Tour is the pro tour, this is where we see the best of British on display playing a fantastic standard of poker that has massively helped UK players become the force they are right now in Vegas (Its also the tour I would most love to win an event in for that reason). I regard the Pokerstars UK & Ireland Tour as the online player's tour, with both a massive marketing and a huge online qualifier presence, the UKIPT is one of those event that captures the imagination by recreating the Moneymaker effect of turning a modest buy-in into a small fortune for a plucky underdog. Finally I think that the Coral British Masters Poker Tour is indeed a peoples tour, a no pressure poker tour where the game is played for fun, a brilliant weekender away with the Lads, thankfully its also pretty soft with some money to be made too.
Have you seen our fantastic Pokerstars promotion yet? We are giving away $10,000 in Sunday Million Tickets on July 13. Check out the $10,000 Sunday Million Page for more details.