World Series of Poker 2010: Steve Jelinek Wins Brit Bracelet 5 in Event #41: $1,500 Pot-Limit Omaha Hi-low Split-8 or Better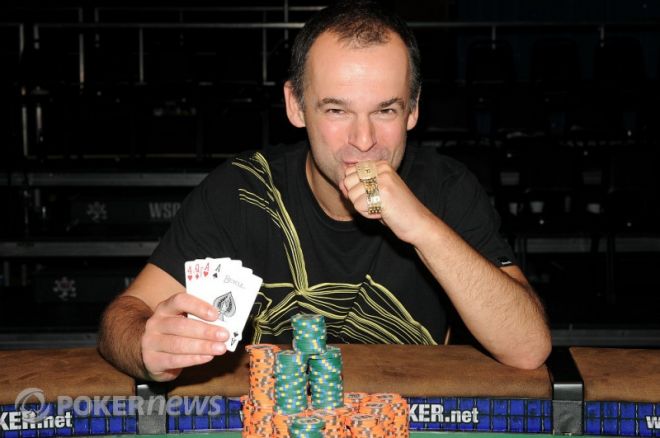 We are starting to run out of superlatives for what the Brits are doing out there in Vegas, as Steve Jelinek has just won Event #41: $1,500 Pot-Limit Omaha Hi-low Split-8 or Better. This is the Birmingham man's first bracelet and an amazing 5th strap of the year for the United Kingdom. Not only is this already two more than our previous best but it also means we leapfrog Canada to second place in the overall bracelet counts for 2010.
What more can be said for Steve Jelinek other than this was a long time coming. He may not be a household name yet, but he is one of the most prolific tournament players in the country and has made a huge number of high profile final tables without ever winning a major. Jelinek has made finals in GUKPT and EPT Main events and very impressively even this very event at the WSOP last year where he finished 6th.
This time round he went all the way at a final table that included another Brit, Joel Ettedgi and of course the imposing presence of Phil Hellmuth. He defeated John Gottlieb heads up for the $245,871 pay day and the all important bracelet that will finally command him the attention that he clearly has deserved for some time.
So there you have it, 5 bracelets in a variety of events, all taken down by well known pros on the UK circuit. Dare we say there is still time for bracelet number 6?
Congratualations to Steve Jelinek on his much deserved win and you can see how he did it via our Event #41: $1,500 Pot-Limit Omaha Hi-low Split-8 or Better Live Updates.
1 Steve Jelinek $245,871
2 John Gottlieb $151,884
3 Anders Taylor $97,913
4 Michael Chappus $71,728
5 Ben Lamb $53,319
6 Mandy Thomas $40,169
7 Phil Hellmuth $30,633
8 Ryan Karp $23,635
9 Joel Ettedgi $18,432
You can play in a fantastic WSOP style series of online tournaments at Pokerstars called the Pokernews MiniSOP. They are open to all and have an amazing $8,000 added to the prize pool.