UK PokerNews Roundup: Nick Moran Freeroll on Ladbrokes, Ireland to Tax Gambling, and more
Play Against Nick Moran at Ladbrokes Poker
Lock Stock star Nick Moran is going to try and live up to the poker playing reputation of his iconic film character this week on Ladbrokes Poker. The actor has been learning the ropes from Jon 'Skalie' Kalmar and will be playing in the 'Short List Freeroll' at 8.00pm on Thursday 20 May. The winner will bag a fantastic Ladbrokes Irish Poker Festival Package and the next 4 places will win a Ladbrokes Poker Chip Set.
You can locate the freeroll in the special tab at Ladbrokes Poker and dont forget a fantastic $1000 sign up bonus when you join via UK Pokernews.
Get to the World Series of Poker for Free with Pokernews
If you somehow have missed it, UK Pokernews has $71,000 in WSOP Freerolls this year, check out our guide to find out more.
Ireland to Tax Online Gaming
Legislation is set to be brought in to introduce licenses for overseas gambling operators to allow them to sell their products in Ireland , according to RTE. Taoiseach Brian Cowen has announced the Government will be taxing online gambling in all forms, he commented: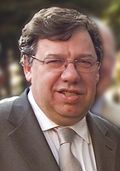 "This will have the additional benefit of facilitating the extension of the tax regime for the betting industry to all those providing online and telephone betting and so underpin funding for the racing industry. Such betting must be brought within the tax net, not just because it will increase revenue, but also because it will mean that those currently not contributing to securing the future of important indigenous industries will now make that contribution."