The Pokernews Guide to Getting to the 2010 World Series of Poker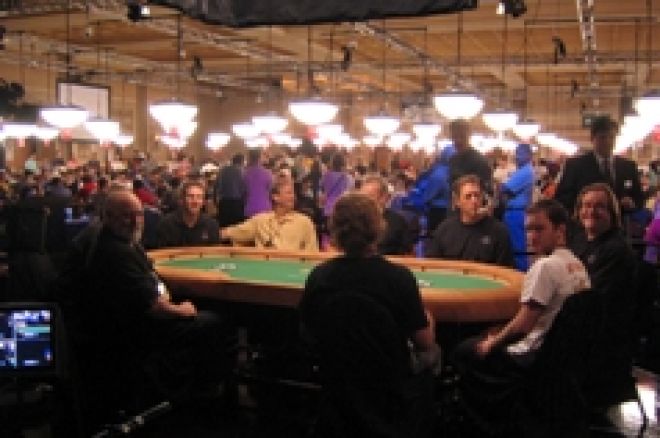 The World Series of Poker is the pinnacle of the card playing calendar. Every poker player with an inch of talent (and even more without) migrate to the mecca of gambling that is Las Vegas for a shot at fame and fortune at the start of the Summer. Last year 6494 players attended the $10,000 Main Event and eventual winner Joe Cada shipped the first prize of $8,546,435.
This year will be more of the same and most of the field will be getting there via the route of online qualification. Round about now is when everyone starts looking for a way to get the main event without stumping up the $10,000 themselves. Thats why we are going to start bringing you a guide to getting to the 2010 World Series of Poker for a fraction of the price at some of the best online poker rooms around.
PartyPoker $16,000 Freeroll
On Jun 10th Pokernews and PartyPoker have a fantastic $16,000 Freeroll which includes $10k WSOP buy-in: $1,500 for hotel and hospitality expenses, plus $2,500 of fresh ice-cold CASH! There are a ton of ways to qualify for this including simply signing up a new account, no deposit necessary, plus a rake race for existing members. It really is one of the best WSOP freerolls ever, find out more here.
Full Tilt Freerolls
Not one, but two $15,000 Freerolls exclusive to Pokernews one on June 5 and one on June 6. You get a $10,000 buy-in, $2000 for expenses and $3000 is awarded as prize money to the rest of the field, as per Full Tilts payout structure. Check out this guide for more information.
Pokerstars
Pokerstars have unveiled their 2010 qualifying campaign with huge numbers of qualifiers on offer. They will have steps, cash and FPP qualifiers with some serious added value thrown in. Anyone who qualifies and plays the main event will get 50,000 VPPs thrown in and anyone who cashes will also bag a free 2011 NAPT or PCA package for nothing.
Check out our guide here.
Full Tilt Poker
Hundreds of seats will be given away in a multitude of qualifiers for all bankrolls. You can qualify for free, direct satellites for $1, daily $216 shootouts and a host of $216-$1000 direct qualifiers. There is a magnificent 150 seat giveaway on June 20th for a $645 buy-in and 50 direct freerolls. You can also qualify daily for a huge range of $2,000 side event packages.
Whats more, if you win your seat then cash in the main event, you get a 2011 Main Event Package for FREE! Oh and did we mention you get an extra $10 million if you win the main event on top of your winnings?
They have also just announced you can get there via the STEPS qualification route.
Check out this guide for more details!
Poker770
The big iPoker skin have unveiled 5 different packages to the WSOP to suite all levels. There is a standard main event package, a $10,000 PLO Championship Package, some Jackpot SNG Qualifiers and also some side event packages for those of you on a budget. Find out more here.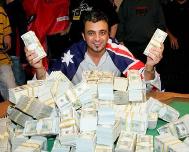 888 Poker
888 Poker are giving you not one, not two, but eighty eight ways to get to the World Series of Poker this year. You can win either one of 41 $15,000 packages to the main event OR one of 47 $5,000 packages to event number 54. They are giving the widest choice of qualification routes including Rake Races, Referring Friends, Joining Facebook Fan Pages or Bounty Tournaments.
Check out this feature for more information on how to get there this year.
PartyPoker
One of the big players in WSOP Qualification, PartyPoker are offering $14,000 packages to the main event, which start at FREEROLLS. The main $700+$50 satellites take place every Friday at 18.00ET and Sunday at 15.35ET, where one in 20 players will win a $14,000 WSOP package.
The best thing about these qualifiers is that you can get there for NOTHING by starting a bankroll with PartyPoker via UK Pokernews. That's because you can get a FREE $50 bonus, NO DEPOSIT NEEDED when you sign up via Pokernews.
Check out this link for more information.
Absolute Poker
Absolute Poker have put together one of the most generous satellite programmes for the 2010 World Series of Poker so far. You will get between $1,500-$5,000 just for showing up to the main event if you win a package and the player that wins the most seats gets an extra $5,000. There is a $750,000 bonus for anyone that makes the final table.
You can win a seat via STEPS SNGs, weekly finals and two massive guaranteed tournaments with a total of 75 packages up for grabs.. Check this out to find out more.
Cake Poker
Something a bit different from Cake Poker. There are $2,500 and $12,500 packages to be won with NO STRINGS ATTACHED. No logos to be worn, contracts to be signed and you can do whatever the hell you want with the money, even play a different event or keep the lot. Find out more here.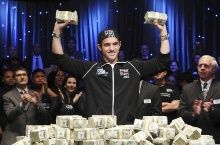 Betfair Poker
No need to satellite into the big one with Betfair Poker, cash game players will benefit from a fantastic rake based promotion whereby if you hit a certain target you can bag either a $14,000 Package to the Main Event if you can earn 450,000 Betfair Points before the end of May, or a $7,000 side event package if you can earn between 325,000-449,999 points.

If you miss out but still earn more than 100,000 points you will still win a seat into a freeroll where one in twenty players will bag a $14,000 package to the main event.
Check this link for more information.
Ladbrokes Poker
Of course if you just want to have a bit of a fun gamble, look no further than Ladbrokes Poker. They have launched a fun series of Lottery Tournaments where you are all in every single hand. Its all luck, but you can win a WSOP package for just $0.20 - find out more here.
Keep an eye on this feature for more information on the best and cheapest ways to get to the 2010 World Series of Poker this year!