Stuart Rutter - Interview with GUKPT Coventry Champion Stuart Rutter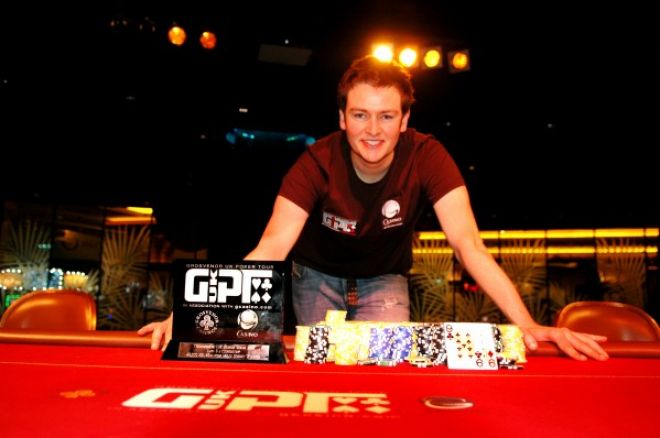 Last weekend, top online player and UK Pokernews Columnist Stuart Rutter won the GUKPT Coventry Main Event for £41,190. It was Rutter's fourth main event final table on the tour and his first major title, one which most people believe he has been due for a long time.
Pokernews: Well done Stu, would we be right in saying it was more about the title than the money?

Stuart Rutter: That's so true, I'm not particularly motivated by money, the purpose of it in poker is keeping score. This £42,000 means more than had I won it by another means, it's all about the challenge for me.
PN: You say you are not motivated by money but it is your livelihood right?
SR: Well to do well at poker is to also make money, its times like this I am reminded how ridiculously lucky I am to be playing this game for money. There are a lot of frustrations in this game, but the fact I am making any sort of living from it is so lucky. I hate it when someone has a big win and buys a really pretentious car with personalised plates and things like that.
PN: Your name is synonymous with the GUKPT, how important is this tour to you?
SR: For the experience it's my favourite tour by far, if I had to choose one to win it would be an EPT or WSOP because of the money, number of runners etc. But the GUKPT means more to me, it's fun and friendly, you see the same people, it's an ongoing challenge. You get to play against the same people each month, poker in general lacks that sort of consistency, plus you have the glue that is the leader board and the champion of champions event which makes it special.
PN: Was it a feeling of joy or relief when you finally won it?
SR: I was more excited than anything. It's a personal monkey off my back, the feeling I had was the same one that footballers who score an equaliser and quickly grab the ball from the back of the net and run back to the halfway line. I'd had a pretty bad 12 months with live poker, struggled with my confidence a bit, but after the win I was like "Phew, I can do it" – it was perfect timing for the WSOP.
PN: Does the win make you want to play more GUKPTs or move onto something else?
SR: Often people who do well in tournaments find it difficult to motivate themselves after, but it doesn't take too long before you have one or two frustrating results to motivate you again. When you win a tournament you are in a bit of an exclusive club, so to win two is even more exciting. Right now I am tied for four GUKPT final tables with Roberto Romanello and Joe Grech, I'd like to be the first player with five. I love little challenges like that, I always keep an eye on things like the European Rankings and stuff.
PN: You cruised through the final but it was a cagey heads up match, did you feel the pressure?
SR: 2nd place is never reported other than in the context of who the winner beat heads up. The pressure on you to win it heads up is almost like a ladder jump, all you can do is lose. A chip lead is an overstated thing heads up, I had a 7-1 chip lead and everyone says you cant lose it from there but people back 7-1 horses all the time, a 7-1 deficit is not hard to come back from. Even Danny Toffel who I was playing heads up said to me "If you lose it from here I am going to stalk you". All the pressure is on the guy with the chips, even my opponent was telling me I've won it, I started thinking about all those golfers who were leading the masters only to cock up two shots and lose it. Heads up was the only part I think I played badly, I think I stumbled over the line more than anything.
PN: You commented in your recent Pokernews column you are going to be playing mainly mixed games at the WSOP, has that changed now because of this No Limit win?
SR: Yeah its typical, I decide to not play anymore No Limit before Vegas then I go and win a No Limit event just before. I have worked on my mixed games very hard so I will have a few tough decisions when I am in Vegas deciding between events. Not everyone knows this but I had a piece of James Mitchell at the Irish Open, so when he won it I decided to use the money to concentrate on this and haven't played a single online hand of No Limit since. It's so lucky to win money by literally doing nothing, I decided I had to use this to learn all the other games.
PN: What sort of work have you been putting in to learn these games?
SR: It's so much easier to learn these games than ten years ago, with all the books and websites since the poker boom. I would never entertain the idea of a no limit coach, but I have got a few for the mixed games. The training sites are the biggest things ever, they have been really useful, I have really enjoyed it, but at the same time it's been hard work like exams and I've had 7 or 8 subjects.
I have created a situation for myself where if it goes well it will be brilliant, but if it goes bad I will feel like it has cost me a WSOP for a year. I'm a bit worried that I tried to learn them all, I might be a jack of all trades and master of none. They will be much more fun to play but tougher when I bust out.
PN: Finally, what would a bracelet mean to you?
SR: Mentally I think we build bracelets up too much, but they really trump everything else and it's my ultimate goal. If you win an EPT after a few years nobody really cares, but a bracelet is forever. There is a kind of 1984 thing about bracelets in that some are more equal than others, the $25,000 6 Max for example, but it's a real dream and I would love to be able to say I had a bracelet.
If you want to win a Grosvenor UK Poker Tour event like Stuart, you can qualify for the event of your choice in one of three weekly satellites on Blue Square Poker on Wednesdays, Fridays and Sundays. You can also buy in direct online at Blue Square for ALL GUKPT events including side events.
You can start off your satellite campaign with a free £11 and £55 tournament token, exclusive when you join BlueSquare Poker via UK Pokernews, also good for an impressive $500 sign up bonus.