Sarah Champion - Interview with Sky Poker Presenter Sarah Champion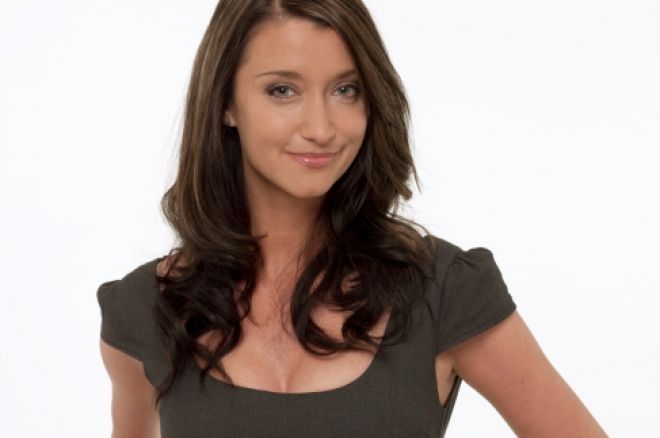 Well known TV presenter/actress Sarah Champion is one of the newest presenters at Sky Poker on channel 865. Sarah certainly holds her own in front of the camera but does that skill help her at the poker tables? I wanted to find out what it is like and if presenting Sky Poker had given her a taste for the game.
Emma Wilson: Were you interested in poker before you started presenting at Sky Poker?
Sarah Champion: Well the Champion clan have always been a card playing family. My fondest memories involve me my Dad and my brother playing acey deucey or three card brag. I got into a poker all nighter one new years eve away with mates, few drinks and a lot of cards into the small hours. Great fun!
EW: You've done plenty of different things before you started presenting poker such as working in radio, then moving on to TV where you hosted 'The Official Album Chart Show', 'Planet Celebrity News' and 'Radio Gaga' on MTV networks and even some acting, appearing in Jonathon Creek and sitcom 'FM'. What made you then choose to present poker?
SC: I've been really lucky and had quite a varied career to date, I reckon there's a common theme of adrenalin in there though!? I LOVE broadcasting live whether that's radio or tv it's a brilliant buzz, a bit like going all in!
EW: Do you play more poker now you work on Sky Poker and feel like you have an advantage?
SC: I play a lot more and I'm amazed at how quickly I've upped my game from being a relative novice to actually holding my own and making the final table. Its definitely testament to listening to our experts on Sky Poker, they know their stuff!
EW: What kind of poker do you enjoy the most, tournaments or cash games and why?
SC: At the moment I'm more of a tournament player. I really just enjoy the game and if I cash at the end of it then that's a bonus.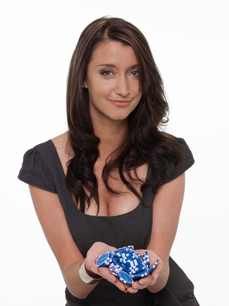 EW: Have you seen any really interesting hands yet while reviewing other peoples play?
SC: Honestly every hand is interesting to me, I'm not sure you ever stop really learning the variables involved. Poker is a multi layered game and I'm quite sure I'm still skimming the surface
EW: Who is your favourite professional player?
SC: I'm rather partial to Gus Hansen since I watched him playing tennis recently... Nice legs!
EW: Have you found that watching the game so often, reviewing hands and working with experienced players has given you a taste for playing the game?
SC: Definitely! I feel like my eyes have been opened to a whole new world! It's surprising just how quickly you get bitten by the poker bug...
EW: What advice would you give people who are just learning to play poker?
SC: Watch Sky Poker and no I wasn't paid to say that! Our experts are just brilliant at reviewing hands and giving top tips and will soon have you bluffing, folding and winning your way to the top table. Worked for me!
EW: What female players do you admire and why?
SC: I admire most female players to be honest because lets face it, its a bit of a boys game! I walked into a Las Vegas poker room a couple of weeks ago and was the only woman in there not giving out free drinks.
EW: Do you see yourself playing in any of the major tournaments like the WSOP?
SC: I think I'm a way off the WSOP but it's certainly something to aim for. Especially if Gus Hansen's there. Wearing shorts...
Presenting Poker has obviously given Sarah a great head start into the game with all the tips and advice she has picked up from the experts at Sky. So if you see her at the poker tables beware, she is more than just a pretty face.