Million Dollar Hand Back at PartyPoker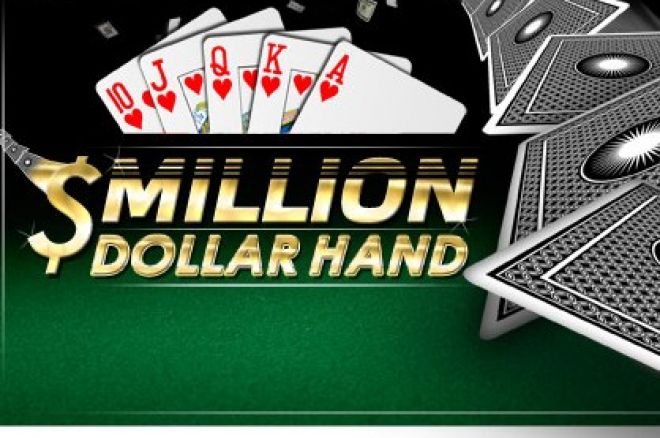 The hugely popular Million Dollar Hand promotion is back at PartyPoker on Tuesday 4th May and will be running until Tuesday 23rd May. Win prizes of up to $1 million. All you need to do is play at the real money tables at PartyPoker as usual and you will get one card every time you earn 15 PartyPoints. When you've made a five card hand you will win a prize, it's as simple as that. Make a Royal flush and win $1m!
A PartyPoker.com spokesman said: "The Million Dollar Hand is back! As Mike Sexton says 'May all your cards be live and your pots be monsters!' Thousands of cards are set to be revealed from Tuesday 4th May. The question remains – will the big one hit this time around? We've seen straight flushes and scared the insurers but nobody has hit the royal…yet! The Million Dollar Hand also provides amazing extra value for members of the Palladium Lounge through the VIP Race."
Players will receive their first card for free and to make it even more exciting, there is no limit on how many Royal Flushes can be hit. The free card will be available to players in their PartyPoker accounts on the 4th May.
You can reveal a maximum of two hands per day throughout the promotion and all players must go to their Party accounts to reveal their cards; any unrevealed card/hand will not be taken into account. Full terms and conditions can be found at PartyPoker.com
PartyPoker.com: 'The Million Dollar Hand' 4th – 23rd May 2010 - Prize Structure
Royal flush - $1,000,000
Straight flush - $10,000
Four of a kind - $1,000
Full house - $150
Flush - $100
Straight - $50
Three of a kind - $20
Two pair - $10
One pair - $3
Members of the Palladium Lounge needn't worry points will not be removed from any players account following the promotion and your points will still count towards your Palladium Lounge targets. In fact the Million Dollar hand promotion is even more exciting for Palladium Lounge members as there will be a Million Dollar Hand VIP race with more than $175,000 and $13,000 WSOP packages up for grabs. All you have to do if you're a Palladium Lounge member is earn cards as normal by getting 15 PartyPoints and for every one pair or better they will earn points which contribute to the race as well as the regular Million Dollar Hand prizes.
Speaking of PartyPoker, surely you have seen our amazing $16,000 World Series of Poker Freeoll? If not, check it out and you might bag a huge score from the Million Dollar Hand PLUS a Vegas package to win even more!