Michelle Bennett Wins DTD Deepstack, Liv Boeree on GMTV + more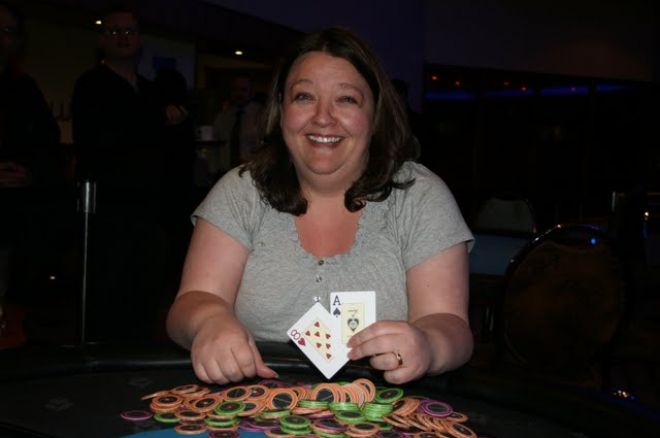 Michelle Bennett Wins DTD Deepstack
Another packed house for the bank holiday weekend at Dusk Till Dawn as 288 players sat down for the £300 monthly deepstack event. Pokernews has recently been writing about the year of the Tigress as a whole host of female players are taking down tough open events and you can add one more to that list today. Michelle Bennett returned on day two as the shortest stack in the field to come back and defeat Peter Charalambous heads up to take down this prestigious title. Both players took £18.500 in a chop and played for the rest, but the official payouts look like this:
1 Michelle Bennett £26,764
2 Peter Charalambous £15,647
3 Timothy Flanders £9,388
4 Daniel Morgan £6,588
5 Mark Elliott £4,941
6 Nigel Turver £3,706
7 Kevin Bloor £2,882
8 Costas Costa £2,059
9 Sandiep Khosa £1,647
Pictures courtesy of Blondepoker who also provided Live Updates from the event.
Liv Boeree on GMTV
Proving the crossover appeal we have already talked about, EPT Champion Liv Boeree was a guest on GMTV with Lorraine Kelly this morning. As you can imagine it was the usual basic entry level poker interview with questions such as 'but you lose too though right?' and 'do you have a poker face?' – all of which were handled with perfection by Boeree. She came across very well, very intelligent and helped put the game in a good and responsible light. All of which suggests that Boeree has the potential to really boost the profile of poker in the UK and become a megastar in the process.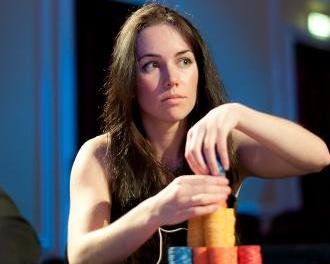 FullFlush Causes Trouble in EPT Monte Carlo High Rollers
Speaking of the profile of UK poker, Luke 'Fullflush' Schwartz was bringing down the average at the EPT High Rollers Event in Monte Carlo. Upon busting from the final table, Schwartz pushed his chip stack across the table in a tantrum before the river card hit, our live reporters captured his exit thusly:
Well everyone was having a damn good time at the poker table until Luke Schwartz got eliminated. It was one of the most friendly and chatty games we've seen in quite some time, and that despite the huge payday up for grabs. Somehow, though, Schwartz always knows how to ruin a good thing. Here's what happened:
In early position, Dori Yacoub opened the pot to 38,000. Action passed all the way around to Schwartz's big blind, and he announced an all in for about 300,000 total. That sent Yacoub into the think tank as he cut the calling chips out and studied the potential damage. Finally, he called.

"You got a pair?" Schwartz asked. Yacoub waited for Schwartz to open up his


before showing his own


, and the race was on. "What a donk call," Schwartz couldn't help himself. "This is the most guaranteed paint ever." He was right.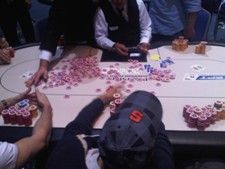 The

appeared on the flop, and Schwartz, never one to be mature about losing, promptly shoved his towers of chips forward with a big heave, spilling them across the entire surface of the felt from one end to the other. The friendly chatter that the rest of the table was engaged in came to an abrupt halt; they just sat there, unsure of what to do as Schwartz stormed off to the rail. With a confetti of chips covering the playing surface, the dealer cleared a bit of working space and ran out the rest of the





board. Schwartz continued to mumble and mutter to himself as the floor man tried to sort out which chips now belonged to Yacoub.
"I think all of the loose chips on the felt are his," Kevin said. It took another two or three minutes to gather up Schwartz's chips with the now eliminated poor sport pacing around the perimeter having a little tantrum all the while.
It was a truly eventful and enjoyable night of poker, right up until Mr. Schwartz decided that he couldn't handle losing. Once the commotion had started to die down, Schwartz tried to approach the table once again, and he had a few quick words with Yacoub before he was escorted toward the payout desk to pick up his small paycheck.
Check out the full live updates here.
$16,000 WSOP Freeroll on PartyPoker
In case you missed it, Pokernews and PartyPoker are hosting a $16,000 Freeroll to the World Series of Poker Main Event. You don't even need to deposit to book your place in the freeroll, find out more here.