Lisa-Marie Long - Interview with Sky Poker Presenter Lisa Marie Long

Emma Wilson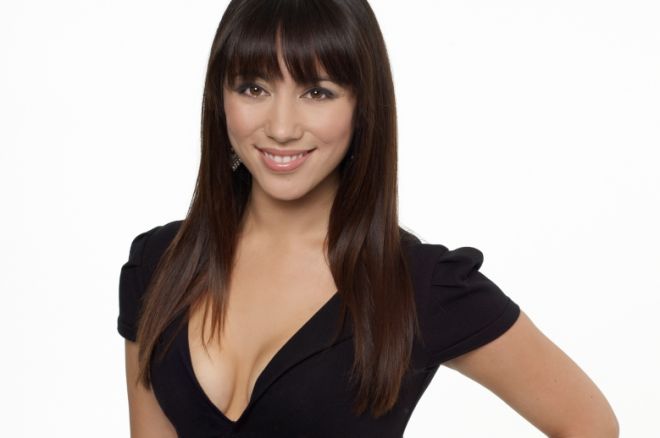 Lisa-Marie Long is one of SkyPokers most popular presenters and an accomplished film and TV actor. But she isn't just one of those poker presenters that are just there to make the place look prettier, although we can't deny that she does. For those of you who don't know, Lisa Marie was first seen on the poker scene when she was presenting the PartyPoker.net World Series 3 we then saw her play the celebrity heat of the Women's World Series. Since then she has been presenting at SkyPoker amongst other things and I wanted to find out how hard the poker bug had bitten her...
Emma Wilson: What was it that first got you interested in poker?
Lisa-Marie Long: I was working for Sky on another channel when Sky Poker started and the two channels shared a green room. I got to chatting to Norman Pace whose enthusiasm for the game was just infectious! He took me under his wing, gave me a few books to read and taught me the basics. His wife Bev and their two sons are poker demons too and all very generous with their time and knowledge. They basically sealed my love for the game. Although now that I think about it the two boys got a small fortune off me in Sit n Go payouts!
EW: How did you feel when you where drafted into the celebrity heat of the women's World Series?
LML: Excited, Terrified, Completely out of my comfort zone! My legs were shaking under the table I was so nervous! I just wanted to play well and not embarrass myself too much. I'm unnaturally clumsy and had visions of taking someone's eye out with my chips. Mind you, I learnt a lot watching those hands back.
EW: Did you find playing against all women a better experience than playing a mixed field?
LML: I tried to think of the other girls as poker players rather than women and go on whatever information I got at the table. In some ways it's actually a little more daunting playing against all women. Especially as the least experienced player at the table! Thankfully everyone was lovely, especially Miss Kara Scott who was as nervous as I was! Kara went on to win the heat and we all had a few celebratory drinks. We've been friends ever since.
EW: Does Presenting Poker on TV give you a better insight into the game?
LML: Definitely, I'd be doing our viewers a massive disservice if it didn't. There's so much to learn from each show, so I pretty much just milk the opportunity to get as much advice and information out of our analysts about certain situations as possible. One day I will take ALL their money!! One day far into the future...
EW: I hear that you are a shiatsu expert. Do you use alternative therapies to help you relax at the poker tables?
LML: Playing poker and enjoying the table banter IS my down time so when I'm playing I am relaxing.
EW: You are an experienced actress, having appeared numerous commercials, TV shows and films. Do your acting skills help you gain an edge over other players in tournaments and cash games?
LML: In live games there's a fair bit of 'acting' involved from everyone at the table so it helps to be convincing. I'm all in favour of using whatever I can to gain ANY edge but it depends a lot on who your opponents are and how familiar they are with your playing style.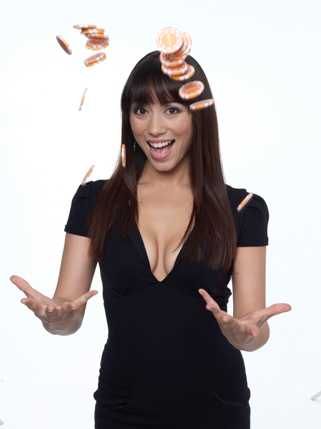 EW: Being a self confessed adrenaline junkie must be one of the reasons you love the game. Does this help you hide your adrenaline and stay calm when you're bluffing or you're playing a really exciting big hand?
LML: Me? Bluff? NEVER! I ALWAYS have aces! I used to find myself staying longer in hands I could have avoided just for the thrill. I soon discovered there's not much of a thrill when those hands lose. And having had a lot more experience of being on both sides of those hands I only play them out if I'm getting the odds.
EW: Is it right that you can be found most nights playing online poker at SkyPoker.com?
LML: No of course not, I have a hugely busy showbiz party lifestyle to maintain... Who am I kidding? Fancy a heads up?
EW: Your game is always improving and you are a very popular presenter, what do you think the poker world holds for you in the future?
LML: I'm lucky to have a job I love and to work with people who strive to make me better at what I do. So, more of the same with any luck! I want to keep progressing and enjoying the game both as a presenter and a player. And hopefully I'll get to travel and play in some bigger tourneys. I'm setting myself a bankroll challenge from May to try to win my way into one of the big tourneys this year. How much I get will decide which event I enter. The WSOP is a freeroll right?!
EW: Would you like to play any of the really big well known tournaments like the WSOP, WPT etc...?
LML: Are you kidding? I'd sell my Grandma for a seat in the WSOP. And I love my Grandma! That's what it's all about isn't it? Love of the game. I'd love to get involved and have the opportunity to play against the likes of Daniel Negreanu and Phil Ivey. The atmosphere alone would be incredible.
So there you go, Lisa-Marie Long is obviously a huge poker fan, an avid poker player. With all the advice she gets at SkyPoker I wouldn't be surprised if we got to see her at the WSOP, hopefully without having to sell her Grandma.
In case you missed it, Pokernews and PartyPoker are hosting a $16,000 Freeroll to the World Series of Poker Main Event. You don't even need to deposit to book your place in the freeroll, find out more here.