Davis Harris Wins British Masters Bristol, David Marley Wins Sky Poker Tour Glasgow + more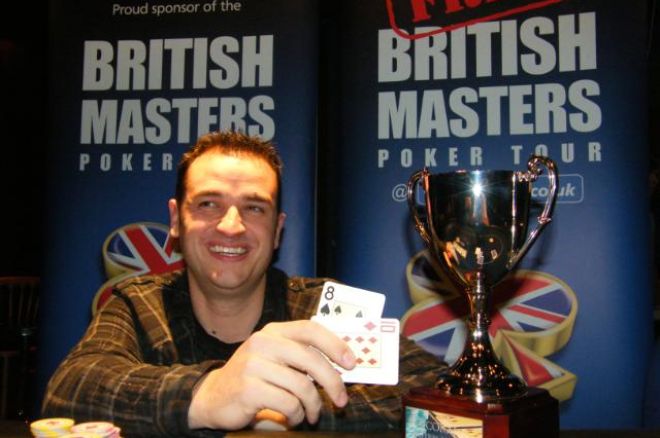 Dave Harris Wins British Masters Poker Tour Bristol
The first leg of the 2010 Coral British Masters Poker Tour attracted 109 runners to the Harbourside Casino in Bristol for the £500 main event. The two day event got down to a final table very quickly, with 89 players busting on day one.
Dave Harris and Tom Fielding came into day 2 in 1st and 2nd place respectively and that is how they would finish, clearly destined on a collision course that would end in a short heads up match, when both men flopped top pair on an 8-7-2 flop, with the ten kicker of Harris already ahead and rivering two pair to take the title.
1st.....Dave Harris £15,910*
2nd.....Tom Feilding £9,000*
3rd.....Mark Trett £9,000*
4th.....Dave Swan £9,000*
5th.....Rod Buckman £3,380
6th.....George Stewart £2,290
7th.....Antonio Pietragalla £1,960
8th.....James Williams £1,640
9th.....Matt Kerry £1,310
10th....Vic Nosko £980
*Deal done 4 handed
The next leg of the tour is at the Gala Casino in Leeds from June 11th.
Picture courtesy of AWorldOfPoker.
David Marley Wins Sky Poker Tour Glasgow
There is a certain special honour that comes with being a double champion which David Marley is enjoying today. Marley won the Newcastle leg of the Sky Poker Tour earlier this year and he has gone and done it again, winning the Glasgow leg last night at the Alea Casino. An equally impressive but no doubt slightly frustrating feat was achieved by Sky Total Player Winner Dan Brown, who came 2nd to Marley after previously coming 2nd in SPT Manchester.
1 David Marley £4,000
2 Dan Brown £2,600
3 Phil Ferns £1,800
4 David Llewellyn £1,350
5 Brad Payne £1,050
6 Sanjeev Kumar £900
7 Mike Rainsford £750
8 Brad Radford £600
9 Mark Higgins £450
10 Paul McTaggart £250
The next leg of the tour is at Aspers Casino in Swansea in July and you can watch all the action on Sky Channel 865.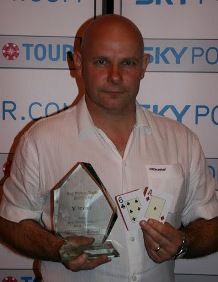 Card Decides Great Yarmouth Council Election
We have been scouring the news all week for a poker reference in all the UK election news this last week and we finally found some. It was a dead heat in the Great Yarmouth Borough Council last week, with Labour and Conservative both on 1034. As a result they had to draw a card from a deck to decide the winner. Robert Beck of the Conservatives drew a three and was duly outkicked by Charlie Marsden of Labour who spiked an 8 and was declared the winner.
$16,000 WSOP Freeroll on PartyPoker
In case you missed it, Pokernews and PartyPoker are hosting a $16,000 Freeroll to the World Series of Poker Main Event. You don't even need to deposit to book your place in the freeroll, find out more here.