PartyPoker 48 Hour Big Game IV Live Tweet Updates Here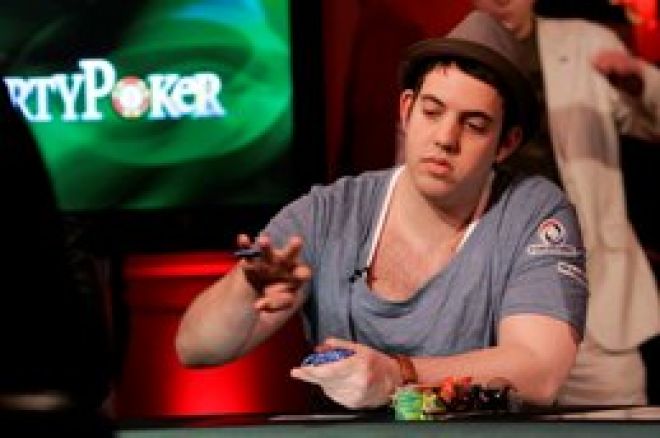 08:04 PM: The big winner, and the big story, from the Big Game is David Viffer. He played for 48 hours straight and created a crazy image from hand one, which he used to great effect throughout the game. He was almost always the most aggressive player at the table statistically which bought him immunity from eviction and also saw him the big winner, with a total of £147,275 profit.
Well done to Viffer and goodbye from London, make sure you bookmark this crazy show when it airs later on this year.
07:30 PM: The Big Game is over, suprisingly no crazy hands in the last hour to report, most of the men look ready to go home, although Viffer has requested the next show be 72 hours.
07:04 PM: The game is drawing to a close and David Viffer has a £148,000 stack and is up around £100,000, which when you consider this is a £25/£50 game makes that some pretty deep stack poker we have here in London.
06:10 PM: Bodo Szbresny has once again been evicted, the kid is just too good. Paul Zimbler left on his own accord and was replaced by Roland De Wolfe, Tony G has replaced Bodo and its the final hour folks, expect fireworks!
05:27 PM: It has been leaked to the players that a double eviction is about to take place. There are less than two hours left and the main man, Tony G, has just entered the building and looking for some action.
04:50 PM: Its now a short break and Viffer has chosen to use his time off to make a sign saying 'Phils Bitch' and walk around the card room holding it on his chest.
Picture courtesy of the PartyPoker Blog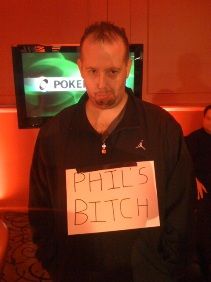 04:30 PM: David Viffer has folded on the river on what have otherwise been the biggest pot of the game. On a board of T88Q7 he was river checkraised all-in by Phil Laak, who held 78 to what Viffer claimed to be two aces. It would have been over £100,000 if called.
Viffer postured for a long time and came out with some great pained one liners including "I wish my dog was here so I could kick it" and "can anyone point me to the ladies room? I need to change my tampon". He eventually folded and is still kicking himself.
03:19 PM: Isaac Haxton has been eliminated. Since he returned to the game he has been really beating everyone up and nobody wanted to play with him.
The commentary room is the most fun place to be right now, Jesse May is going nuts at everything as usual. Dusty Scmidt, who was the very first evictee, went in for a 3 hour shift as co commentator, his replacement never showed up, that was 20 hours ago and he is still going strong. He has made hundreds of training videos and played over 7 million hands online, so it probably isnt the biggest ask in the world of him.
We also discover that Jesse and Matchroom director Eddie Hearn can do an incredibly accurate Neil Channing impression, well worth a listen if you ever bump into them.
02:27 PM:

01:45 PM: Bodo Szbresny has rejoined the game, Bodo was one of the few players who was evicted simply because he was playing so well, so this sleep deprived line up will not be ecstatic at his return.
12:05 PM: The Red Room is empty right now but tension is in the air. Earlier in the night there was a big argument when all 8 players wanted to straddle the next pot, essentially putting £800 on the table before they even saw their hands, but this wasnt allowed by the Matchroom staff.
Now Barney Boatman has entered the game and refused to straddle, much to the anoyance of the rest of the table who have been straddling for the last day.
Phil Laak has just given himself a round of applause for lasting a full 24 hours.
If you want to build a bankroll and play some sick cash games for FREE with NO DEPOSIT, the Big Game sponsors PartyPoker and Pokernews have come together for an exclusive FREE $50 promotion for our readers.

11:08 AM: The latest profit and loss figures courtesy of PartyPoker:
Seat 1: Justin Bonomo — £20,225 (-£29,775)
Seat 2: Robert Williamson III — £12,525 (+£7,625)
Seat 3: Ellis Reuben — £35,700 (+16,150)
Seat 4: Isaac Haxton — £30,800 (-£14,100)
Seat 5: David Viffer — £117,300 (+£67,400)
Seat 6: Neil Channing — £31,950 (+£2,400)
Seat 7: Paul Zimbler — £9,425 (-£125)
Seat 8: Phil Laak — £56,625 (+£11,625)
01:22 PM: Roland De Wolfe has entered the game to the tune of 'Hunrgy Like A Wolf' by Duran Duran, as the rail howled as he walked in.
Going for a wolf theme then Roland?
Also in the game is live satellite winner Guy Steele.
00:20 PM: Neil Channing is in confident mood, he told me during a break that there is no way he can be voted off the show now because he has all the chips. Channing is the big winner in the game right now with over £54,000 in front of him, so its pretty hard to disagree with him.
00:02 PM: Amazingly a group of the aforemetioned 26 players wanting in on the action are about to start a much bigger private game in another part of the venue. It looks like anyone evicted will be welcomed with open arms and maybe even if Viffer or Channing fancy playing an extra 24 hours they have the option.
11:47 PM: If you needed any more proof that this is the biggest game in town, Matchroom Poker director Eddie Hearn has just told me that he has a list of 26 players that want into this game right now and even more tommorow. He reckons he could fill a cash game like this every day of the year.
11:19 PM: Feldman out, RW3 in.
Andrew Feldman is the latest player to face the wrath of the eviction process. He is not known as a big action giver and in fairness he hasnt been dealt many remotley playable hands, so he was the big favourite for the chop.
Taking his seat the first player to return to the game after evicting, Robert Williamson III
10:43 AM: Channing manages to once again win with a set vs a bigger set.
Andrew Feldman raises up with pocket kings, channing calls with pocket fours, the flop comes 345. Feldman checks, Channing leads, Feldman calls. The turn is a king, Feldman bets, Channing calls. The river is a 6, Feldman checks, Channing bets pot and Feldman mucks obviously putting Channing on a straight.Channing shows and Feldman dont look to happy, Jesse May goes nuts in the commentary booth.
09:27 PM: Tony G is lobbying to get the stakes of the game raised to very little avail. Right now he, Channing and David Viffer are all sat together in a row and playing 600 big blind effective stacks, so very little wonder.
There is almost certainly going to be a massive pot between the three men at some point and we could be looking at one of the biggest wins (and losses) in the history of the show if things carry on the way they go between these three.
If you want to build a bankroll and play some sick cash games for FREE with NO DEPOSIT, the Big Game sponsors PartyPoker and Pokernews have come together for an exclusive FREE $50 promotion for our readers.

08:25 PM: Ahem.....sick pot anyone?
When you spend 24 hours playing poker with someone, like David Viffer and Neil Channing have, eventually you will see a massive hand. Neil Channing flops a set of fours against the set of eights of Viffer. Both men have probably been waiting for this moment all day. The money goes in the middle and a miracle four on the turn makes quads for the UK poker legend. Channing wins a £64,000 pot.
We probably will see that one on TV.
08:00 PM: The Big Game has been running for 24 hours. The only original players are Neil Channing and David Viffer, although Sam Trickett has been playing for a very long time too.
The Red Room is heaving once again and Tony G has really spiced up the game, there is a hell of a lot more noise coming from the feature table now.
07:45PM: Tony G's Entrance
07:20 PM: This year Pokernews are adding £1000 pots periodically to game known as the Pokernews Pot. Thus far a lot of the regulars in the game have been referring to them in correctly as the Party Pot, thankfully as soon as Tony G has entered the fray we have heard the words 'Pokernews Pot' about once every 30 second to redress the balance.
Players are not only enjoying this added bonus but also playing the 7-2 game. We are hoping that someone gets dealt 7-2 during a Pokernews pot so we can watch the carnage ensue, as the potential for £3k of added value could send someone busto.
07:00 PM: Business has picked up. Simon Munz was voted off which means that Tony G is in the game. The best entrance of the show so far, he came in on a Bycycle to a massive cheer and looked like he could have had an accident. No doubt the G Man will be looking to impose his will on this tired table and send a few of them on their bikes.
06:06 PM: We are reaching the 24 hour mark and that is evident on some of the guys who have been here for a long time. David Viffer just smoked a cigarette in about 45 seconds between hands and commentator Jesse May looks like he has been in the wars. Jesse is sat in the booth surrounded by pro plus, toothpaste, redbull, throat lozenges and lord knows what else he needs to stay sharp on the mic.
04:39 PM: I just caught a word with Pokernews qualifier Oscar Pardo during a break. Oscar is from Sweden and he beat over 1500 people to bag his seat in the event. Being a Swede he was conerned everyone would think he was the elusive Isildur1 but he confirmed he is not.
Oscar said he is having a fantastic time and will be participating in more Pokernews freerolls in the future.
03:52 PM: Our good friends at PartyPoker have pointed us to a video of the eviction process as poor Bodo met his grisly end.


Hostess Tatjana Pasalic has recently posted on their blog how Isildur1 broke her heart, check it out here.
2:15 PM: Dan Fleyshman has decided to call it a day so we have two new players. Irish Open Champion James Mitchell came in first followed by Oscar Pardo. Pardo came in to the music of 'Poker Face' by Lady Gaga.
Nice song choice Oscar, he must have gone on a really long mental journey to think of that one.....
Only joking. Oscar is one of two Pokernews qualifiers who won his seat to the big game via a Pokernews freeroll. Good luck to him, no doubt the players will lick their lips at the thought of an online qualifier but we are hoping he is going to kick some ass today.
1:27 PM: Andrew Feldman is for some reason or other wearing a kilt, claiming that he has Scottish roots, but a little birdy tells me its because he promoting the Scottish Poker Open in Glasgow on the 14th of August. I haven't had the inclination to check if he is wearing anything underneath or not.
The players are also playing the popular 7-2 game for £500 a head.
The consensus in the Red Room is that the eviction process is a big hit as its forcing the players to give action, form alliances and create crazy images.
Roland De Wolfe and Irish Open Champion James Williams have arrived and expected to be the next players in the game.
12:39 PM: Bodo Szbresny is evicted.
The pressure clearly showing as not one but TWO men chose to use their vote on themselves, Viffer and Dan Fleyshman both electing to oust themselves to no avail, as 4 players decided to get rid of Bodo Szbresny.
Bodo is up £20,000 and was playing very well, despite the fact that he gives a lot of action he was conspired against and goes home at least in profit, knowing he did nothing wrong.

If you want to build a bankroll and play some sick cash games for FREE with NO DEPOSIT, the Big Game sponsors PartyPoker and Pokernews have come together for an exclusive FREE $50 promotion for our readers.

12:00 AM: I have just returned to the Big Game and to say the atmosphere has changed since last night is an understatement. The bustling rail is now just a small collective of tired onlookers, the chatter at the table has gone down several gears and the players look very very tired.
Robert Williamson III was the 2nd eviction and now Luke Schwartz has decided to call it a day. Andrew Feldman has joined the action (which may be why Schwartz has left, not the best of mates those two) and the latest entrance is Simon Munz.
10:46 AM: We are almost back. This writer has had 40 winks and on his way back to the Big Game. What a difference 13 hours make as the line up has almost completely changed, unless you are David Viffer or Neil Channing, it looks like this:
Sam Trickett — £14,250
Justin Bonomo — £26,460
Dan Fleyshman — £15,760
Bodo Szbresny — £19,350
David Viffer — £44,010
Luke Schwartz — £19,675
Neil Channing — £22,900
Phil Laak — £23,725
02:44 AM - Dusty Schmidt is evicted!
In the first ever eviction, online pro Dusty Schmidt was voted off by 4 of the 8 players in the game. Two players didnt even write his name on the eviction paper, just 'seat 2'
Jesse May summed it up best by saying 'what an insult, not only is he stuck £11,000, they dont even know who he is!'
He has been replaced by Justin Bonomo.
We are now breaking for a while and will be returning for the morning session.
2:08AM: The very first eviction is half an hour away and the next player has been decided by way of the satellite concluding. Guy Steele beat poker agent Nick Ferro heads up to book his seat in the game. The satellite almost stole the show when both men got in a very heated debate which looked like it could turn nasty, it turns out Steele has had a few drinks tonight, which could make him a player to watch in the Big Game.
00:44AM: The players have just returned from a 45 minute break and are taking their seats again. Very soon the first ever 'poker eviction' will take place where the players will all vote for who they want to leave the game. Will they vote the biggest nit or the biggest threat?
Elsewhere a £100 rebuy satellite is on the final table. The prize for the winner will be to get a direct seat into the big game, presumably after the eviction.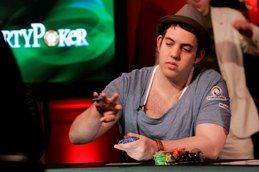 11:17 PM: Paul Marrow is gone. He got all his money in against busiest man at the table David Viffer, 77 for Marrow, AQ for Viffer, an ace on the flop and that was it for him......
In his place, coming into the theme 'I gotta feeling' by the Black Eyed Peas, Robert Williamson III is in the game. Williamson is a big winner from previous series. He told me just before he started that he was buying in for £5k (everyone else bought in for £20k)so he get can get all his money in the middle as soon as possible.
22:10PM: First felting of the day. David Viffer has been playing pretty damn crazy from the start, reraising and overbetting every pot. Paul Marrow took a stand by calling his min raise with A9 to Viffers AT. No hestitation by either man to get the rest in on an ATJ flop, no help comes for Marrow who tops up for £5000.
Early days yet Paul!
9:51PM: Apologies for the lack of updates, this was due to a technical issue that is now pretty much resolved. To give you an idea whats going on here at Les Ambassadeurs, check out Neil Channings entrance.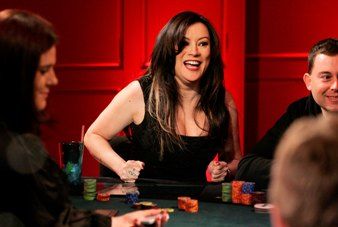 9:00PM: The game is now under way. One of the big new innovations this year has been the inclusion of entrance music for all the players. Everyone had to walk through the casino floor as the bustling rail cheered on. Unless of course you are Luke Schwartz who was unanimously boo'd by the London crowd.
Channing came out dressed in karate kid attire, he is planning on playing the full 48 hours as is Dusty Schmidt. The early action has been all about Jennifer Tilly who has been playing like its hour 48 already, she lost half her stack immediately to David Viffer only to win it all back and then some the very next hand.
Since then Viffer has played every single hand and been raising most of them. The high stakes cash player was trying to arrange some 100k last longer bets prior to the start of the tournament so no doubt he is going to be one of the initial talking points of the show.

8:11 PM: Welcome to the Big Game. We are just about ready to start at Les Ambassadeurs in London. Starting the game are Neil Channing (wearing a karate kid outfit), Luke Schwartz, Jennifer Tilly, Paul Marrow, Dusty Schdmit, Laurence Grodin, David Viffer and Isaac Haxton.
We also saw some young Swedish kid trying to get in a casino wearing a mask....just kidding.
We are having a few connection issues right now but they are getting sorted, so stay tuned for 48 hours of sickness.
Action begins at 8pm GMT on Sunday
I]