Oscar Pardo - Interview with Pokernews Big Game Freeroll Winner Oscar Pardo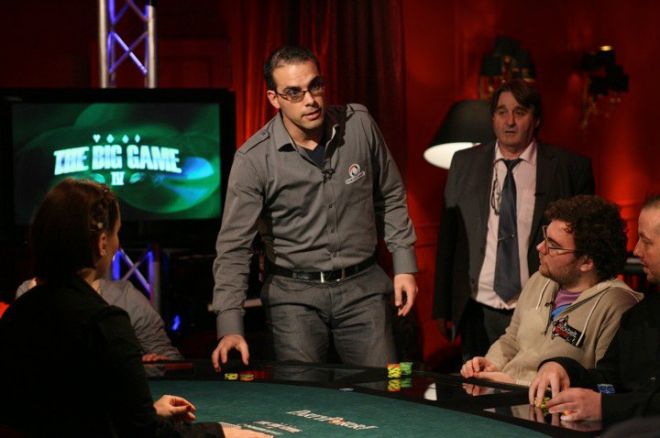 The PartyPoker Big Game IV was a landmark TV show for many reasons. Not only was it the first to see an eviction process, one of the first to incorporate entrance music and not to mention 48 hours long, it was also one of the first TV cash games to include online satellite qualifiers. Oscar Pardo of Sweden beat over 1500 players in a special freeroll organised by PartyPoker and Pokernews to book his seat in the televised cash game. On the day he was £750 down, but when you consider every penny of his £5,000 stack was won from a freeroll, he still walked away a massive winner in London:
Pokernews: So was this the biggest game you ever played?
Oscar Pardo: Yes, the highest I have ever played is $5/$10 online and that was me taking a shot at a bigger game. Normally I play $1/$2 or lower, certainly not high stakes, and I also play tournaments, which is probably how I won the seat in the first place.
PN: Was it scary playing against top players on TV, or was it fun?
OP: I decided to just enjoy the ride, I had nothing to lose so I decided to have some fun and learn from the better players. I didn't even invest my own money because I started with a free $50 bankroll from Pokernews, so all I invested was 3 hours of my time to win the seat.
PN: Do you think the other players smelt blood when they heard you were a freeroll winner?
OP: Actually when they heard I was Swedish I thought maybe they thought I was Isildur1 (I'm not by the way).
PN: Do you normally play freerolls or was it just this one that caught your eye?
OP: I always try and find good ways to get into bigger events cheaply, because my bankroll is small, I can't afford to buy in myself directly to them. I like to play multi step satellites to live events. In this one even though it was 1500 people, I only really played maybe 15 or 20 hands, but they were very big hands, most of which held up.
PN: So was it quite easy?
OP: Well when u enter a freeroll with 1500 people and they only pay out the top 2, you don't really think you have a great shot at winning, there is a lot of luck involved and I was dealt my fair share.
PN: Did you go in for any other Pokernews freerolls prior to this?
OP: Yes I am an avid reader of Pokernews and I always follow the reports and keep up to date with details of freerolls and other promotions on the site
PN: We take it after this you will be playing a few more?
OP: Yes, and I sure do recommend it to other players with small bankrolls to get started this way, I didn't even have to deposit for this one. I have already noticed the WSOP freerolls have started and will be trying those out very soon.
Qualify for the biggest event of the year for free, with our 888 Poker $25,000 WSOP Freerolls.