James Mitchell - Interview with Irish Open Champion James Mitchell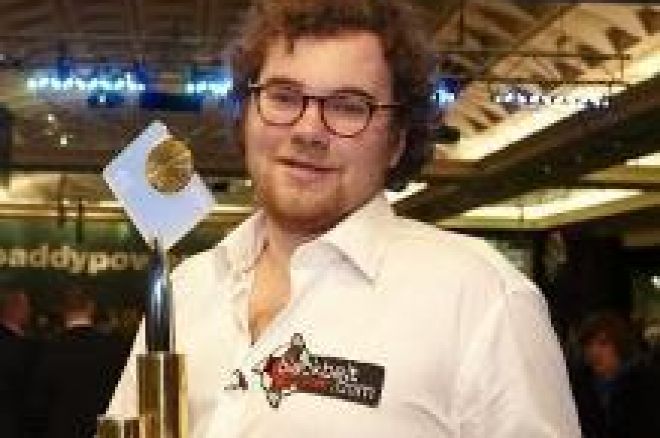 We catch up with 2010 Irish Open Champion James Mitchell of London. 20 year old Mitchell defeated 707 other players in Dublin to capture €600,000 and one of the most prestigious titles in poker. He also replicated the success of his Black Belt Poker guru Neil Channing.
Pokernews: For those that don't know, whats your story in Poker so far?
James Mitchell: I started playing poker with my mates from school when I was 15. We were playing £5 sngs and things like that. When I was 16 I started playing a bit on my dad's ladbrokes account. He wasn't keen on me playing poker when I was still in school but I noticed he had $50 left in his account which he had forgotten about after the grand national so I transferred it over to poker. I won a few small buyin tournaments and when I had $2k in the account I started playing 6 max cash games. I wasn't a particularly good player at the time but my aggressive style was working for me coupled with the fact most people were really bad back then. In about 3 weeks I had a little over $50k in my account but I made the well informed decision to start playing some $25/$50 because I recognised Nebuchad in the game and I thought he was a fish from my experience with him at $5/$10. Turned out he was one of the biggest winners in the game and in a couple of days I busted my account.
After I finished school I started grinding some live cash games at the Empire because the games were really soft and along the way I won a tournament at the Western for £13k. I think in a 3 month period I went from having a £10k roll to having a £150k roll after chopping GUKPT Luton for £60k. However, I had got into Nottingham University and my parents were really keen for me to go and while I was trying to balance my uni work, playing online and going to live tournaments I went on a big downswing and a year later my roll looked more like £40k.
I'm not actually sure how I lost so much money. I had €14k stolen from my house at one point which was pretty annoying and I wasn't taking poker seriously enough just assuming I would win in the mid to high stakes games without really working on my game. At the end of the year I realised I couldn't really balance both Uni and poker so I made the lazy man's choice and dropped out.
Now I play a mixture of live and online cash games with the occasional live tournament thrown in. Live I mostly play £5/10 NLH and PLO and online I play $2/4 - $5/10 PLO.
PN: You decided to play at the last minute, what was it that changed your mind to play?
JM: I'm pretty disorganised and I heard the hotel was sold out so in the week leading up to the tournament I told people I didn't think I would bother. Plus I have a really bad record in Ireland. I think preceding this trip I had been there 5 times and never come back with money in my pocket. I changed my mind because my friend Sida Yuen had booked a room and when he got there the night before he realised it was a twin room so I decided to make the trip.
PN: It must have been weird to replicate your mentor Neil Channings success two years on?
JM: I never really think of Neil as a mentor but I guess he kind of is. I think it definitely helped to get some advice from him late on in the tournament and also Roland De Wolfe who came 2nd in the event 3 years ago called me before the final and basically told me how big a deal winning this tournament is and to play for the win. It has actually been a strange year because two good friends of mine and me have won major tournaments with Jake Cody winning EPT Deauville and Kevin MacPhee winning EPT Berlin.
PN: How big have BlackBelt been in the development of your game to this point?
JM: Blackbelt really helped me to start getting back into the online game and to work on my game. Even though I narrowly missed out on making the original Vegas 8 I really liked the competition the grading provided. I think just being around other really good poker players and talking about the game will improve you as a player and keep you on your toes. If people are trying to progress from an amateur player or semi-pro to a successful winning poker pro BBP provides a great platform to do it.
PN: This win makes you pretty high profile, is that something you wanted or is it mainly about the cash?
JM: Winning a major poker tournament was something I wanted to do because of everything that comes with it. I really enjoy playing these tournaments and winning this means I can afford some of the biggest tournaments in the world. It's also opened some doors like being invited to this big game thing.
PN: You are playing in the PartyPoker Big Game IV. Whats the longest session you have played?
JM: The longest session I have played is around 30 hours. It was a £5/£10 round of each game at the Vic and I was winning big in the game so I just kept on playing until everyone went home. I'm planning on playing this cash game for between 3-6 hours depending on if I'm winning and also I might go home early if it is uncomfortably hot at the table because of all the TV lights. The TV table at the Irish Open was very awkward and I think Paul Carr the runner up was really suffering from the heat.
PN: What makes you want to play the Big Game?
JM:I was told there would be a few spots in the game plus cash game poker is what I do almost every day of the week so the opportunity to do it on tv was one I couldn't pass up.