Ross Jarvis Wins Sky Poker Tour Luton, Shane Lynch Joins Ladbrokes + more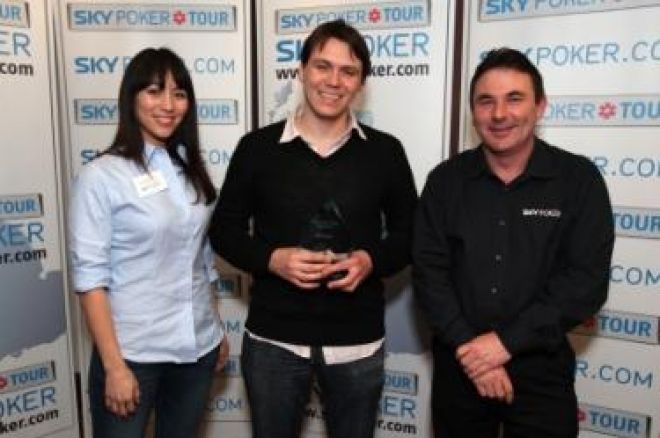 Ross Jarvis Wins Sky Poker Tour Luton
The latest leg of the Sky Poker Tour in Luton was a well attended affair over the weekend, which featured celebrities galore including horse racing pundit, John McCririck; model, Kitty Lea; former professional footballer, Micky Hazard, who went on to make the final table, and boxers Johnny Nelson and Spencer Oliver.
The event was eventually won by poker journalist Ross Jarvis, who writes for PokerPlayer Magazine and has previously won the Virgin Festival in 2009. He commented after his win: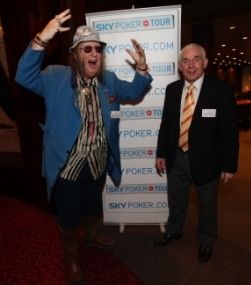 "I didn't come in expecting too much because I know it was a pretty fast structure but I got some chips just before dinner and then really tried to put some pressure on, stealing blinds whenever I could. I'm really happy with how I played on the final table though and was dead set on winning – I didn't even look at the payouts for anywhere but first place."
"Apart from winning, it was a great fun tournament to play in. Everyone on the Sky Poker Tour was really friendly at the tables and I'm looking forward to seeing some of the same faces again at the Grand Final in September. The money will come in really handy as I've just moved in with my lovely girlfriend Hattie – depressingly, I think some of it will go on pretty dull, mature items such as coffee tables and kitchenware."
The next leg of the Sky Poker Tour will be held in Glasgow on 8th May 2010, with qualification only on Sky Poker.
1st Ross Jarvis (PokerPlayer Magazine) £4,000
2nd Tony Stroud (Penguin7) £2,600
3rd David Crane (DC777) £1,800
4th Phil Jenkins (Phil12UK) £1,350
5th Les Waterhouse (MrWhizz72) £1,050
6th Trevor Harris £900
7th Jason Priestley (ZIT999) £750
8th David Gee (QWFT-GMAN) £600
9th Micky Hazard £450
Shane Lynch Joins Ladbrokes Poker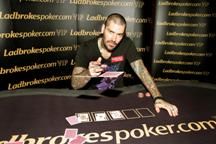 Ladbrokes Poker have announced the sponsorship of Boyzone Star Shane Lynch, in a one year contract. Apparently the boyband favourite is also a star of motorsport drifting, whom Ladbrokes are also sponsoring him for this year. The card room are planning on turning Lynch from a poker virgin into a solid player.
His year long journey will see him play online and live, in Vegas and in Europe, ending at the Irish Poker Festival in Killarney next year. He commented "I'd always been a bit intimidated by the poker scene; I'd seen it on TV and found the whole thing a bit baffling. But having spent time with the Ladbrokes players at a few events last year, I've seen that you don't need to be an expert to give it a go. I'm really looking forward to getting into this poker journey, learning more and having some great fun along the way."
Kate McLennan Head of Ladbrokes Poker said "Shane is the perfect ambassador for Ladbrokespoker.com – he's a great guy and totally down to earth. We want to show that poker is for everyone. We're not like other sites that spend huge amounts on poker professionals that their players will never be able to relate to. Ladbrokespoker.com is the site that's friendly, accessible, where all ages and abilities come together. Poker takes a moment to learn and a lifetime to master. With Shane, we want to show that anyone can give it a go and have fun."
GUKPT Satellite on Blue Square Tomorrow
You can book your place in the Grosvenor UK Poker Tour event of your choice tonight at BlueSquare Poker tomorrow. At 20:30 GMT on Wednesday there is a £75+£7 rebuy for a £1,450 package to the GUKPT event of your choice and includes money for travel expenses. Sub feeders are running round the clock for this one.
Failing that you can play on a £55 rebuy on Friday or a £162 freezeout on Sunday, both at 20:30GMT.
You can start off your satellite campaign with a free £11 and £55 tournament token, exclusive when you join BlueSquare Poker via UK Pokernews, also good for an impressive $500 sign up bonus.
Tweet Tweet
UK Pokernews is on Twitter. Make sure to add us for all the latest news, gossip and freerolls HERE.