Priyan de Mel - Interview with Back to Back GUKPT Champion Priyan de Mel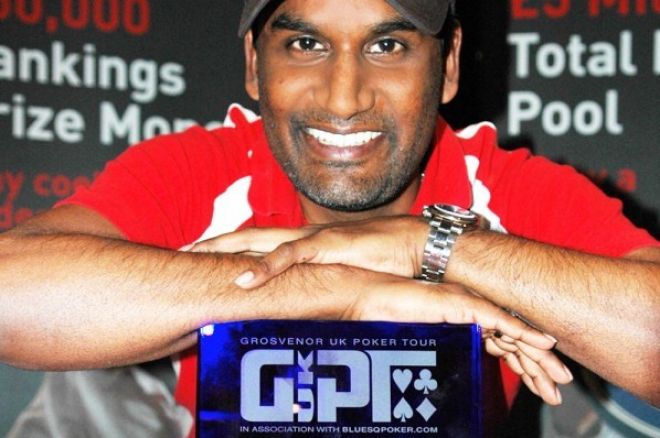 We catch up with the first ever back to back GUKPT main event champion Priyan de Mel fresh from coming 10th in GUKPT Walsall. The property developer made history after winning consective £1,000 main events in the tour, first in Blackpool in 2009 at the end of the tour and then in Bolton on the first leg of the 2010.
Pokernews: So how did your journey in poker begin?
Priyan de Mel: I used to try and organize a regular home game with my friends but dealing with everyone's schedules and last minute cancelations proved to be very annoying. The search for a more reliable game even took my brother to the Vic's old card room. I never went back..lol. Luckily for me my good friend Alex Grose mentioned a club called GutShot in East London and so my poker journey officially began. It was at Gutshot that I started playing regularly and my competitive nature took over. I really wanted to get better at the game and build a bankroll. Gutshot is also where I met Praz Bansi.
PN: When you won your first GUKPT did that make you more hungry for the next one?
PDM: Yes for sure. I had been playing for a while with some success in the likes of the WSOP main event, EPT Prague and EPT London but the GUKPT is where I finally broke through. It was a relief to win a major tournament and I have the crash of the property market to thank. The lull in the market gave me more time to concentrate to poker and this devotion paid dividends.
PN: How did it feel bagging back-to-back £1k main events?
PDM: It felt amazing. I knew there were only two other people who had won more than one main event (Tony Cascarino & Julian Thew) and no one had won back-to-back 1k events. I knew I was going down in the history books if I achieved this. I would have really like to make it a hat trick in Walsall (Priyan bubbled the final table)
PN: Your form has clearly been great lately, what is it down to? Do you think you have gotten better as a player recently or are you just getting a better run of the cards?
PDM: Sure I'm running good but it's not like I am always looking down at Aces or winning every race. I account my success to the fact that I have been really working on my game this year. When I'm not playing I am watching poker videos, reading poker books or talking poker with friends. The aim is to really try and understand the math and psychology and adapt this knowledge to my game. Luck has played a part in my recent success but it was a combination of the above that put me in a position to get lucky and win tournaments. Oh I am a lucky person by nature though all my friends and poker colleagues will say the same lol…
PN: You are a property developer; does having a successful business away from poker take the pressure off when you are playing? Does going professional appeal to you?
PDM: Sure, making money from property takes a little pressure off but on the flip side it does not give me a chance to be 100% dedicated to poker. If you really want to be one of the top players in the world you need to be able to commit to poker and dedicate all your time to learning the game. Property allows me to gamble more but it also doesn't allow me to focus 100% on poker.
Being a professional does appeal to me. It would allow me to concentrate on my game and I feel I could so something big if I had a chance to devote all my time to learning the game. Hopefully this is just around the corner!
PN: Now you have become such a prolific figure on the GUKPT tour, will you spend more time trying to take a shot at the GUKPT player of the year race or does winning something like an EPT begin to appeal more?
PDM: As much as I would love to be the GUKPT player of the year my main aim is always going to be an EPT & WSOP winner. I came 9th in Prague in 2009 so I am getting close. I really need to play them all to have a fair chance of winning one.
PN: What have you got planned for the rest of 2010 poker wise?
PDM: Trying to play as many EPTs as possible along with all the GUKPT events and the Irish open. I will also be in Vegas for seven weeks for the whole series. Basically a lot of poker! I feel like I am in form right now and I would like to capitalize on my success. If I can keep this momentum going hopefully the result will be "Priyan De Mel..WSOP Bracelet winner 2010 / EPT Berlin Champion"! If you don't have dreams and aspirations what do you have?