Paul Pham Wins Black Belt Poker Live, British Masters Poker Tour 2010 Announced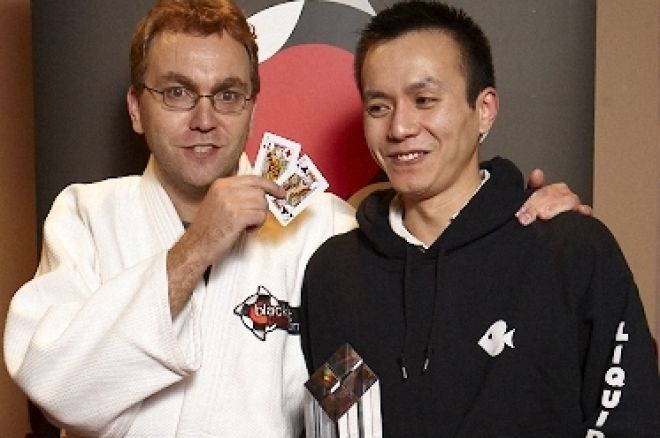 Paul Pham Wins Black Belt Poker Live
In the early hours of this morning the first ever Black Belt Poker Live concluded a sellout event at the Vic in London. For just $220 UK poker fans got to play deep stack poker with big names including James Akenhead, Neil Channing and Marty Smyth. London based Frenchman Paul Pham took home the cheddar after he beat Karim Louis heads up for the $15,000 pay day.
Pham commented: "I play pretty much all of my poker online and am mainly a cash game player. I don't play live very often and have only played three tournaments so far. I only played this one because the structure was deep and it suited my game.
The atmosphere was very good natured and with such a star studded, deep stacked, low buy-in event in the bag, one that sold out well in advanced and was enjoyed by all, will Neil Channing and co be bringing us any more live events in 2010?
1st Paul Pham — $15,000
2nd Karim Louis — $10,000
3rd Hugo Martin — $6,000
4th Jack McDermott — $4,500
5th Dean Aldred — $3,500
6th Warren Wooldridge — $2,500
7th Nicholas Aly — $2,000
8th Daniel Laming — $1,500
9th Roy Farranat — $1,000
Coral British Masters Poker Tour Announce 2010 Season
Great news again for UK poker as the Coral British Masters Poker Tour is back. A lot of people were worried that the tour may not come back after some disappointing numbers coupled with the emergence of the rival Pokerstars UKIPT. Those who play in them love them and it is certainly one of the softer tours on the UK circuit. The buy-ins at each festival will be £500+50 main event buy-in, with £200+20 and £100+10 side event.
Once again the crew at Aworldofpoker.com will be providing the live updates of the event and once again there will be a £10,000 sponsorship package on offer to the winner of a special one table tournament, comprising of tour champions and league winners.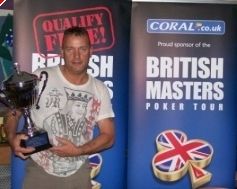 Mark O'Donnell, Head of Casino and Poker for Coral, said: "We were so thrilled that the 2009 tour was so popular and developed such a following that we're delighted to announce the dates for 2010. They're fantastic events and I love being part of them, We're kicking off in Bristol this year and as it's one of the best card rooms in the country and is packed out every night, we're expecting it'll be a sell-out. We're keeping the £500 main event as we know that's what the players really like about the tour. We're really looking forward to getting the 2010 events underway and seeing all the familiar faces and friends soon."
Bristol – Gala Harbourside Casino: 07 to 09 May
Leeds – Gala Casino Leeds: 11 to 13 June
Liverpool – Gala Leo Casino: 09 to 11 July
Nottingham – Gala Casino: 30 July to 01 August
Stockton-on-Tees – Gala Casino Teesside: 10 to 12 September
Edinburgh – Gala Maybury Casino: 29 to 31 October
Tweet Tweet
UK Pokernews is on Twitter. Make sure to add us for all the latest news, gossip and freerolls HERE.
Upcoming Freerolls Exclusive to Pokernews
There is plenty of great value to be had this week thanks to UK Pokernews. Carbon Poker are bringing a $500 Freeroll on March 17th and as long as you can register an account via UK Pokernews before March 16th there is no minimum deposit or points requirement for that bad boy.
You can play with the pros and wins some free money at Full Tilt Poker this week as they are holding a $1,000 freeroll for us on March 21. If you can register a new account by March 20 and earn just 75 FTP Points you are in.
Finally a week today you can play in an exclusive Poker770 $2,770 Freeroll on March 22. You have up until that day to earn just 1 poker point. Make sure you check UK Pokernews for the exclusive password that goes with it.
Remember if you have already registered a poker account via Pokernews you will also be eligible as long as you meet the minimum requirements. Check out our freerolls page for more details as we have a ton of $2,000, $2,770, $6,000 and $10,000 freerolls coming up pretty soon.
The WSOP Is Upon Us
Qualification for the 2010 World Series of Poker is underway at a number of sites, a number of different ways. Check out our guide for more information.