Ketul Natwani Makes EPT Berlin Final Amidst Armed Robbery Scandal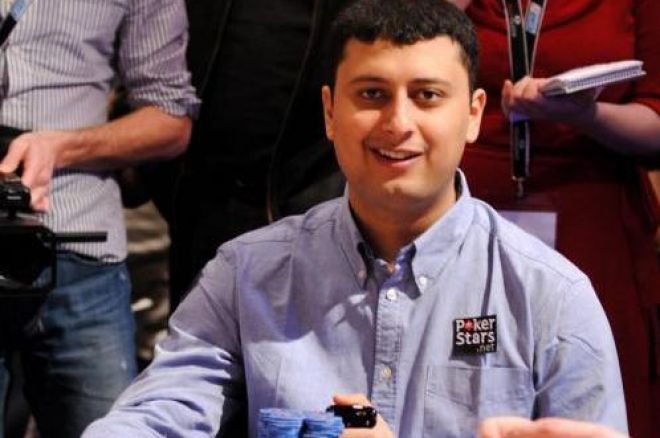 Top UK online pro Ketul Nathwani has made the final table of the Pokerstars EPT Berlin. The online cash specialist is best known for winning in the UK for winning the GUKPT London Main Event in 2008 for £119,780. The former computer student is second in chips behind Kevin MacPhee and returns today vying for the €1 million first prize.
But whoever wins this event, the headlines will surely still be on the chaotic scenes yesterday when armed robbers invaded the Berlin Grand Hyatt Hotel in broad daylight while the tournament was still in play. The masked men escaped capture and thankfully nobody was seriously hurt in the incident. The tournament and some side events resumed later on that day.
It's rare that poker finds its way into all the international news feeds but this incident did. Very little information has been released by the Casino, including the amounts stolen, but several UK newspapers including the Daily Mail have been speculating figures around €700,000 but the German press are quoting a figure closer to €240,000.
PokerStars released an official statement about the incident: "An armed robbery by six men took place today at EPT Berlin. Nobody was seriously injured. We hope to re-start all events at 4pm local time. A police investigation is underway. If you have video footage or photographs that could help the police, please contact the EPT organizers as soon as possible."
Team Pokerstars UK Pro Julian Thew shared his experiences on the Blondepoker forum:
"wow, it was really very scary, I was on a table in the middle of the room, there was a commotion outside in the lobby & we figured a fight had kicked off. All of a sudden there was lots of screaming (there was a ladies event running as well...) & folks were just running towards our end of the ballroom, the feature table stage seemed to collapse & we dived under our table with no idea what the hell was going on, our dealer said 'earthquake' & apparenty someone had shouted in german that there was a bomb which no doubt caused the panic. After a few moments we all started to crawl quickly towards the fire escape & we were all pretty quickly outside."
The armed robbers were said to have rifles, machetes and a hand grenade. The host casino has come under some heavy criticism in the poker community for being unprepared for such an event. UK pro and occasional Pokernews contributor Stuart Rutter summed up this very well in his blog, which the following quote is from: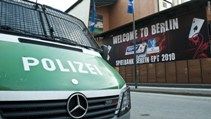 "I really hope that this is a day that makes alot of people involved in poker have a really clear think. On a few occasions in the past, when I've been in a line of people all handing over big amounts of cash, which then just gets piled up on one side, I've had a little wonder. I've thought, "Is this not a massively vulnerable situation?" I know that I'm not alone in having thought this, and probably also not in being guilty of reasoning "it's fine, the people in the know must have it under control." Today made us realise that the situation was indeed just vulnerable as it had seemed. This is especially the case when a tournament is held in a hotel, which does not have the security level of a casino, and especially at the EPT, where it has always seemed ludicrously difficult to buy-in in any other way other than with cash at the venue."
"Berlin will have seemed even more tempting for the robbers, if they knew of a bizarre law, which meant that buy-ins were allowed only an hour before the start of the tournament. This meant that such a massive amount had come into the organisers' hands within just a couple of hours. The fact that the robbers' timing was pinpointed right at the end of the registraion period is worrying in suggesting that they knew this detail, and maybe a whole lot more."
"There cannot be another walk of life where these huge amounts of money are being held without a really tight security. It was maybe only because the non-poker public did not know about our bizarre little world until recently, that this kind of easy heist hasn't happened until now. After a few years of gradually being accepted into the mainstream, it will remain to be seen whether this does any damage to poker's credibility."
"It's definitely a worry that the news of this event might alert other criminals to the fact that a poker tournament is an equally lucrative, but far easier, target than a bank or jeweller's store. It is these latter levels of security that will now have to be matched, and I will be eager to hear something very strong from the EPT before feeling completely safe playing live poker any time soon."
You can see the whole post here.
Naturally Pokernews have been there all the way bringing you all the news via our live updates and TV reporting facility. Check out the most recent update from Gloria Balding:

But the show must go on and hats off to the EPT for getting everything back on track so quickly. You can find out who will come out on top in the main event plus all the latest news on this major story in European Poker via our Live Updates.
Final Table Chip Counts
1 - Marko Neumann, PokerStars qualifier, Germany, 2,185,000
2 - Marc Inizan, France, 3,655,000
3 - Kevin MacPhee, PokerStars player, USA, 6,070,000
4 - Artur Wasek, Poland, 3,530,000
5 - Marcel Koller, Switzerland, 3,590,000
6 - Nico Behling, Germany, 960,000
7 - Ketul Nathwani, PokerStars player, UK, 4,685,000
8 - Ilari Tahkokallio, Finland, 3,940,000