Full Tilt Launch Massive 2010 World Series of Poker Qualifier Campaign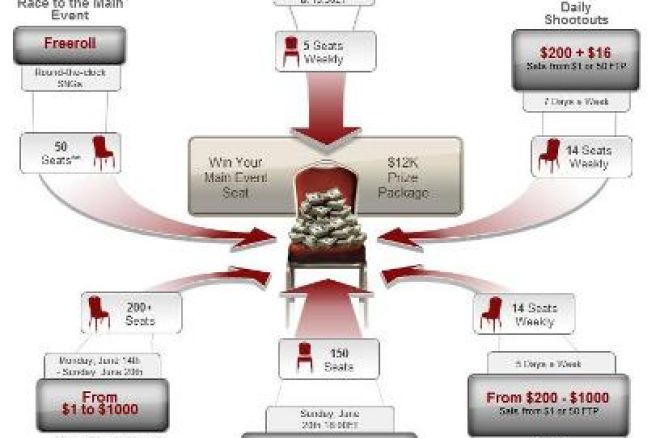 Its time to start getting very excited about Vegas, as qualification for the 2010 World Series of Poker is underway at Full Tilt Poker. There is a huge variety of ways to get there and tons of added value. You can get there from as little as $1 and win as much as an additional $10 million along the way.
The number of ways to get there is HUGE. The direct satellites start at $1 with five seats a week being dished out to some lucky players.
There are daily $216 direct shootouts which give away 14 seats a week.
A huge range of direct qualifiers between $216 and $1000 every week.
A staggering 150 seat giveaway on June 20th, where for $645 you can win one of 150 guaranteed packages.
Main event week will see more than 200 seats given away between June 14th -20th, with satellites between $1 and $1000.
And not to mention a series of freerolls with 50 seats given away.
All direct qualifiers will have a number of sub qualifiers from $1 or for Full Tilt Points.
Main Event Mania
How about this for added value? If you cash in the main event with a Full Tilt won seat, you will be awarded a free 2011 main event seat! Not only that, you will get an additional $10 million on top of your winnings if you win the main event outright!
Race for Bracelets
You can also qualify for preliminary events in the Race for Bracelets. These are a series of lower buy-in events between $26 and $216 that award $2,000 packages to smaller bracelet events.
Also coming soon will be a WSOP Fantasty League and a Mini Series of Poker for those of you that cannot make it.
The race to the WSOP has just got very exciting. Dont forget that you can start off your WSOP campaign with a $600 bonus and exclusive $1,000 freerolls when you join Full Tilt via UK Pokernews.
Like Freerolls? Check out our guide to winning freeroll tournaments today!