Catman's Column - Rush Poker Ecstasy and the Les A London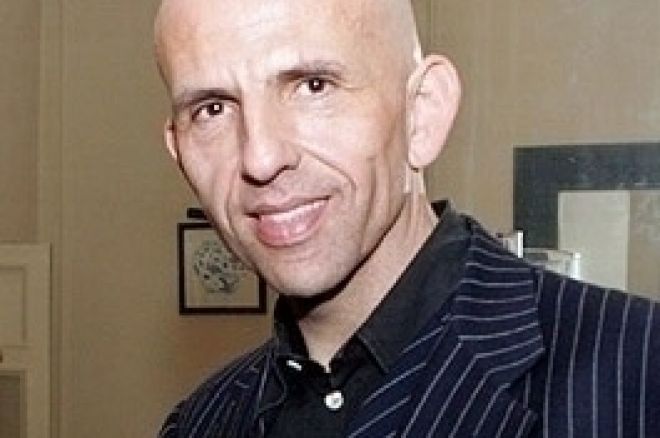 The world wide recession seems to have no effect on the cataclysmic rise of poker. Learning the bread and butter moves of online cash play has just become very simple and very quick. I was cruising the rail, looking for Durrr or Isildur1 to heckle, a strange force dragged me into the Rush Poker section of the Fulltilt Poker panel, and my views on Internet poker were to be changed forever.
Ecstasy was the love drug created in the 90's, taken by every mother who entered the fabled Ministry of Sound (where I was known as 'the owners representative' for 3 years), Ecstasy provided the opportunity to love everyone and dance for hours. When the drug kicked in, E players experienced phenomena known as 'Coming up,' or the 'Rush' when the drug blasted into their system. Of course Ecstasy and its Rush did kill a couple of over exuberant poppers and lead to long term brain mashing of many.
FullTilt's reinvention of the Rush, entered my veins as I sat down at the 5-10 cent PL Omaha with my 4 large ($4), and indulged in the game that unlike your biatch (male of female), does not keep you waiting. The cards are dealt, you like your hand you play as per normal, you don't like your hand, you fold or 'Quick Fold,' and in a nano second you are moved onto a brand new table to see your next hand. So simple, but so, so meaningful, a tool essential for those like myself not capable of multi tabling, but still in need of a lot of action. 'Rush' provides a fast rack tool for beginner to advanced, seeking intensive training in hand selection, patterns and strategy. So with many living by the odds, then dying by hand selection is a must.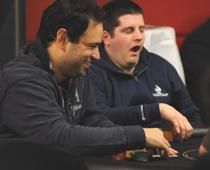 The come shot is a never-ending shit hot starting hand, you can simply fold as many starting hands as you like till something sexy pops into your hand. Fine tuning your starting options and positional play, till patience fades to standard retarded gambling. When you get bored of one table, you can happily move to two and it won't affect your game an inch, then maybe play 4 and theoretically around 1200 hands per hour. One other plus side, you don't have to remain sitting at a table, blushing in embarrassment, as you should, when you donk, thro crap play. What it does not do is allow you to read players as they change every hand, know who they are, except that a lot of animal lover's play FullTilt. But can you really have any understanding of your opposition playing standard multi tables, no you fecking can't.
The game is simply beyond imagination, I hope and pray the person who created this, is awarded the highest commendation in poker history, is it you Chris Ferguson, aye?
Back to the real world of live poker and from 400 hands an hour, back to 30 per hour at the 30 squid deep stack turbo at The International. Catgirl gets lesson one fast and cheap, having made a Gay/Limit raise in late position with cowboys, getting two callers and then donking her stack off to a set at level 4. Yours truly wanders thro a field of 80 or so players to the Final table, 3rd in chips, with 5 left. The prize difference between 5th and 1st was a monkey, and Catgirl has already told me we were going shopping.
AK suited wanders into my BB hand with the blinds at 2,000-4,000, my stack 105k, I am sandwiched between 2 chip leaders, one the mesmerised and fearless beginner and, two the gambling and very competent player. Both players call, Catman in some traumatic coma raises pot size, and gets two callers, mistake one. Flop is suicide danger, up and down mid straight flush drawer, its either all in or pass, Catman the retard, big C bets the pot, instant all in from good gambler. Retard passes – that's me and good player takes down 80 odd k, leaving me crippled. I am not even phased, not even feeling a moment remorse and go out the next hand all in with AQ.
The car ride home is like no other, the Catgirl normally meek and mild, correctly beats verbal hell out of me, you never looked once at another player, you were looking at the football on the plasma screen, you played as if you have never played poker in your life. There was no excuse, and this event had provided us with a multitude of lessons, if you are going to play poker, don't play like a pussy, play with passion, play like you are crossing the enemies line with your AK-47 blasting, or simply play to pass time lol.
With training over, time for the real thing, Catgirl and I hit Les Ambassadeurs Casino London, simply the dogs bollox of glamorous locations. Mansion boss and diamond geezer Michael Sampoerna opened the doors of the 'Red Room' to let poker players, experience this £1000 a year membership venue. The £2000 buy in event attracted 125 players, including Roland De Woolfe, Joe Beevers, James Vogl, Willie Tann, James Browning, Laurence Houghton, Ross and Barney Boatmen, Nik Persuad, Mansion Pro 'The Greekfish', backed up by a large contingent of London based Pros and 45 online qualifiers.
Catgirl's first table featured friendly players on her left, providing fairly submissive blinds to steal. I watch from a distance, the Catgirl looked very tense, meanwhile I paced like an expectant father whilst I waited to see what exotic offering the Buffet break would bring. The waitresses were simply the sexiest in London, with Pillbox hats and Red Satin to compliment the Red Walls of this palatial poker room. Catgirl wandered over to me, " My Head is exploding," I quickly administered a glass of White wine, which was to last the evening, and Catgirl settled down to musing and purring away as she stole the next three hands.
Catgirl is moved to a table with John Tabby Tabby, Barney Boatman and Teddy Sherringham, Laurence Houghton and a mad Scandi. Catgirl gets to grip with Houghton-Rivermanl, she doesn't give a monkeys that he is up $1.6 mill on line, this is live play and she is strong. I am outside on the smoking patio chatting with Freddy and Phillip from Bluff, when a shout goes up, Freddy says: " Catgirl has Aces errr or is it Ace King against 99 of the Scandi." Catgirl takes it down and purrs thro to day two.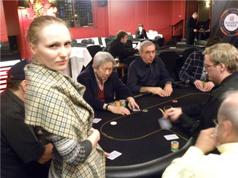 New day, Catgirl is on a table with poker super hero Willie ' Ex dice Man' Tann. "Catman, remember to be happy with what you have in life, not mournful for what you have not, this is enlightenment, " said the Master Philosopher. Catgirl knows of Willi well (no puns), she knows he is the master of the pre flop steal, she knows he is a friend, and she knows to attack him as often as she can. All is going well till poker voodoo hits Catgirl, her Aces verse Jacks, get a split and this hits her like a sledgehammer.
A few hands later, she raises Willie Tanns BB, Willie bangs it all in the middle and Catgirl calls, Tann had the Four Titties and Catgirl the Cowboy's. River comes a Queen and Tann gets to be the chip leader, Catgirl is down to a few bucks and shortly after left. Yes, she was distraught, and no her skin is not made of leather, and I believe if you can walk away with no emotion, you will certainly do your bollox. The passion for winning is vital for success, pokers is a numbers game, play brilliantly and play plenty, sooner or later the big one will come. Talking of Big ones, 1st place went to Roland De Wolfe's fearless game, sticking another few quid, £77,700 into his petty cash box. Second and straight back from his last win, a bracelet at WSOP in 2006, was James Vogl. It may have had an hour clock and 15,000 S stack, but time moved as fast as a 'Rush' game, and the excitement of a small field, high stakes event, is as much spunky fun as you can handle.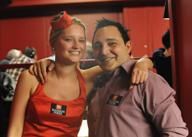 So the news flash of the year, Live, Rake/Reg Free Low Stakes Freezeout every Friday and soon Wednesday's, no charges or costs other than the buy in, and all the money goes in the kitty. Yes it does exist, the great Poker Philanthropist Phil Gregg has teamed up with the great Blaposaurus, Steve Blapo, who it seems has bolted out of retirement. The forums are raving about the London Poker Circuit's joint venture with Steve Blapo, promoting legal low stakes poker.
So with due diligence Catgirl and I wandered down to the 4* Kingsway Hall Hotel in Covent Garden. The event was a £20 squidder, no reg fee or buy in, most of the tables dealer dealt, the room and venue as grand as any casino or card room. I am sure you will be reading somewhere about this coup de Gras, it really is what you read and more than any poker player could ask for. Yes you can play cash with a voluntary rake if you desire after the game, but there are no other sales forced upon you. Catgirl had the best Sea Bass with her poker chips, and Friday 19th March sees a 10% discount on food and beverage. Two huge Blue Peter Badges are on there way to the super generous Poker World Benefactor Phil Gregg and the mighty Blapo. It doesn't get better, please prove me wrong. Want to know more, hit Facebook
I was delighted to see Tony G push forward some ultra "Hellmuth,' piss taking and heart felt emotions on his Party Poker blog. The great man himself (Tony G that is) just sent me a message that he is in my town next week and hopefully I will get to make one of my moderately crap VTs, with the original bad boy of poker.
Till then Peace, Love and Happiness
Catman
For some real Rush Poker advice without the Class A drugs reference, check out our Rush Poker guide.