The UK Poker Profile - Victoria Coren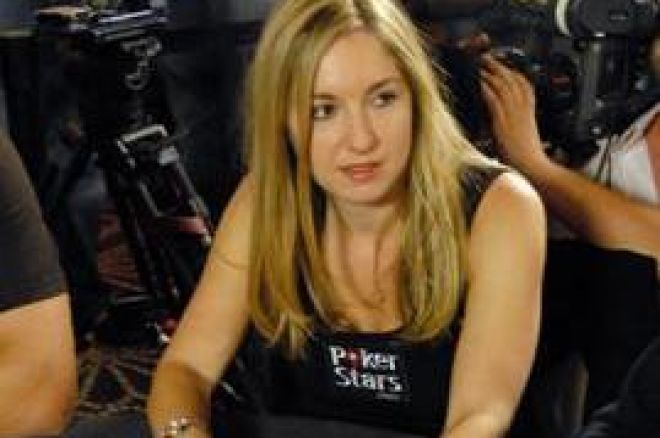 Pokerstars team pro Victoria Coren has been playing poker all of her adult life. You can often find Victoria playing cash games at her namesake casino, the Grosvenor Victoria casino in London. Coren is a not just a poker player though, she has many strings to her bow. She writes weekly columns for The Observer and The Guardian newspapers and also presents and commentates on a variety of TV and radio shows including Late Night Poker, World Poker Tour, Poker Nations Cup, Grosvenor UK Poker Tour and many more.
Victoria is a well known face in televised poker tournaments and in 2005 she finished first in the celebrity poker club series 2 in Cardiff for £25,000. But it was in 2006 that Victoria Coren really made her name in poker when she became the first women ever to win an event on the European Poker Tour taking first prize in the EPT London main event for £500,000.
Coren has continued to play well in tournaments regularly making final tables and earlier this year taking $40,000 for cashing in the PokerStars Caribbean Adventure, Paradise Island NLHE main event. Her love of poker has even prompted her to write the book 'for richer for poorer – a love affair with poker' which was released in September this year. I have no doubt that we will be hearing much more from Victoria Coren in the years to come as her sparkling personality and love of the game shine through.
Notable Tournament Results
September 2009 — PokerStars
WCOOP $215 Badugi
Position 36th — Winnings £375 ($620)
January 2009 — Nassau
EPT - PokerStars Caribbean Adventure
Position 30th — Winnings £26,380 ($40,000)
January 2009 — Nassau
World Cup of Poker
Position 5th — Winnings £1330 ($2000)
November 2008 — London
Premier League Poker series 3
Position 8th — Winnings £29,333 ($44,000)
October 2008 — London
EPT London, European Poker Championship
Position 38th — Winnings £11,420 ($20,192)
February 2008 — London
Premier League Poker series 2
Position 9th — Winnings £17,431 ($34,000)
April 2007 — London
£500 No Limit Holdem, Betfair Fifty Spring Festival
Position 1st — Winnings £12,000 ($23,828)
March 2007 — Maidstone
Premier League Poker, Maidstone / Channel 4
Position 5th — Winnings £17,950 ($35,000)
September 2006 — London
EPT London, European Poker Championships
Position 1st — Winnings £500,000 ($941,513)
July 2004 — Cardiff
Celebrity Poker Club series 2, Challenge TV
Position 1st — Winnings £25,000 ($45,403)
June 2004 — London
£200 Pot Limit Holdem, European Poker Championships
Position 2nd — Winnings £14,910 ($27,230)