Rupinder Bedi - Interview with DTD Monthly Deepstack Winner Rupinder Bedi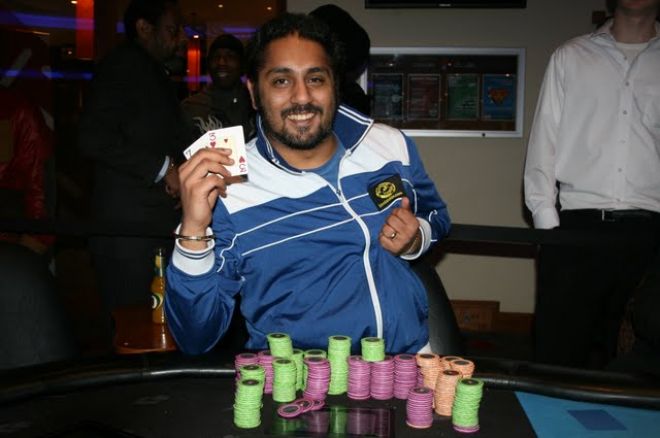 We catch up with the latest big winner in the Dusk Till Dawn Monthly Deepstack, who we first met two years ago when he won the GCBPT Nottingham leg. Since then he had a deep run in the Boylepoker IPO and final tabled the Sunday Million on Pokerstars, we are talking about Rupinder 'George' Bedi (AKA Chuckles).
Pokernews: Well done on the win, what does this mean to you?
Rupinder Bedi: The win means a huge amount. I've not really had much success live since winning the Nottingham GCBPT although I did recently go very deep in the IPO and finalled the deepstack once before. Hopefully these results prove that the Gala win was not a fluke. I'm improving all the time and have been working really hard on my game recently. Winning at DTD was great- the deepstack is such good value for money. Winning £17.5k from a return of £336 is unheard of live. It was even better value as I won the Wednesday comp at DTD which gave a FREE seat to the £336 and the £150. I've still got a 150 seat next month- hopefully I won't need it again!
PN: What is it about Nottingham events? Do you raise your game in them?
RB: I have no idea but obviously it seems to be a good place for me. I'd like to prove I can win elsewhere though and hopefully sooner rather than later!
PN: Last time we interviewed you you were pondering going pro, has that changed at all?
RB: Somehow, someday I hope to go pro but it's tough for me. I have 4 kids to consider so a lot of my winnings go to supporting the family. If I had won that Sunday Million final I probably would have had enough to go pro
PN: Does coming close in recently in bigger events like the IPO and Sunday Million improve your confidence or knock it?
RB: Definitely improve my confidence. I played so well in both. The IPO hurt more than any single tournament defeat simply because I would have enjoyed the support I would have got had I finalled. I don't fold to finals generally though. I still feel one hand aside, I did nothing wrong and on another day I would have been huge chip leader on the final.
PN: How tough is dealing with the variance of tournament poker? Do nights like yours last week make it worth it?
RB: Variance can be tough to cope with. Not just the fact that you run bad but the effect it has on your game. I wasn't enjoying poker until very recently and was making some very bad decisions just because I was scared to get to showdown. Nights like Sunday definitely make the game worthwhile. I'm still buzzing. I also got fantastic support from my family, friends, blonde and apat forums.
PN: You are known for being a bit of a moaner when you run bad, how is your recent 'no moaning' policy going?
RB: Pretty well. I'm so glad I did it. It's helped me realise that I play my best game when I'm enjoying it rather than whinging about getting aces cracked. How much fun would the game be if the best hand won? It probably wouldn't be very profitable for me either!
PN: Why do they call you chuckles now?
RB: Well I have a bit of a girly giggle and sometimes I can't help but laugh!!! Cos (Greekstein on blonde) kindly brought it to everyone's attention and it has somehow stuck!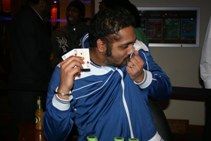 PN: You were pictured kissing the Blonde badge on your win, you must be pleased about the Blondpoker partnership with DTD?
RB: Blonde is without a doubt the best poker forum in the world. I've made some great friends on Blonde. The support they gave me was unbelievable. The merger can only be good news for both parties and hopefully both will now thrive for many years to come.
PN: What's next for you in poker?
RB: Vegas baby! I'm going to play a few qualifiers to the main event but will definitely be playing a couple of other events. Probably the 1k and the 2.5k just before the main. I'm in form, hungry for success and when I see someone like James Akenhead do what he did in 2009 it's an inspiration.