Julian Thew - Interview with Team Pokerstars Pro Julian Thew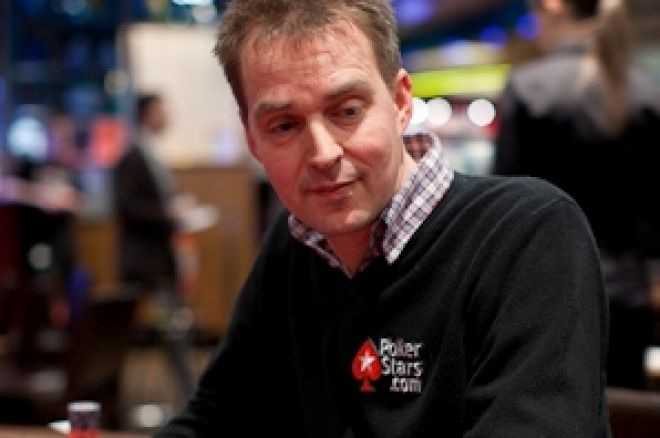 Last week it was announced that the ever growing Team Pokerstars UK & Ireland added a new member to its ranks, in the form of Julian Thew. The move was heralded by the poker community as the nice guy EPT and double GUKPT champion was viewed as a natural fit with the industry giants of online poker. We caught up with Thewy after the UKIPT in Manchester.
Pokernews: Congrats on landing your deal Julian, how was your first outing on the UKIPT?
Julian Thew: It was great, it was huge, the numbers were absolutely massive. The main difference I noticed between this and the Grosvenor and Gala tours is the mix of players. At my first table there was 5 players from overseas, obviously Pokerstars have the clout were these things are concerned; they bring a lot of online qualifiers to the table.
PN: You must be looking forward to the Nottingham leg of the UKIPT on your home turf?
JT: I think it will be the biggest event ever in the UK, about 1000-1400 runners, they will be getting the marquee out for that at DTD. I think they easily could get 500 players a day for that, I think Pokerstars are keen to increase the cap, I am not sure if Rob Yong feels the same. I think it will certainly be a 6 figure sum to the winner, which for a £550 event is amazing and where better to do it that Dusk Till Dawn?
PN: So where did the relationship with Stars come from? Presumably your prolific status on the European Poker Tour?
JT: Yes I had some contacts with Pokerstars from the EPTs. Once they announced the UKIPT I knew there would be some interest in UK players even before JP Kelly and Jude Ainsworth were signed up. They had some quite big stables of players from other regions at the time but there was only Vicky Coren and John Duthie, so I was given the name of the person to speak to and I put my hand up and asked.
PN: It's good that you went and did it off your own back, many people would have assumed you would have gone through an agent.
JT: I have never used an agent, I have spoke with them before, but I never needed one. What's the point when you know who to speak to yourself?
PN: You had a very long and successful relationship with William Hill, did that end amicably?
JT: The deal was coming to its natural end and it was a very amicable split, I think they wanted time out from sponsoring a player full time.
PN: You have been there from the start, how has poker sponsorship changed over the last few years?
JT: Back in the day when people like myself, the Hendon Mob, Roy Brindley etc were the first players sponsored it was a big thing, everyone was after a deal, but then it looked like big sponsorship deals would not last. Now it seems to have come full circle, but this time it's only big rooms like Pokerstars and Full Tilt. They have big teams of players from every country but it's not really viable any more for smaller poker rooms to have a big stable of players.
PN: It must be great to be with the biggest poker room in the industry?
JT: Its fantastic from my point of view, there is a lot of kudos that comes with wearing the Pokerstars badge, people are very interested in you when you wear it because everyone has an account with them.
PN: So we will be seeing you playing online a bit more then?
JT: Yes, I will be playing at least 15 hours a week. I am a losing player right now online and will be learning how to become a break even and then a winning player. Adam 'Clarkatroid' Clark is going to be helping me out and showing me how to use all the software like Holdem Manager. It's a new game to me compared to live poker, it's like chalk and cheese. I will be starting small, $0.50/$1 or maybe $1/$2, I hear those levels are very tough anyway. I have no ego to play $5/$10 or higher, I saw JP Kelly playing $25/$50 PLO with about $100,000 over four tables, I will definitely be on the other end of things. It's a new challenge for me and I look forward to the new routine.
PN: But we can still expect to see you on the circuit?
JT: I have never been the hardest working live pro, I will be playing all of the UKIPTs and maybe 3 or 4 EPTs. I will also play the Irish Open, the WSOP main event and most of the big GUKPTs. My family is getting a bit older so I am finding more of a balance.
PN: So you didn't fancy EPT Copenhagen this week then?
JT: No I didn't fancy that at all, EPT Copenhagen is one of the toughest tournaments out there, there are no easy spots at the table. I guess I have had a cash and a final in that event, but every other time it was hard work and I didn't enjoy it. Give me EPT San Remo any day, game selection is what its all about isn't it?
You can play with Julian Thew and qualify for the UKIPT at Pokerstars.