Jake Cody - Interview with EPT Deauville Champion Jake Cody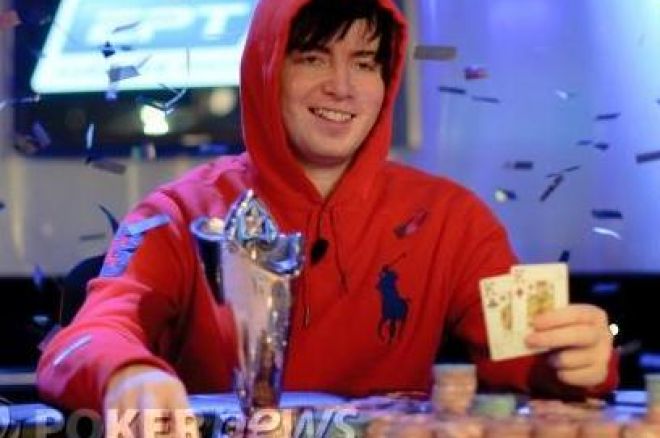 Last month Jake Cody of Rochdale set the UK poker scene alight when he won the Deauville leg of the Pokerstars European Poker Tour for €847,000. He is already sitting at the top of the 2010 European Rankings and is the player everyone is talking about.Today we catch up with pokers new star and find out how he found the game of poker.
Pokernews: Congratulations Jake, so how did you pick up the game?
Jake Cody: I learnt the game with Matt Perrins (Who recently won a leg of the Italian Poker Tour), we used to play for a local pub pool team when I was 15/16 and after every league match we used to have a £5 game of poker afterwards. Soon we were playing live headsup every single day and then progressed to online; from the ages of 16-21 we have basically dedicated our lives to poker. At the start I read lots of books and forums but to be honest the biggest steps I made was when I started discussing hands and situations with players I respect and looking at spots from different perspectives. Time spent like that is completely invaluable. The players I owe the most to are definitely Matt 'pez102' Perrins and Tom 7tHEcROw7 Macdonald, I have spent so much time over the past year with them and all of our games have come on leaps and bounds.
PN: So are you a pro?
JC: There wasn't really a time where I thought ok I'm going to go pro, it just kind of happened and I was going to college less and less and playing poker more and more. Eventually it felt really tedious going to college when I had just won x amount the previous night. I suppose I've been properly doing this for a living for around 2 and a half years now.
PN: Whats your normal online game?
JC: My bread and butter game used to be headsup cash, a few years ago I used to grind that all the time and use bits of the profit to take shots at tournaments. I remember I won a $24 tourney for like 6k and from there I started playing loads more and started reading books and forums etc to try and become better. Nowadays I play medium and high stakes MTT's but I still play a bit of headsup now and again. There's definitely more money to be won on a consistent basis with cash, but tournaments are just way more fun.
PN: We understand you recently had a big online tournament score, did that help your confidence in this event?
JC: For sure, I'd gone deep in a lot of majors last year so it felt really good to finally run good deep in one, especially such a prestigious event, the 1k 6max FTOPS. Doing well in big tournaments like that definitely gives you huge confidence.
PN: What made you want to play this particular EPT?
JC: Id just got back from the PCA in Bahamas which had gone terribly live, and I'd been getting really frustrated with live poker wondering where I was going wrong. I always felt I had a huge edge but never seemed to win ever and I'm massively competitive so this did my head in. Matt Perrins and Nicky Evans persuaded me to come over so I thought ill take a shot at the main and a few sides because the standard is supposed to be so weak and then if it goes badly I can just grind hard online for a few months.
PN: Before the final, how did the event go? Was the field tough?
JC: To be honest it felt like I breezed through the first few days, the field was a handful of online guys, a handful of live players and the rest local French players opening for 10x pot etc. Then all of a sudden with four tables left there seemed to be tough spots on every table and all the recreational players seemed to have been weeded out. Credit to the EPT structure for that, it was the best I've ever played.
PN: Eastgate and McDonald were obviously big names at the final table, did that loom on you at all?
JC: I ran really well with the table draw and had them both to my right for all the time I played with them, I'm sure it would have been miles tougher if it was vice versa. I have massive respect for both of their games, they're obviously two of the best in the world, but I wasn't intimidated if anything I felt like rising to the challenge. I snap started 3betting them both and they were getting through, just knowing players like that couldn't soul read me felt pretty good haha.
PN: How does it feel to be an EPT champ and totally minted?
JC: It's been a week now but it still feels like a dream, I have not really thought about the money it seems unimaginable to have that amount in my bank account. It feels amazing and the response has been unbelievable and I'd like to thank all my family and friends for the fantastic support they have shown throughout everything. Somebody recognised me on a night out in Manchester too which was so weird, I'm not sure if I like it ha. It's been a long road to get here though and there's been times where I've been on the edge of quitting completely.
PN: What's next for you? What's your plan for 2010?
JC: Well the UKIPT Manchester is coming up and with that being my hometown that should be really fun. Going to be live pro'ing it up this year and playing everything so it's going to be really busy!
PN: How does a 21 year old with 800grand in the bank keep a level head? Any plans for the money?
JC: I don't know! It still feels like a dream, definitely not going to let it change me though. Not really thought about the money too much, but looking at some houses this week, and I've got my eyes on an R8.