Jack Ellwood - Interview with FTOPS Main Event Winner Jack Ellwood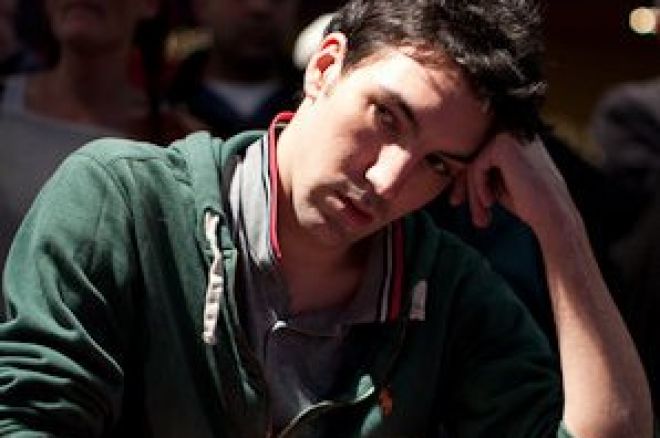 UK player Jack Ellwood of Newcastle is on one of the hottest streaks we have seen in some time. The 24 year old recently came 2nd in the Pokerstars UKIPT Manchester for £37,500 then on Sunday he manged to ship two online majors in the same night. He chopped the FTOPS Main Event on Full Tilt for $237,643.69 and also won the UltimateBet $200k Guaranteed for $51,016.80, which is a pretty big achievement by anyones books. His win, however, was not the dream story you would expect with such a big run of form because he found himself in the odd situation of having to prove he was who he said he was on the 2+2 forum. Someone came onto the forum claiming the winner of the FTOPS event was only 16 years old and refusing to pay a backer. It would appear that the whole thread was a downright lie for unknown reasons and we caught up with Jack to get his thoughts on it all.
Pokernews: For those that don't know, what is your story in poker so far?
Jack Ellwood: Ok so the first time I remember playing poker was during my first year at Bristol University sometime in 2005, this was nothing more than a few mates playing for small stakes around the kitchen table, I really enjoyed these games and wanted to learn more. For the next year or so it never really went further than this, just home games and the occasional, usually unsuccessful, attempt at playing online. 2007 was the year I really started to put more volume in, I began playing online, and often made trips to my local card rooms in Newcastle, and also the casinos in Nottingham with my brother and some friends he had met at uni. This was probably the time where I began to think I could make a living from poker. During 2008 I began playing mtts online and had a few decent scores, and since then I have considered myself a pro. Before last week my regular games were all the low/mid stakes games on stars, Tilt and occasionally Absolute (3r-20r and 11-109 f/o) plus a few bigger games on Sundays or during things like WCOOP or FTOPS.
PN: Your UKIPT profile said your biggest tourney cash to date was $10,000, did your result in Manchester inspire you to play the big online events last Sunday or have you been knocking on the door of a big score for a while?
JE: I've regularly played the Sunday majors for the last 18 months or so, I'd had a few deepish runs, but no final tables, I knew I was good enough to get there and hoped it wouldn't be long, but I never thought I'd make 2 in the same day!
PN: You are in some serious form right now, what do you attribute it to?
JE: It's hard to say, I definitely think I've been playing better than ever this year, but obviously running pretty good has played a part! Over the past 6 months I've met some very good players, being able to talk to these players about certain hands/situations on a regular basis definitely improved my game. The UKIPT probably did help too, gave me some confidence and also a big boost to my bankroll.
PN: Where do you go with all these extra funds? Will you be playing more, more live poker etc? Or will it be something more sensible or fun?
JE: The answer to this is probably some combination of all these things. I'm hoping to buy a house, that's pretty sensible right? Plenty will be spent on fun things.... new car, holidays, and plenty of celebrations. And I will definitely be playing more live poker, I've started to enjoy it a lot more than I used to. I'm planning on playing lot more on the UK circuit (UKIPTs, GUKPTs etc) and also, depending on how things go in the next few months, I'll probably play a few WSOP events.
PN: So how did you hear about the 2+2 thread?
JE: I'd been out celebrating, got in pretty late to a lot of friends sending me messages about the thread. At first I thought it could have been some kind of joke but i soon realised it wasn't. By this time some of my friends had already posted replies saying who I really was. I decided to post a reply myself mainly because I didn't want the poker community to think I was underage, cheating or scamming anyone. A lot of the people on these forums took sides pretty quickly with no real evidence, I guess everyone just likes a bit of a scandal!
PN: What do you think was the reason behind it? Do you think it was someone else who cashed in the event wanting a pay jump?
JE: These are questions I've been asking myself a lot in the last couple of days. Does someone really have it in for me that much?? Does someone want a pay jump? I really don't know. There is so much incorrect information about me in there that it's even crossed my mind that it could be a case of mistaken identity. I just hope that between full tilt and 2+2 they can find out who it is and deal with them. The whole thing is just ridiculous!
PN: Have you contacted Full Tilt to reassure them you are who you say you are? It must be scary to think something like this could have actually taken your winnings away if not handled properly?
JE: It doesn't worry me too much because I know I've done nothing wrong. I just hope Full Tilt deal with it properly and quickly so this whole thing can be cleared up and forgotten about. Full Tilt already have copies of my ID so they know who I am.
PN: Has the whole 2+2 thing put a cloud on your win, or are you still over the moon?
JE: I'm obviously still over the moon, but it has def ruined it a little bit. I logged into FTP yesterday and got a little abuse from a couple people at my table. This is not deserved and I hope my name will be cleared asap. But generally I'm very happy, feels like my hard work finally was rewarded and I wish people could be happy for someone new finding success, rather than being jealous or whatever and trying to ruin it.
PN: So you have suddenly become pretty high profile, what's next for you?

JE: High profile may be exaggerating a bit! Next for me is EPT Berlin I think, and a few things on the UK circuit. I'm sure I'll be back grinding online before long too.