The Poker Babes - Interview with Dionne Glen
Another week and I bring you another sexy poker girl, this time I got chatting to poker player/glamour model and 'RedHotVixen' Dionne Glen. 26 year old Dionne from Cardiff has appeared as a model in many well known magazines and publications including, Playboy, Nuts, The Daily Sport and Front magazine and was Playboys July model of the month winner. But she is not just a pretty face, Dionne is a full time poker player and is feared at the tables, she is also a tournament director twice a week for the Wales Poker League. We had plenty to talk about...
Em: How did you first get into poker?
Dionne: My dad taught me to play 7 card stud when I was a child and it all stemmed from there, I decided to try Hold'em when I started University and really got into it, now I only really play Hold'em mainly because it's the most popular and most profitable form of poker.
Em: Do you enjoy live poker or online poker the most?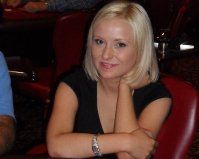 Dionne: I do enjoy live poker but I prefer online if I'm honest, I mainly play added cash Multi table tournaments and Cash Poker, I prefer online poker because you can play more than one game at a time and its more fun to me, also the return on investment is greater usually than a casino buy in. Live poker can be a bit slow at times although I do enjoy the other aspects of it like the chatting and ways of getting tells out of the other players that are tougher to get when playing someone online.
Em: What's your style of play?
Dionne: I like to play the table really, it all depends on my position, stack size and what stage of the tournament it is but generally I'll play tighter if the table is loose and vice versa, I like to think my strategy is solid. I play the odds and take my gambles when needed, if you stick to a solid strategy the odds will win out over time and you will turn a profit.
Em: If you were choosing players for a team poker game, who
would you choose and why?
Dionne: Vanessa Rousso because she is skilled and beautiful. Scotty Nguyen for the risks he takes and the entertainment factor. Antonio Esfandiari so he could entertain us with his chip tricks. Doyle Brunson the cash table king and Gus Hanson for his creative aggressive style.
Em: If you could meet any poker player in the world dead
or alive who would it be and what would you say to them?
Dionne: Wild bill Hickok! I'm not sure what I would say to him though Id probably tell him to watch out for those aces and eights
Em: What do you wear to play poker and do you find it affects your game?
B]Dionne:[/B] If I'm playing for my sponsor www.Nutspoker.com Ill wear my colours , but if I'm just playing a quiet game at the local casino I'll wear fairly casual clothes, it may sound a bit boring but you got to feel comfortable when your playing because you could be sitting there for a long while if all goes well.
Em: Have you or would you ever play strip poker?
Dionne: It depends on how high the stakes are but I could be tempted if there was a nice bracelet to win. Id like to be the strip poker champion that way I would get to win and keep my clothes on too.
Em: If you were stranded on a desert island what three items
would you take with you?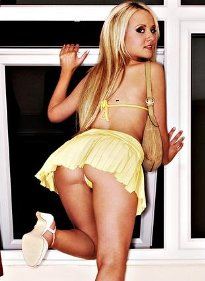 Dionne: 1. A photograph of my loved ones
2.My mobile internet so I can play online poker.
3. Suntan Lotion because it's very important to look after your skin and I don't want to end up with a face like an overused cricket ball.
Em: Do you find it harder or easier when it is all men at the
poker table apart from you?
Dionne: I rarely see many other female players where I play so I'm used to it. I don't underestimate anyone at the poker table man or woman , old or young , appearances can be deceiving at the poker table, unless they have demonstrated otherwise you should always give people credit for being a solid player otherwise you could end up in a situation where your busting out early or losing a lot of cash at once.
Em: If you were an animal what would you be?
Dionne: Id have to be a cat, they are the most beautiful and independent animals. You can never please a cat and they never feel they owe you anything, plus they spend most of their days sleeping, that would be cool.
Em: Who in your opinion is the hottest poker player male or
female?
Dionne: Jennifer Tilly has a great look and a cute voice so I would choose her, I checked Isabelle Mercier's and Vanessa Rousso's online stats out the other day and they are on fire at the moment so they are super hot too in my opinion.
Em: Does being good looking make people behave differently to
you when playing poker?
Dionne: Yes sometimes it does it depends on the player but I very often hear "I can't play against women" when I sit at the tables, luckily for me I'm happy to play against anyone so it doesn't affect me.
Em: ....and do they assume you're not as smart as them?
Dionne: I have come across some men who have this "I can't be beat by a woman syndrome", they are usually my first targets. Also I've had a few male players say "She's not just a pretty face is she?" I reply "You should have considered that before getting involved in a hand with me and getting busted out of the game."
Em: If us girls all got together to play we would surely show the men how its done right?
Dionne: Definitely!! Women are the minority and are dominating the field in a lot of the main events. If we were the majority I assume the men could be in a world of hurt.
So watch out guys if you see Dionne at the tables she may look cute and innocent but she is a fierce and confident player. You can catch up with Dionne and the other 'RedHotVixens' at www.redhotvixens.com. I'll be busy this week finding you another sexy poker girl, catch you next time. Em