The Poker Babes - Interview with Jennifer 'Jennicide' Leigh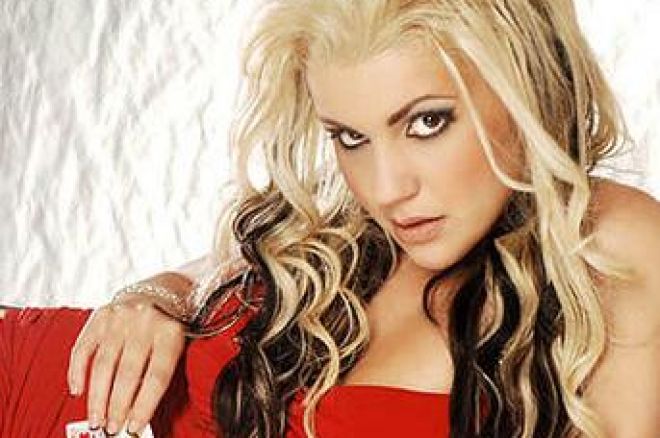 It's a hard life but someone has to do it, so whilst being out and about playing poker I have been catching up with the hottest poker girls around. This week Jennifer Leigh was good enough to take some time out of playing poker, writing and doing photo shoots to answer some of my questions. Here is what we talked about...
Em: How did you first get into poker?
Jen: "I was 20 years old and a student at the University of Delaware studying pre-law. I was introduced by Bobby Boyd (Dutch Boyd's brother.) We had known each other since I was 13 and involved in underground hacking groups. He suggested that I download a poker software and I was addicted by my first $5.00 sit and go. I went out and grabbed a bunch of poker theorem books to learn as much as I could. I didn't start playing professionally until I was 21. My grades started to drop and my bankroll increased. I was placed on academic dismissal and soon after poker became my life."
"People were under the impression that this "jennicide" character was a male because I was always winning a lot of online tournaments. In 2004, it was rare to see a female online poker player, so I was invited to a T.V. show called "Poker Royale: Battle of the Ages" along with Dan Harrington, Miami John Cernuto, Barbara Enright, Mike Gracz, and Evelyn Ng and more. I won two preliminary matches against Dan Harrington and Miami John and 5th overall for a total of $16,000. Then I played tons of tournaments from 2004 - 2005 and then I made my way into cash games and grinded my bankroll up to play live events. I cashed in a few WPTs and came 16th in a WSOP event"
Em : Do you enjoy live poker or online poker the most?
Jen: "Currently, I play mostly cash games online, but I plan to return back to the circuit and play in some WPT events or at least start conditioning myself for the 2010 WSOP." The last time I played live, I filmed a TV show for the Playboy TV Network called Sam's Games with a bunch of comedians. I didn't do too well, it was incredibly hard to keep a straight face when Artie Lang is sitting across from me, Dave Attell was to my right and Norm McDonald was on my left. It was certainly an experience, to say the least!"
Em: What's your style of play?
Jen: "It depends on the game. In tournaments I'm generally TAG but cash games, it's all dependent on how the game is playing. In cash games, I prefer to adjust to my opponents."
Em: If you were choosing players for a team poker game, who would you choose and why?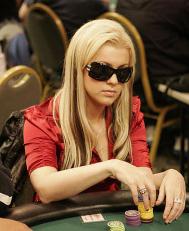 Jen: "Well, I'd want to pick a winning team for sure. So, I'd choose Jennifer Harman, Annette Obrestad (Anette_15), Tom Dwan (durrr), Carmel Petresco, Evelyn Ng, and of course Phil Ivey."
Em: What do you wear to play poker and do you find it affects your game?
Jen: "When I play online, believe it or not, I'm probably in a nightie or something sexy. It's an added bonus to me that no one can see me, except my boyfriend and he finds it pretty sexy watching me play in lingerie and win."
Em: Have you or would you ever play strip poker?
Jen: "No, but my Playboy Issue says I do...I don't... I only play poker for money."
Em: Do you find it harder or easier when it is all men at the poker table apart from you?
Jen: "I prefer playing with men, but I don't think it's easier or harder."
Em: If you were an animal what would you be?
Jen: "A Liger. They really do exist."
Em: Who in your opinion is the hottest female poker player?
Jen: "Besides myself obviously, Erica Shoenberg, Evelyn Ng and Carmel Petresco."
Em: Does being good looking make people behave differently to you when playing poker?
Jen: "I think if you're a good looking male/female you're treated a lot differently everywhere, not just at a poker table"
Em: ....so do they assume you're not as smart as them?
Jen: "I sure hope so!"
Em: If us girls all got together to play we would surely show the men how it's done right?
Jen: "Of course...but, the fields are still overflowing with testosterone, if the fields were an even ratio of males to females per tournaments, I'd be almost willing to bet that women would have more titles and more success overall.".
I think us girls could beat any man at a poker table and I intend to spend the rest of the year proving it, I have no doubt that Jennifer Leigh will be doing the same thing. Feel free to come and try to prove us wrong. You can keep up to date with what Jennifer is doing at www.jennicide.com. I'll be back next time with another lovely lady for you to get to know.
Ed Note: There couldn't be a better time to join Party Poker. An exclusive series of $1500 Freerolls plus the amazing $50 NO DEPOSIT sign up bonus, exclusive to players who sign up to PartyPoker via UK Pokernews.