Catman's Column - Slash, Boris and Vanessa at the PCA.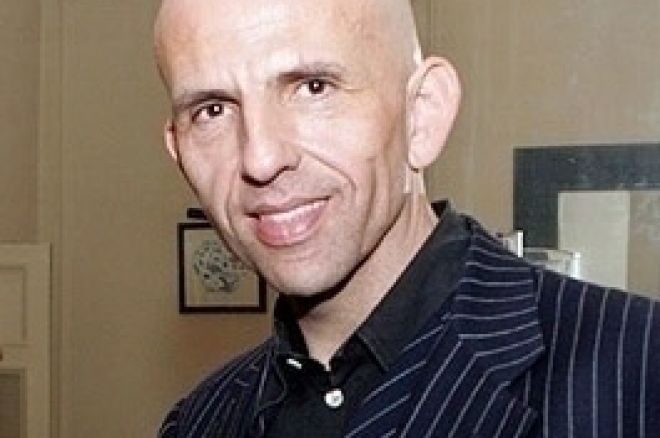 First things first, Happy New Year to all of you who have made time to read my column, and what a year it will be.
Over New Year I got to sample a little of Russian/Latvian poker talent in Riga's Olympic Casino. Catgirl, was training for her visit to the Pokerstars PCA, so we sat down for a 50 squidder, not expecting to see another female in sight. Eastern Europe is quickly moving with the times but Russian/Latvian men, and women to some extent are both fairly happy to accept a woman's duty is to cook, tidy etc. Well shock one, even in minus 20, there was 4 Poker Gals playing out of the 60 odds players, which proved a fair shock.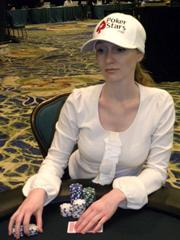 My New Years resolution was slightly marred by the stench of fresh smoke on the casino floor, but I settled for some Vodka shots instead. Catgirl was having a pleasant enough game, offering her bewitching stare, and more growl than a fur ball, when the boy's tried to give her lessons in table talk. I raised with pocket 8s in the cut off, C bet the non-offensive flop to be 'gay' raised by my remaining opponent. Come a 2 on the turn, I banged the rest of my stack into the middle to be insta called by the Russian. Lesson one in Latvia, the slow roll is a natural part of the game, my oppo took least 30 seconds to get his cards on their backs after seeing my poxy pair of 8's. A cute little 8 hits the river for my set, I stand to shake my slow rollers hand. Lesson 2 in Latvia is, duck as your bad beaten opponent slaps his stack across the table, knocks his chair over and storms off cursing. One chap explains, " We are passionate about Poker here." Thirty minutes later same stranger comes back and shakes my hand, offers me a vodka shot and slaps me a little over enthusiastically. They also love to show one card to the opposition when in a pot, I have no idea what Poker channel they have been watching. Catgirl bubbles and a 4th for me, happy days.
January came, and now an adventure that will define passion is upon us, a trip to the Pokerstars Caribbean Adventure in Nassau, Bahamas , where I was to video interview Pokerstars, Superstar Vanessa Rousso for Pokernews.
Why do women like Vanessa and the great Victoria Coren get so much flack in the poker world? At this present moment, whose bank account would you rather have Gus Hansen's (to reload for sure), Tom Durrrr ( to reload up for sure,) or Isildur1( who we pray will reload )? All heroes down around the $6 Million mark, or that of VC or VR. If success is about winning and building the bankroll, then are men really better than women are? Men may be more fun to watch, and I love the fact that Gus Hansen has taken it to the boxing ring, but before you say skill, Vanessa has won most of her dosh by beating the absolute best. With $3.4 million lifetime, Winner of The Pokerstars High roller Event in Monte Carlo 2009. Next Rousso, beats Phil Ivey, Doyle Brunson and Daniel Negreanu heads up, to come second for $500k in the NBC Heads TV event 2009, you have got to give the girl respect.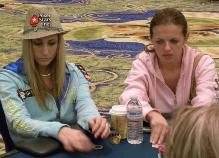 Did I ever say, one of my favourite players created by the Poker Gods was Chris 'Jesus' Ferguson? A man who offers it all, high stakes play, winning, class and above all manners beyond reproach.
The Pokerstars PCA is the monster of poker parties, 50 events in ten days and $14 million of prize money in the main event. Catgirl was lucky enough to get to play the $1000 Pokerstars PCA Ladies Event in association with the High Heels Poker Tour, a fantastic concept and a lot of fun.
The event was held in The Atlantis Resort, a mass of unadulterated Vegas style glamour, we loved it. After a quick dolphin ride, a Spa, nearly drowning in the water slides and chilling on the beach , Catgirl was ready for action. That evening I passed by the casino to have a gander at the Pokerstars $5,000 charity event, which featured Slash from Guns n Roses, Pokerstars own Boris Becker, a pile of other huge American Stars and diamond Brit Teddy Sherringham.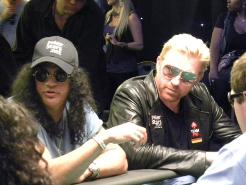 The next day was Vanessa Rousso's Boot Camp, I feck you not, it was absolutely first class. Vanessa gave practical and inspiring tournament knowledge. Catgirl sat down with another 89 aspiring Pokerstars, to vie for the Ladies Poker event, a win would mean a lot. There was wall to wall Dior and Channel, glamorous gals and plenty of experience. Catgirl gets plenty of time playing with Lady Rousso , while I wile the time teasing Annette 15 Obrestad and Liv Boeree. Catgirl busts 15th, when her 8s got busted by AQ, taking $1720 and more importantly her poker up another level from the experience. "Catman, Vanessa is fantastic." I feck you not an ounce. By the way, Rousso won the $24k first prize.
I was lapping up an event that was everything it was advertised to be and more, meanwhile John Duthie, the maestro who created the Pokerstars EPT and second chip leader, get his Aces crushed by Queens in a 10 million chip pot and is out of the main event.
I watched my mates Nick Persaud, Matt and Dean Saunders play shove penny, I go for 'Yo Touch Me' as Praz does a massive stack at the last few tables. I gave John Duthie a quick hug, and then bugger off to win $800 big bucks playing $1-$2 lol. I also watch Victoria Coren pawning her heads up game. Out comes a shout 'Catman' it was Richard Gryko, "Catman, meet my mum," "He is a very kind and generous son, he looks after his mum," said Mrs Gryko. I have always liked the Gryko and now I know why he is such a nice bloke.
Time for the big PokerStars party in the Ballroom, I swing my pants to Kelly Rowland live on stage, rap star Nelly and Boris Becker swing theirs just in front of me. Several Mai Tais later, I leave the other 1400 guest of Pokerstars and go prepare myself for the big Vanessa Rousso interview.
It's our last day, and after our first meeting was cancelled, I get to meet Vanessa and her very cool hubby, Chad Brown for a cocktail in the Marina. With my first question ready ' Do you and Chad share the same bankroll, is it protect by the pre nup.' An alarm bell echoed across the hotel tannoy system, that literally made us quiver, 'This is a Tsunami Alert, will guests please remain inside the hotel,' repeated three times, this was no joke, I said laters, to the lovely Vanessa, and buggered off to hold my breath without said interview. I passed through the convention centre where the Poker games were still rolling, and head of Pokerstars blogging Simon young was still at his post. It's Back to Blitey after a trip to die for.
The next Ladies event is at Monte Carlo in April and will be a grand and a 300euro buy in, my tickets are booked, call me a ladies man. I love the Ept and what Pokerstars has done for the live game of poker. I certainly admire the fact they are big enough to bring women into the game, and it is only going to get bigger.
Thanks to Pokerstars and the fantastic Ladies Manager Sara W, for showing me how to throw yet another amazing party.
Minor Newsflash – The great British Public will get to see The mighty duo of Andrew Feldman and Luke Schwartz will appear on BBC TV 'Inside Out,' in the very near future, talking about gambling. Hopefully together.
Event Not to Miss – I will be getting over my Caribbean Poker Fantasy by playing The London Pub Poker Open 6th Feb International Club £25 or 'sumting' like that.
Above all, may we all try and be a little bit nicer to each other, for one day you may play poker, the next you may be hit by an earthquake.
Our love and wishes to all those poor people of Haiti.
Catman - Poker Agent