Haitao Wu Wins GUKPT Champion of Champions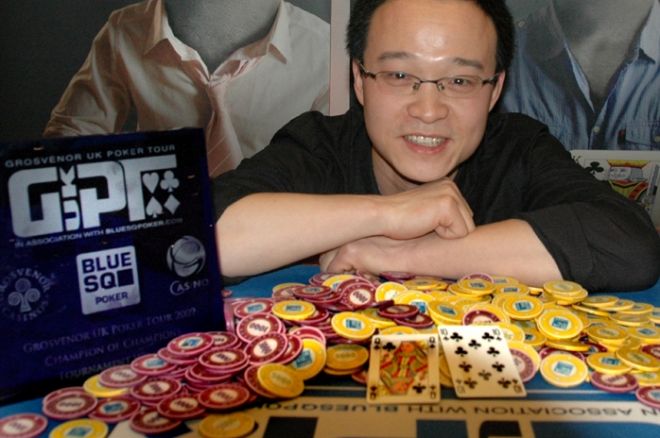 The GUKPT Champion of Champions event came to an end last night after 125 Grosvenor UK Poker Tour event winners came together for the £100,000 freeroll at the G Casino in Luton. At the start of the day players had the chance to vote for their preferred prize pool payout from three possible payout structures and the majority opted for a structure that paid our 63 runners in total and £25,000 for the winner.
The eventual winner was Haitao 'Colin' Wu from Dundee who won a £500 side event in London to book his place in the freeroll. He defeated recent Thanet main event champion Darren Annis heads up to take down the event and its £25,000 first prize. Also making the final table was British Masters Poker Tour Champion Chris Brammer, the only back to back side event winner Shana Casaletto and last years GUKPT champion Ganesh Rao.
Elated champion Wu came over to the UK seven years ago to complete an MBA in International Business Transactions, he paid homage to his girlfriend who recently have birth to twin girls:
"Kerry has been very supportive, looking after our beautiful daughters when I have been playing. We will have a great Christmas now and will be visiting China early next year, when my parents will meet them (his daughters) for the first time. When we come back from China I will continue to play GUKPT events in 2010. The structure is perfect for us to play good poker and the prize money is great as well"
A rather unusual situation occurred during the event which came around because of the payout structure and number of dead stacks from non runners. With half the field paid and several players not attending the freeroll, some of the bigger dead stacks made it technically into the money, however anyone who hadn't turned up on the day would not get paid. One such player was Richard Gryko who amazingly decided not to play despite a huge stack from three GUKPT wins and a player of the year race lead, opting instead to go to a concert.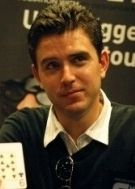 Dont feel too sorry for him for missing a min cash though, as he did hold onto his player of the year lead and claims the £20,000 first prize, after beating Martin Silke by just half a point. Join us on Wednesday for our interview with the man himself.
And so ends another fantastic year for the Grosvenor UK Poker Tour and now that the provisional 2010 schedule has been released we simply cannot wait for it all to begin again where it will be bigger and better than ever.
Champion of Champions Final Table
1st Haitao (Colin) Wu £25,000
2nd Darren Annis £15,000
3rd Stephen Spring £10,000
4th Christopher Brammer £7,500
5th Gemal Husnu £5,000
6th Rahim Tadjsaadat £4,000
7th Ganesh Rao £3,000
8th Shana Casaletto £2,000
9th Reyaaz Mulla £1,500
Results and pictures courtesy of Blue Square