Full Tilt Poker Million Recap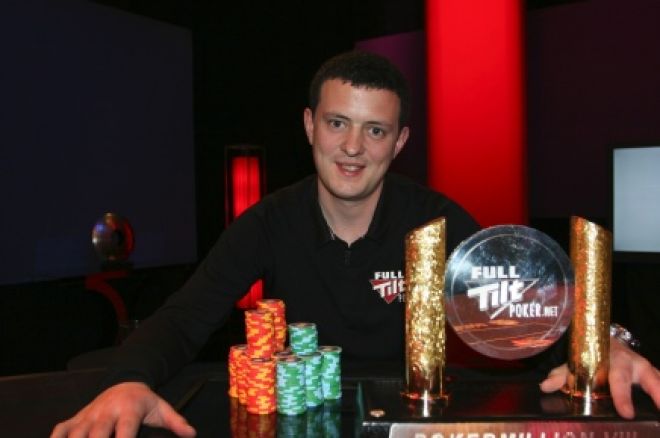 UK pro James Akenhead has done it again, after making the final tables of both the WSOP and WSOPE this year (making over $1.3m), he has now gone on to win the FullTilt Poker Million VIII taking home another $500,000.
Watching the heads-up battle between Akenhead and Juha Helppi was almost deja Vu of the 2008 WSOP $1,500 NLHE event where Akenhead suffered a harsh bad beat to leave the tournament runner up. This time though it was James Akenhead who took away the first prize and the Full Tilt Poker Million crown live on Sky Sports.
"It's been such a great year and ever since I came second for a bracelet in such a brutal way I've just been striving to win a big tournament," said Akenhead. "I've made lots of final tables but not come first so to win such an event as big as Poker Million is just fantastic. I think I played really well tonight. I trusted my instincts and my reads and I didn't make many mistakes throughout the whole tournament."
Final table chip counts:
Luke Schwartz 397,000
James Akenhead 338,000
Taylor Caby 202,000
Dag Martin Mikkelsen 160,000
Peter Vasiliou 154,000
Juha Helppi 149,000
Craig Wakeham 100,000
Another UK player at the table was Peter Vasiliou an estate agent from London who qualified online to finish second in his heat, then won a turbo heat to reach the semi-finals. But Vasiliou's game came to an end when Mikkelsen raised with pocket jacks and Peter moved all-in with A-9. Mikkelsen called, dodging the ace to send the internet qualifier home in 6th place with $75,000.
Norwegian pro Mikkelsen went on to finish 3rd when Helppi raised with A-Q and Mikkelsen pushed all-in with pocket threes, Helppi called and hit an ace to knocking Mikkelsen who left in 3rd place for $200,000.
Going into heads up Helppi was chip leader with 880,000 to Akenhead's 620,000 not bad considering Helppi had joined the final table with the second shortest stack. Akenhead showed his aggressive side though and was soon even in chips with Helppi. The final blow came when Akenhead raised with pocket tens prompting a re-raise all in from Helppi, Akenhead called and Helppi flipped over pocket sixes, the flop fell 3-4-5 giving Helppi more outs and hope but the turn and river came K-A, knocking Helppi out of the game in 2nd leaving James Akenhead this years FullTilt Poker Million winner.
"I was lucky to get heads-up up because I had to win a few flips as one of the short-stacks," said Helppi. "Before the start I was thinking that second would be good considering what I was starting with but also I knew I would be disappointed if I got heads-up and didn't win. I am pretty happy with the way I played; I don't think I made any mistakes. I could have reraised a bit more heads-up but I would have been bluffing as I didn't really have any good hands."
James Akenhead has had a very successful year, proving that UK players are a force to be reckoned with and things just keep getting better for him, Akenhead will definitely be a player to watch out for in 2010. "I'm really looking forward to next year and all the events I'm going to play. Every year that I've played since I started I've won more than the previous year so I've got a big hill to climb next year!"
FULL TILT POKER MILLION VIII FINAL RESULT
1 James Akenhead $500,000
2 Juha Helppi $250,000
3 Dag Martin Mikkelsen $200,000
4 Luke Schwartz $150,000
5 Craig Wakeham $100,000
6 Peter Vasiliou $75,000
7 Taylor Caby $50,000