Challenge James - Sick November Prop Bet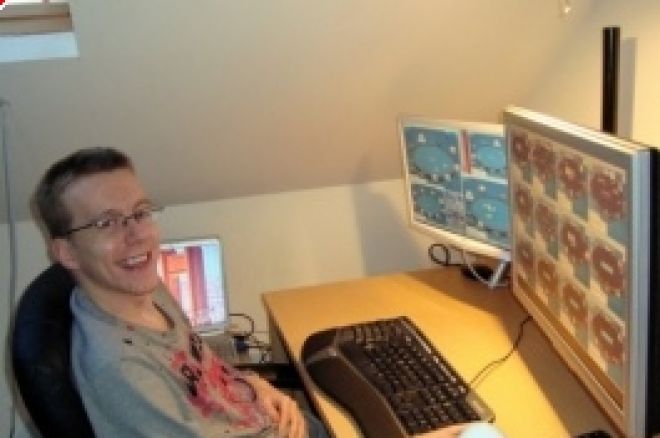 I have spent the whole of the last month, for want of a better phrase, grinding my arse off. A prop-bet was proposed to see who could make the most profit out of $0-30 MTT SNGs on PokerStars in the month of November. Only three of us entered the fray, and the stakes were reasonably modest (simply $250 in the pot each, winner takes all). It turns out I'm quite competitive, and this prop-bet proved to be great motivation for playing a helluva lot of SNGs!
My two opponents are two very proficient players, with very impressive stats, so you might question why on earth I would want to get involved.
I was prepared to take the bet on because I thought I'd have an edge on volume. If you have been following my column, you will be aware that over the last few months I have perfected my set-up, and have learnt to play 20-tables at a time quite comfortably. Just before the start of the bet I realised I was able to churn out 200 games a day without too much difficulty. This is largely attributable to the still fairly recently introduced synchronised breaks, in which I always make sure I spend the 5 minutes an hour away from the computer. This allows me to play a longer session, so my routine is now that I play an 8 hour session straight through, rather than playing 3 hours straight with no breaks, getting frustrated, stopping, and never bothering with a second session which I had set out the day intending to play. So I thought if I could play 1000 SNGs a week, and maintain a $1.50 per game profit that I would have a good chance of winning the bet.
I also was curious to see how much I could make in a month if I really grinded hard. I perhaps had been guilty of half-arsing the last couple of months, playing only as much as I needed to rather than trying to make some decent money, which would obviously be nice.
I got off to a great start, taking an early lead winning $1400 in my first 400 games. The brutal swings you can face in these things then made themselves apparent to me as I went on a previously unprecedented 120 buy-in downswing, immediately followed (thank God) by a 150 buy-in upswing, all in the space of only 300 games or less than a couple of days.
Then it was time for some "run good" (inevitably someone else has to run bad in order for you to run good). One of my opponents had his computer hacked and was consequently locked out of his PokerStars account for a few days rendering him unable to play. Before you ask, no, I don't know anything about hacking! However, as we both perhaps looked to capitalise on his misfortune, my other opponent sneaked into the lead.
I perhaps ducked some "run bad" myself, as I managed to fracture my left hand playing 5-a-side football. If this had been my right hand, it would have been "gg bet" as it would have left me unable to control my mouse. Whilst it was my turn in goal, I made a (rather spectacular) save to a fierce shot from point blank range, but it really bent my hand back and it was off to A&E the next morning when I couldn't move my hand! It has since healed okay; otherwise I might have to have dictated this column rather than typing it!
We then perhaps got our come-uppance for being secretly pleased that our opponent had his account locked (obviously hidden through the disguise of sympathy), as he went on a sick upswing upon regaining his control of his account. We were all pretty much neck-and-neck after two weeks with around $3,000 profits each.
Fortunately it was my turn to go on a sick run, where I ran well above expectation for a day or two, and opened up a nice amount of breathing space between the other two. As if I needed any more inspiration at this point, I also bagged my first ever Sharkscope star, creeping onto a 45-man leader board, which felt like a nice achievement.
Time for some more "run good", as one of my opponents was forced to drop-out, although this time there was no being secretly pleased because the reason was that his house got flooded 3 weeks into the bet. I was given a real run for my money in the latter stages by my remaining opponent, but I started playing some 180-man SNGs for the first time, inspired by my fallen opponent's ROI in these games, and was fortunate enough to do really well in them and put my profit out of reach.
The final standings were:
1. Myself, 3700 games played, $9500 profit
2. Opponent 1, 2100 games played, $6500 profit
3. Opponent 2, 1700 games played, $2600 profit
It has been a long time since I made so much in a month, and I am almost grateful for the prop-bet motivating me to play so many games to show me what is possible in a month. Hopefully this in turn will encourage me to play a lot over the coming months. As my reward for winning the bet I am going to play the inaugural PokerStars UKIPT event in Galway next week. It will be a nice change of pace playing only one table at a time!