Alex Jobling - Interview with DTD Deepstack Winner Alex Jobling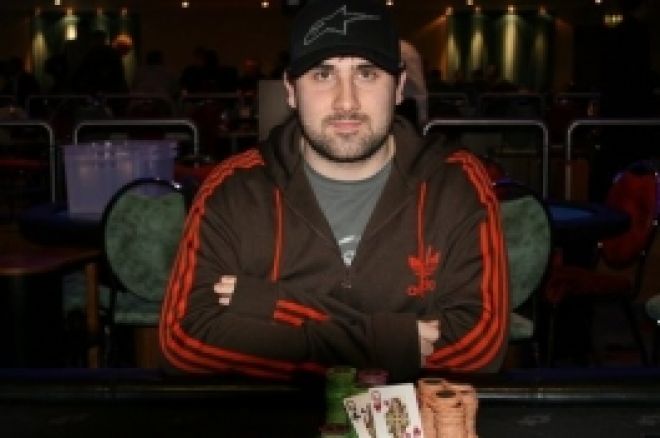 Every month the best poker players from up and down the UK migrate to Dusk Till Dawn in Nottingham to play in the best value monthly event in Europe, the £300, £80,000 guaranteed Deepstack festival. We talk to its latest winner, 20 year old Alex Jobling who won £25,594 last weekend when he defeated 276 other players:
Pokernews: Obviously this will be the first time many people have heard of you, what's your poker story?
Alex Jobling: Like most people I developed a love for the game very quickly, I first played between Christmas and New Year when I was 14 back in 2004 where my family introduced the game to me. I loved the idea of bluffing and had no idea what I was doing. I followed up my first experience by making an account on Absolute Poker and playing with play money for fun with my mates who enjoyed it too. Soon all of my friends were hooked on poker and it's a regular topic of conversation amongst all of us.
At the age of 16 I began watching poker on TV and buying poker books. They vastly improved my game and already at such a young age I was desperate to get into casinos and play online for real money! I somehow managed to persuade my mother to open a bank account for me to play poker online. How she agreed to this I will never know, but I think this was the biggest turning point in my poker career as I could gain alot of experience at a young age and maybe lose less money while learning as I actually didn't have any money to my name except the odd £10 per week from my parents. I was always reluctant to get a job.
On a weekly basis after school I took the bus into town and put what money I had into this bank account and used the card to deposit money online hoping to turn it into more money. I never did, I played on Ladbrokes and William Hill as they had the smallest minimum deposit limits.
My only big live win being under 18 was a free poker tournament at the Baltic Art Museum in Newcastle, my Father was invited to the event but couldn't attend so I went in his place. I won 2 tickets to Vegas which I never actually used as you must be over 21 to book a hotel in Vegas.
I didn't actually start winning at poker until the final months of being 17. I bought a book called "Arnold Snyder's Tournament Formula". This book taught me the significance of position in poker and just how vital it is. The previous books I had read just didn't stress this enough. When I turned 18 I instantly started playing poker online with my own accounts, it wasn't until I was 18 when I got my first big score which was $2,000. I was very immature with the way I handled this and began to play 400nl and eventually went broke when I went on a bad run, this was painful and a very valuable lesson to me.
I invested in training sites such as Cardrunners and Poker VT which improved my game immensely
My next big win was when I won the FTP $30 + 1r + 1a. This was for $3.2k and a huge to me. I then grinded $30 SNGs on ftp and made a lot of money from profits and rakeback and this was the turning point where I finally considered myself "a pro".
I took a gap year before going to university to play poker. I felt this would help me as I had developed an obsession with poker and I think it would have always dwelled on me on what I could have done in poker if I didn't experience playing professionally.
So when I was 19 I was a professional player, and I loved it, I thought I had life so much easier than everybody else. I would play SNGs and MTTs and I did very well for myself. I was also sponsored by Bad Beat for 50nl, I stuck with them for the coaching which I always think is priceless in poker. Here I met a mentor who I respected greatly called Matt Myford, I hadn't heard of him prior to this but he was very supportive and could always adapt to my own thought process and give me a new way of looking at the way the game was played, Matt was definitely an influential person in my poker development.
However towards the end of the year I got very depressed about my lifestyle, I found I was completely nocturnal going to bed at 8am when my tournament sessions finished and waking up at 6pm the next day. This meant I never saw daylight, my entire social scene was with poker players and I had few friends outside of poker. My diet was suffering as my parents would cook me tea which would essentially be breakfast, and the only places I could buy food from was late night takeaways. This was my own fault and a result of a total lack of discipline and I knew things had to change.
I secured my place at University in Nottingham which gave me a positive future to look forward to.
Towards the end of my gap year I met the most influential person to date of my poker career, Jon Lundy, he is the biggest player I know in so many ways, even before he started giving me tips and advice just our discussions on poker improved me so much, I felt so much more confident. He then started sweat sessions with me and helping me out, I had no idea what a massive impact it would be to have somebody like this for support and I owe a lot to him.
I am now at Uni and enjoying it so much, it brings structure to my life and I feel my highest priority is getting my degree and then I can decide what to do after these 3 years. I still play poker for a living however not as much volume, I currently grind SNG's on stars however there may be some changes in the near future.
Pokernews: Nice short answer there Alex thanks, so we take it you are a regular at DTD now?
Alex Jobling: I live in Nottingham and I probably visit DTD around twice per month. I prefer to play online as I get bored and frustrated with some of the people I encounter at the tables, a lot of my pet hates such as people saying "I would like to call but I just can't" and take 20 seconds to fold. I'm easily tilted by little things like this which is why I prefer to play online.
Pokernews: We can't decide whether the DTD Deepstack is the best value event of the calendar month or the toughest regular event in the UK, can you shed some light please?
Alex Jobling: I found that in the DTD Deepstack you either had one of two types of players, very good players and very weak players. So my plan throughout was to manoeuvre around the good players and try to play pots with the weaker players. Deep in the tournament the standard was still very high, during each break I was having conversations with Jon Lundy as he gave me advice and kept my mind in the right place.
The tournament itself is fantastic, it's a brilliant structure which allows the average stack to be 30BBs deep throughout, this allows the better players to really shine and exploit their edge in the tournament. One of my closest friends (Neil Harvey) and I now have a good record in the DTD deepstack as he finished 3rd last month and this month I managed to win it outright.
Pokernews: How big a win was this for you? Financially and also in terms of the prestige that comes with it?

Alex Jobling: This win is massive for me. It's indescribably how I feel about winning such a prestigious tournament. Something from the day that will always stick in my head is when I won Jon told me "This is just the beginning, you can look forward to bigger and better things now". This has stuck in my mind ever since and made me feel brilliant about myself. I feel the win is such a significant milestone in my poker career and I feel like I have the money behind me to really go on to achieve great things in poker.
When I won I felt more relief than joy. I feel a win like this has been a long time coming for me, I have experienced a lot of frustration with live events, in GCBPT and GUKPT side events I have came so close to winning a tournament of this nature but just never had that extra bit of luck behind me to boost me to take first place. I have always enjoyed commenting on poker hand analysis on forums, and giving people advice from my own experience however I have never actually won anything to back it up. Another frustration was that I have always wanted a Hendon Mob database profile, I have no idea why this was such a big thing for me but every good player seems to have one except me. And now hopefully I am starting to make a name for myself in poker and I can have the results to back up my opinions.
Pokernews: How does a 20 year old student who is 25 grand better off keep a level head with such a big score?
Alex Jobling: It is an amazing feeling to be able to add the money to my funds. When I get a big score I usually spend a small amount on myself so I have something to relate to my win. Then a lot of the money will be reinvested back into poker and the rest will go into savings. I actually don't intend to change the stakes I play at, for the moment. Having my bankroll increase so rapidly was unexpected and I have no plan for it yet. I will discuss my situation with various people and come up with a plan on how to move forward.
Previously I have had quite an up and down bankroll and have grinded hours online playing many tables to increase my bankroll, this is very difficult to do and get frustrating at times, however wins like this can make it feel all worthwhile. I actually sold 30% of myself to Jon Lundy because I wasn't entirely rolled for such an event. However Jon has offered to buy me in to the £1000 Monte Carlo at DTD on the 18th December because of my success. This is a fantastic opportunity for me to really put my poker ability to the test against the best players in the UK.
Pokernews: What do you think of the DTD experience and the standard of their tournaments?
Alex Jobling: I love DTD, it is undoubtedly my favourite place to play live. If I am asked about DTD I have nothing but positive things to say about it. It is a different class compared to anywhere else I have played. The tournament director, Dave is one of the best managers I have seen, he makes 3 tournaments in one room run like clockwork and he really is an asset to the club. The place and the staff are just brilliant and I couldn't imagine a better place to play poker.
I am almost proud to say that my regular place to play is DTD as the place itself looks great and has a fantastic feel to it as well has having an epic reputation.
Pokernews: So what can we expect from you in 2010?
Alex Jobling: The next big event for me is obviously the Monte Carlo at DTD. I expect to be slightly nervous in the run up to this event because I have no idea what to expect, I am usually a very settled person at the poker table but it may be a bit unnerving playing against players who have accomplished so much in poker. However I fully intend to have a back to back win and will be playing to take down such an epic event!
The next event on the cards is the Sky Poker tour in Newcastle which I qualified for online. I made the effort to qualify for this because I am home for Christmas so I may as well take the opportunity to play it while I am home.
As for 2010 as a whole I intend to grind online as usual. I will play poker as if it is a job and organise my playing times around university.
I have some other tempting offers on the table too regarding staking however that is still in discussion and I don't know enough to be able to give any details. Hopefully I can just use poker to give me a steady income through my time at university and it will save me from having to get a job.