2009 in Review: Meet Luke Schwartz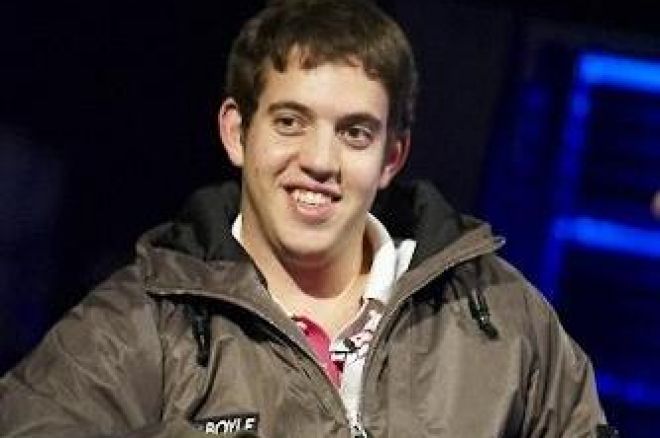 2009 has been a record-breaking year for online high stakes poker action. While recent speculation on the poker forums has been about the identity of 'Isuldur1' and the monstrous pots he has won and lost, he is not the only high stakes player to have come to the poker world's attention in 2009. Back in February the forums were abuzz with rumour and speculation as to the identity of '_Fullflush1_' and Full Tilt high stakes regulars and railbirds alike were treated to the debut of Luke Schwartz and his trash talking antics.
After beating high profile players like David 'Raptor' Benefield, Phil 'OMGCalyAiken' Galfond, Brad Booth and Tom 'Durrrr' Dwan for not inconsiderable sums of money, Luke grabbed the poker world's attention and by the end of March '_Fullflush1_' was up over $1 million. It wasn't just his play that caught people's eye though; it was the smack talk that went with it. An entertaining, if slightly juvenile trash-talking competition between Luke, Tom Dwan and Di Dang brought chat box gems like "Listen durrballs, I'm the new guy now," and "If I'm a fish then everyone I've played so far and crushed is a spasticated retard, that includes all your gay little pals…" that had many of the forum warriors up in arms or rolling around with laughter, depending on whom they had chosen to support. In addition to calling Tom Dwan and his crew 'a bunch of geeks' Luke also went on the record with Poker News at the EPT Monte Carlo Grand Final, calling online rivals Di 'Urindanger' Dang and Tom Dwan gay.
Luke became the Marmite of the poker world almost overnight and whether they loved or hated him everyone formed some sort of opinion. Even Daniel Negreanu sat up and took notice; the two played on the same table in Monte Carlo prompting Daniel to write in his blog:
"He is poker's new villain, no question about that. Cocky, brash, and with a legit Ali G accent to boot."
The majority of feedback seemed harmless and Negreanu also seemed impressed with Luke's play. While Luke seems confident in his abilities at the poker table he is also not shy about letting others know what he thinks about theirs. An interview on the Poker Show Live revealed Luke's rivalry with another up-and-coming online player in the form of Andrew Feldman that culminated in the two facing each other in the same Late Night Poker heat, eventually battling it out heads-up. Luke dispatched Andrew to make the final, finishing eighth for $15,000, but the rivalry looks like it will carry over to 2010, time will tell…
As talented as he may be, controversy continues to follow Luke and in addition to several chat bans on Full Tilt and a ban from the Vic for refusing to remove his hat when asked, 2009 also brought us the Sandwichgate scandal. All the hoohah began in October at the EPT London, where a tilted Schwartz helped himself to a sandwich from the food stands outside the playing area after busting from the tournament.
"I'd just been three-outed to bust from the EPT on Day 2," Luke explains. "I was steaming. There was a long queue to pay for food and I was fucked if I was going to wait in it… All the fucking swings in poker, the beats, the coolers, they build up after a while. So I was frustrated, yeah, but it's still not a crime. It's a fucking sandwich. I'd just paid like £30,000 to play in the High Roller and the EPT. That's like £1000 in rake. Who fucking cares about a five pound sandwich? It should be free."
However, the Vic didn't quite see it this way and Sandwichgate resulted in a reinstatement of Luke's casino ban, a warning from the EPT about his behaviour and even delayed the start of his Party Poker Open heat, though he was eventually allowed to play, finishing fourth for a cool $40,000.
Schwartz has had a pretty good 2009; in addition to his Party Poker result and his Late Night Poker victory over arch nemesis Feldman, he is still one of Full Tilt's big winners for the year. The '_Fullflush1_' account is up $760,777 as December draws to a close and Luke still retains his place in the sites top 20 winners, despite not playing much in the nosebleeds over the last six months. While primarily an online player, 2009 has been Luke's best year for live play. In addition to his final tabling Late Night Poker, Schwartz has earned $205,000 of his $249,134 career tournament earnings in the last 12 months. He's also finished the year on a high winning $150,000 for his fourth place finish in the Poker Million. Whether people follow his antics because they're fans or because they want to see him fail, they ARE watching, and this makes him good for the game. If 2009 has been Luke's breakout year, 2010 may well see him cement himself still further on the world stage.