Tony Cascarino Wins Grosvenor UK Poker Tour Grand Final

Barry Carter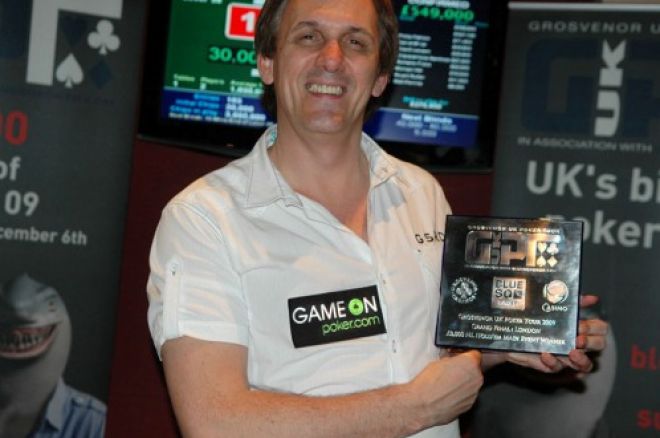 Former Chelsea and Republic of Ireland legend Tony Cascarino has confirmed he is the real deal at the poker table by landing his second Grosvenor UK Poker Tour title. Last year Cascarino took down the GUKPT Bolton Main Event and last night he went one better by winning the GUKPT Grand Final at the Vic in London.
183 players in total played in the £3000 main event and it was a case of De Ja Vu at the final table as both Cascarino and Stuart Rutter were making their second appearance at the final table of this event. Also at this final was recent World Heads Up Champion Bambos Xanthos and high stakes cash pro Albert Iversen.
Final Table
Romano Pizzo - 879,500
Albert Iversen - 589,500
Bambos Xanthos - 434,000
Philip Patrick - 407,000
Mike Hill - 371,000
Daniel Millar - 338,500
Stuart Rutter - 263,000
Tony Cascarino - 261,000
Antoine Arnault - 124,500
Amazingly it would be short stacks Antoine Arnault and Tony Cascarino who eventually found themselves playing for the title in a swingy heads up match. Eventually Cascarino captured the title when he hit runner runner hearts holding ace-two of hearts on a T-J-8 flop vs the T-9 of hearts of Arnault. Don't feel too sorry for Arnault however, as he is by all accounts the son of the 14th richest man in the world.
Cascarino won £168,800 and became only the second player to win multiple GUKPT main events (The other being Julian Thew). Perhaps even more significantly he has silenced any critics who may have considered him 'just another celebrity poker player', he commented after the victory: "Getting respect from your peers and being acknowledged for being good at whatever you do with your life means a lot to me…I think I have proved myself now."
It's also good news for poker in the UK and the profile of the Grosvenor UK Poker Tour, as the footballing legend will no doubt bring some good publicity to the game over the next few weeks.
The 2009 tour is now coming to a close with the prestigious Champion of Champions festival which begins today with a week or warm up events (Which are also the last five chances to qualify for the event.)
1st - Tony Cascarino - £168,800
2nd - Antoine Arnault - £107,100
3rd - Philip Patrick - £71,400
4th - Daniel Millar - £43,900
5th - Albert Iversen - £32,900
6th - Charalambos (Bambos) Xanthos - £27,400
7th - Romano Pizzo - £22,000
8th - Mike Hill - £16,500
9th - Stuart Rutter - £11,000