Student Poker News -Entourage Student Poker

Adam Grunwerg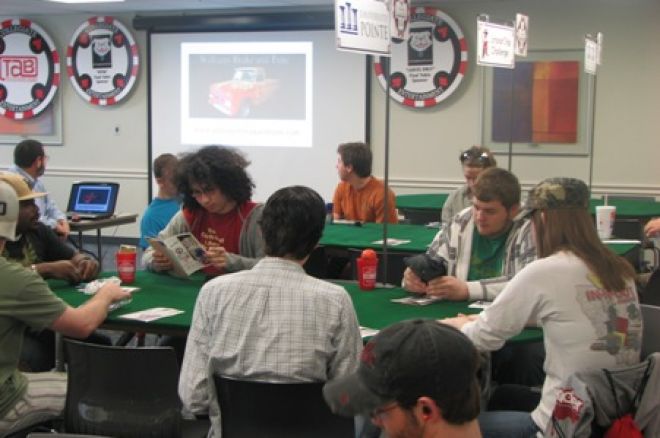 Student poker is seen by many as an emerging market in the poker industry. Millions of students across the country play in a range of university organized events, and a significant number of students are already playing at the larger cash game tables online.
With respect to live student tournaments, national student poker events have also cropped up in recent times, specifically the UK Student Poker Championship (UKSPC) and the North West Student Poker Championship.
With an increasing number of student poker players signing up to poker rooms nowadays, and many going on to make it to the professional stage (including Tom "Durrrr" Dwan, Peter Eastgate and Dani Stern to name a few), we take a pause from our regular WSOP exploits to have a look at one of the UK's only live student-focused poker brands; as well as interview its owner, a recent graduate from Manchester University.
Started by University of Manchester graduate Aden Levin, Entourage Student Poker is a business that organizes student events and tournaments for players in the North West.
Aden Levin, the group's owner, notes how ESP came about as a short-term means for getting together student poker games in Manchester. This happened concomitantly as the University of Manchester banned the official University Poker Society (despite having been running for 5+ years previously) when they found society tournaments were playing for cash.
Ultimately, the lack of supply for student poker games (and the increasing demand) led Aden to start his own games for students in the Manchester area – and thus Entourage Student Poker was born. Aden Levin comments:
"I set up ESP due to the lack of student poker tournaments that were on offer in Manchester. I saw there was a gap in the student poker market; no-one was offering student only tournaments. ESP was spawned out of my desire to play poker as a student with students."
Originally just a local game for students however, Aden soon realized the need to switch locations from Walkabout bars for his weekly games after receiving 30+ players regularly turning up to his games. However after moving to a much grander location at Circus Casino this year and with much greater capacity, their first game ever still exceeded demand and Aden quickly spotted a gap in the market.
After a year of organizing Manchester events and managing to coerce a membership of 300 students in Manchester alone, Aden decided to expand his horizons and look to set up tournaments in Leeds and other North West regions – to a similar success.
With a massive demand for student events in the UK, as well as an already sizeable and growing membership, Aden decided to launch the first ever North West Student Poker Championship as a means for students across the UK to compete for the North West Student Poker Championship Title.
The first event of its kind (played earlier this year) enjoyed great success, with over 100 entrants turning up for the £25 +£5 tournament. With such a strong turnout, ESP also has aims of launching an even greater event for next year (around February), with an even bigger, and potentially sponsored, prizepool.
Ultimately, what Aden's Entourage Student Poker business has shown, is that there is still a massive surge and demand for student poker events in the UK – even during such miserable economic times. While the majority of students head off to university for the thrills and spills of life, a small, loyal segment of university students are still finding the time and money to fulfill their poker ambitions and hobbies.
Aden has also mentioned he plans to expand his activities into Birmingham and other major cities in the near future, considering the demand and lack of supply for the student poker market. As well as this, he's also looking to venture into the online poker market alongside fellow student poker site MosesBet.
"Within 2 years ESP has grown rapidly we have over 300 members, we have seen students from all over the north-west come to our regional tournament and within the next year we should be on other campuses in the north-west area!" – Aden Levin.