Stuart Ward Wins APAT European Title, Vincent Diver Wins PKR Live III + more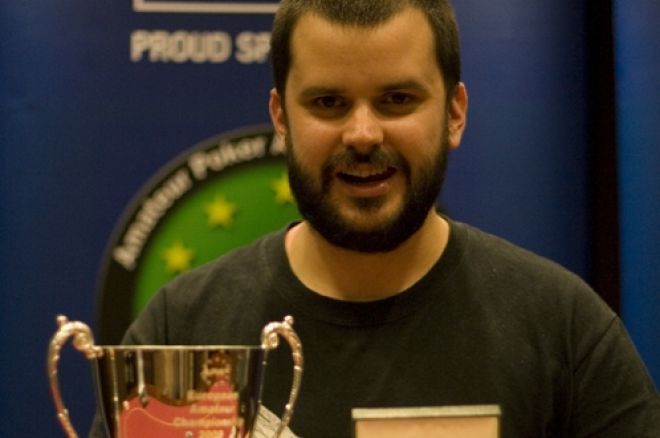 Stuart Ward Wins APAT European Amateur Poker Title
The second big result from the APAT event in Luton last weekend was the APAT European Amateur Championships, which attracted 195 players from twelve counties. Despite such an international feel to the event, it was a predominantly English final table with just one player, Silke Burghardt of Germany, remaining from the overseas visitors.
In the end Stuart Ward from Middlesborough took the honours after defeating Derrick Andrews heads up. He pocketed £3,500 for the win and also a seat in a GUKPT main event. Meanwhile Steve Redfern took the 2009 APAT National Amateur Rankings title by virtue of his performances throughout the season and will now represent APAT at a GUKPT main event. Amongst his other achievements during the season, Steve won the UK Amateur Championship and represented England who took third place at the European Amateur Team Championship
APAT now moves on to the UK Team Championship at the G Casino in Manchester in January 2010.
Vincent Diver Wins PKR Live III
Another big main event was taking place not too far away at the Loose Cannon Club in London that weekend, as PKR Live was having its third outing on the UK circuit. This time with the increased buy-in of $1000, it boasted 134 runners from all around Europe but it was to be a home win, as Londoner Vincent vd12345 Diver who took down the title and $33,500 first prize. Diver has been a regular poster on the PKR forums and you can tell from his blog post on PKR the next day that he was very happy indeed:
"wowwwwww cannot believe it one bit! still up without any sleep the adrenaline is still very much part of me, I couldn't stop shaking once it was over, truely a dream come true."
Appeal to Find Missing London Poker Player
An appeal has been launched to find London based poker player John Regan, who has been missing since Wednesday the 18th of November.
John, originally from Derbyshire was last seen outside Bartok on Chalk Farm Road in Chalk Farm. John is 5"10 with cropped brown hair and light blue eyes. He was last seen walking towards Camden Town and was wearing light blue jeans and a dark blue jumper with a large pink skull motif.
John's brother Paul says:
"This is completely out of character for John. He has no reason to go missing and this is completely unexpected. We are extremely worried about him and urge anyone who knows anything about his whereabouts to contact Camden Police on 0300 123 1212."
For more information or if you can help in anyway, a Facebook group has been set up called John Regan - Missing.