Joe Cada Wins World Series of Poker Main Event, Neil Channing Robbed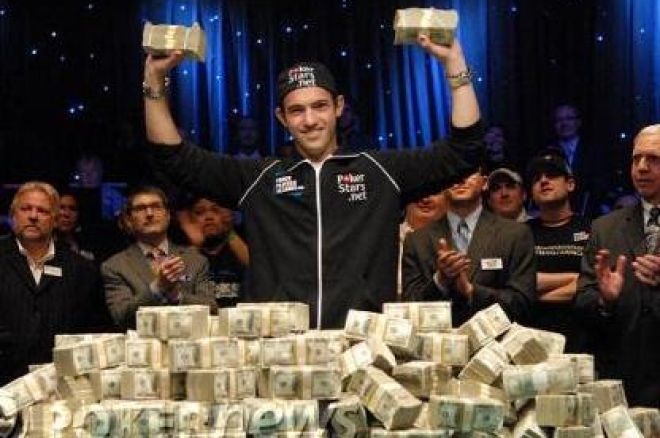 Joe Cada Wins World Series of Poker Main Event
Yet another main event champion to add to Team Pokerstars and once again, the record for youngest ever champion is smashed as 21 year old Joe Cade is the 2009 World Series of Poker Main Event. He defeated long time chip leader Darvin Moon in a lengthy heads up match to win the most coveted title in poker as well as $8,547,042.
Not only will be remembered as the youngest main event champion of all time, he might also go down as one of the luckiest, as he managed to go on one of the biggest heaters ever seen at a main event final to find himself heads up with Moon, sucking out on more than his fair share of critical hands. Check out our article by Nicole Gordon which details his late surge to victory.
21 year old Joe Cada has the world at his feet right now and will no doubt be looking to emulate his Pokerstars team mate Peter Eastgate who has proved an excellent ambassador for the game. To find out how Cada won the big one, check out our main event live updates
Neil Channing Robbed
A bad beat for Neil Channing as the popular UK pro has revealed on his blog that he had been robbed while in Dublin for the Irish Winter Festival last month. The BlackBelt Poker founder was stopping at the CityWest Hotel, the very place where he won the Irish Open last year, and left a suitcase full of cash in his hotel room, that was missing when he returned. There were no safes in his room and his floor had no CCTV cameras, Channing blames himself a little for his misfortune but most of the talk on the poker forums is suggesting people believe this was a targeted attack.
He confirmed on his blog that he won't be making the same mistake again, saying:
[I]"I'm a bit sad that my memories of the place have been tarnished a little and it makes me less keen to rush back there. The Irish Open is moving in 2010 and I guess I'll never go back to Citywest now."
Want even more UK Pokernews? Check out our UK Pokernews Facebook Page