Catman's Column - Isildur1, Cantona and the Red Hot Vixens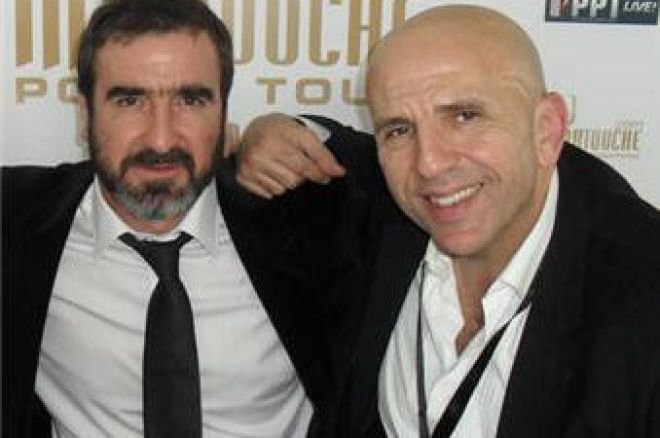 What the "Isildur1" can I say? In my last column I interviewed Andrew Feldman in a martial arts gym, trying to subliminally suggest the spiritual side of poker. This incantation seemed to work, for Satan or a similar devil has jumped in to make poker more exciting than ever. Not only do I get to play Sunday afternoon poker at Harlow Dogs Stadium, courtesy of Low Stakes Poker Supremo Steve Blapo, I got to be involved in or watch some of the most demonic poker action ever in poker history.
No, I haven't yet railed "Isildur1", but I am offering 50 large (Banana that is) to be the first to worship him with a video interview for poker news. However, onto sexy poker, I received a spectacular press release from my Bro from another Mo, Vic Host John Raab, about the "Red Hot Poker Vixens," Yes the Vic, The 'Shrine of European Poker," was too play host to a bounty event, where the stunning 'Poker Vixens,' were to be bounties. It was the first time for ages that I had seen beautiful female images used to promote poker, excluding last week when Beth Shak got most of her kit off for The News of The World. The thought of seeing some more beautiful women join the professional ranks of poker delighted me. I gave Dionne Glen, Nutspoker's sponsored pro a bell prior to the event at the Grosvenor Victoria Casino in London, within 10 seconds of our conversation she went into a sensational Emmeline Pankhurst suffragette stylie, slagging off on Luke Fullflush Schwartz. I am pretty sure she offered yet another challenge to Bad Boy Luke Fullflush Schwartz, which I will certainly attend. I loved her attitude and spunk, she is certainly a credit to Red Hot Vixens and came a fantastic 4th in the event.
Please check out the Video of the gorgeous and dynamic Red Hot Poker Vixens, which include well-known poker player Jay Luck, and Estelle.
Time to rail at the Matchroom durrrr Million Dollar Challenge , held at the exclusive Les Ambassadeurs Club London (Dr No was filmed at this very casino). James Bond or Dr Evil was to be played by Tom Durrrr Dwan, with the opposition in the form of Luck Express, Zigmund and the great Sammy George. Tom was seen to be mildly knackered for the first two matches (timed as he had been playing Isildur1 online) against Luck Express along with the sexily insane Zigmund. Both the aforementioned players took a few quid off Tom, but Tom managed to catch some sleep for Sammy George, who lost nearly 750k to Durrrr. My thanks to the creative talent of Eddie Hearn and The Matchroom possible for taking TV poker to new levels.
Bring me the head of Isildur1. One of Tom Durrrr Dwan's icons and mentors, Phil Galfond said on his blog: "Even while running extremely well, very few people could come out far ahead against Tom over that many hands of 6 tabling 500/1k. Even fewer people would dare to try it. If he were playing against almost anyone else, I'd be rooting for him, but I hope Tom is able to turn things around. I've been playing for around 5 years now, and I've never seen anything like this. I'll be on the rail with the rest of you. Enjoy it." Wow.
My adventures continued, a few days back, I was in the Sun watching French Seriously Thonged Babes swim in the Med, I was eating the world's most beautiful food and even getting the manager of The Martinez Hotel to show me their £35,000 a night penthouse. I was in Cannes in the South of France, to commentate on the final of The Partouche Poker Tour edition 2 with the biggest first prize in European history.
I first heard of this event was two years ago when a charming Frenchman, Jean -Jacques Ichai contacted me via Facebook. The Partouche Poker Tour Final was to see Jean Paul Pasqualini, a French Man win the 1,000,000 Euro first prize, after beating of a field of 521 players. Partouche provide a formula similar to the GUKPT, a national event held over 41 Casino, with qualification to the 8,500 Euro buy in grand final via sats and super sats. The early stages of the final saw more pairs of Aces dealt to 3rd placed wily Old Italian Gianni Giaroni. Chip leader coming into the event, Michael Turenic did half his monstrous stack holding Queens verse KK. The whole thing was action packed until down to the last 3 players, Cedric Rossi, the Italian and Jean Paul battling for 3 hours to get down to heads up. The final took 18 hours in total, the casino was called The Palm Beach and was a Palatial building, full of mental French Poker Players, they are super serious, but love to gamble.
I got some advice from the world's greatest poker commentator, 'Jessie May,' keep it short Jessie told me. Well I kept it short for 18 hours and then came the come shot, on the Live TV Webcast, I was joined by ex Manchester United MegaStar Eric Cantona for a chat. I feck you not. Now all we need to do is get the likes of David Beckham endorsing poker and we are in business.
Just as you thought poker was getting a tad boring, it comes back and hits you square in the chops.
Love, Peace and respect goes out to:
Partouche Poker 'Vive La France', Durrrr and Sammy George, Matchroom, The Red Hot Vixens.
Did I mention Steve Blapo's Low Stakes Poker at Harlow Dog Stadium?
My great thanks too, for the hospitality of Kevin at Harlow Dogs.
Catman Poker Agent and Rapper.