Bambos Xanthos Wins World Heads Up Championships, Thomas Partridge Wins Pokerstars Baltic Festival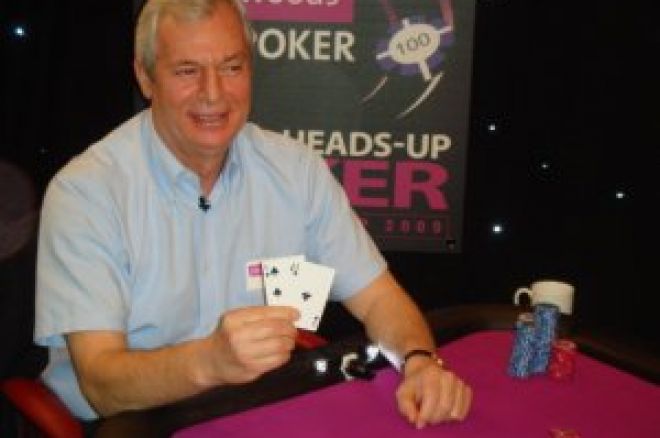 Bambos Xanthos Wins World Heads Up Championships
The World Heads Up Poker Championships concluded over the weekend in their new home of the Vic in London and it was the casino locals celebrating at the end of the event. The final was between up and coming player James Mitchell and legendary Vic cash player Bambos Xanthos. Both men had been playing very well in all their matches leading up to the final and it was fireworks from the start, but eventually the UK Legend (Originally from Cyprus) took the title from his younger adversary, after taking a 3-1 chip lead early on which he never gave up.
On his way to victory Bambos beat Richard Gryko, Victor Ilyukhin, Sorel Mizzi and Ryan Fronda.
1. BAMBOS XANTHOS (CYPRUS) £65,000
2. JAMES MITCHELL (ENGLAND) £30,000
3. VICTOR V. Ilyukhin (RUSSIA) £15,500
4. LAURENCE HOUGHTON (ENGLAND) £15,500
Thomas Partridge Wins Pokerstars Baltic Festival
More UK news from Pokerstars now as two friends from the UK have come 1st and 2nd in the Pokerstars Baltic Festival in Estonia over the weekend. Thomas Partridge defeated James Keys heads up to take down the €76,750 first prize. Partridge from Devon actually travelled to the festival with Keys, after winning his seat in January as part of a "last longest" promotion run by PokerStars at the PCA.
Partridge, 24, from Teign Valley, Devon, said: "I haven't played many live tournaments, apart from in Las Vegas, and that didn't go very well. But our friend qualified and encouraged us to come along as well. The heads-up at the end went pretty quickly. I had a good run of cards and got the momentum going. I'm very pleased with the way it went. Now I'm going to try to improve my game before going to the Bahamas."
1 Thomas Partridge UK €76,750 (1,197,300 EEK)
2 James Keys UK €48,505 (756,693 EEK)
3 Kenneth Danielsen Norway €30 085 (469,341 EEK)
4 Claus Bek Nielsen Denmark €17,805 (277,773 EEK)
5 Michael Fardan Denmark €14,121 (220,303 EEK)
6 Petri Heinanen Finland €11,665 (181,989 EEK)
7 Jerry Wong Netherlands €9,823 (153,254 EEK)
8 Johan Nilsson Sweden €8,288 (129,308 EEK)
9 Antti Kärkkäinen Finland €6,753 (105,362 EEK)
Bounty Stars of Poker Tonight
If that wasn't enough Pokerstars news for today, how about one more? Tonight at 10pm on Sky Sports 2 is the debut of a new show, the PokerStars.com Bounty Stars of Poker. The show will see amateur online qualifiers get thrown into the TV environment in a single table tournament, with the winner taking on a Pokerstars Pro of Sports Star for a £5000 cash prize, but they won't know who they will face until they take their seat at the table. These sports stars include ex-England test cricketer and former 'King of the Jungle' Phil Tufnell, England rugby star and talented poker player Mike Tindall, and Welsh football legend Gary Speed. The Pokerstars Pros include Peter Eastgate, Vicky Coren and Marcel Luske.
Vicky Coren commented: "This is an excellent opportunity for previously unknown poker players to make a name for themselves and play against some of the best in the business. The PokerStars Bounty Stars of Poker will expose these guys to the unique pressures of playing in a live environment with thousands watching on. And while I hope they