Last Chance to Qualify for the Irish Winter Festival + more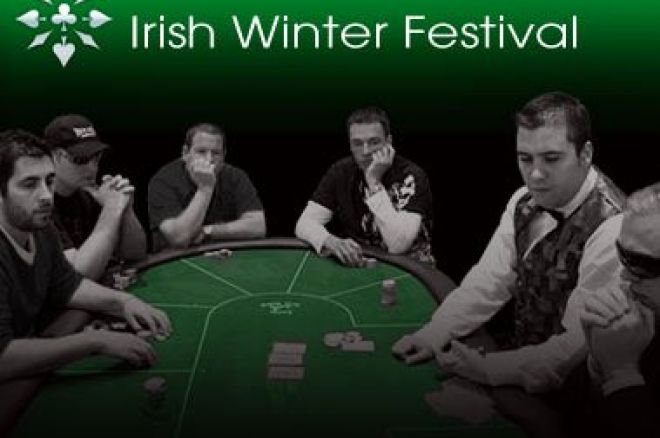 Last Chance Saloon for the Irish Winter Festival
It's your last chance to qualify for the Irish Masters main event at the Irish Winter Festival later on this month. Paddy Power Poker are hosting a series of Ticket Only satellites to the main event all with different buy-ins, every night from now until the 22nd of October, with feeders running round the clock. One main event ticket will be awarded for every $2,450 in the prize pool. Winners of the Last Chance Saloon will also qualify for the poker room's IWF Sole Survivor promotion, which will award a €20,000 package to the longest-lasting Paddy Power Poker online qualifier in the Irish Masters main event.
"The Irish Open and Irish Winter Festival Last Chance Saloons of the past two years were so popular that we didn't hesitate to schedule it again this year" said Eric Booth, Head of Poker for Paddy Power Poker. "The Last Chance Saloon will be players' final opportunity to qualify online for the Irish Winter Festival, chase the €20,000 Sole Survivor prize and win almost €200,000 as the Irish Masters champion!"
Leaflet Campaign to Keep Pub Poker Legal
The British Beer and Pub Association have backed a leaflet campaign by the Gambling Commission to keep Pub Poker legal. The leaflets entitled Poker in pubs: advice on allowing poker in alcohol licensed premises explains that poker in pubs should be played at stakes £5 a head and the maximum prize per premises does not exceed £100 a day. There is a lot of confusion amongst pub poker vendors, as well as a lot of blatant ignoring of the rules, and many events exceed one or both of the above criteria.
The Commission's director of regulation, Nick Tofiluk said: "Any licensee or pub manager considering offering a poker night should read this leaflet. The Commission has written to poker league operators reminding them of the law and this leaflet will help designated premises supervisors in pubs to stick to the rules."
Rita King, of the BBPA added "This leaflet gives welcome clarification of the law around what has become a popular game in Britain's pubs. Poker in pubs is a low-stakes game played largely for fun. When it comes to keeping prizes within the legal limits, it will help pubs to have the rules set out clearly."
This issue is exactly why the UK Low Stakes Poker Alliance have been fighting to get the restrictions on pub poker relaxed, because the current legislation is very difficult to enforce without ruining the enjoyment of the evening for the players.